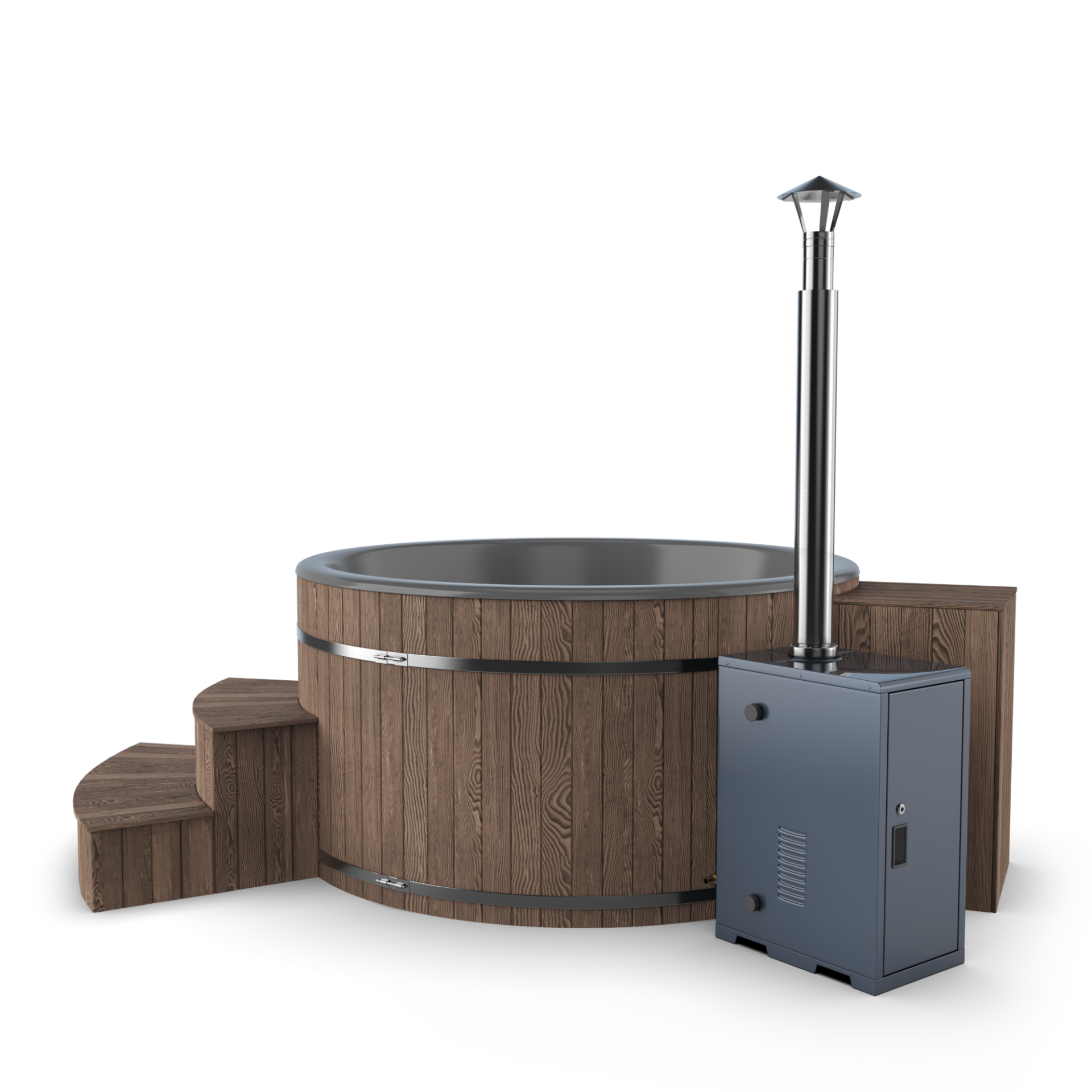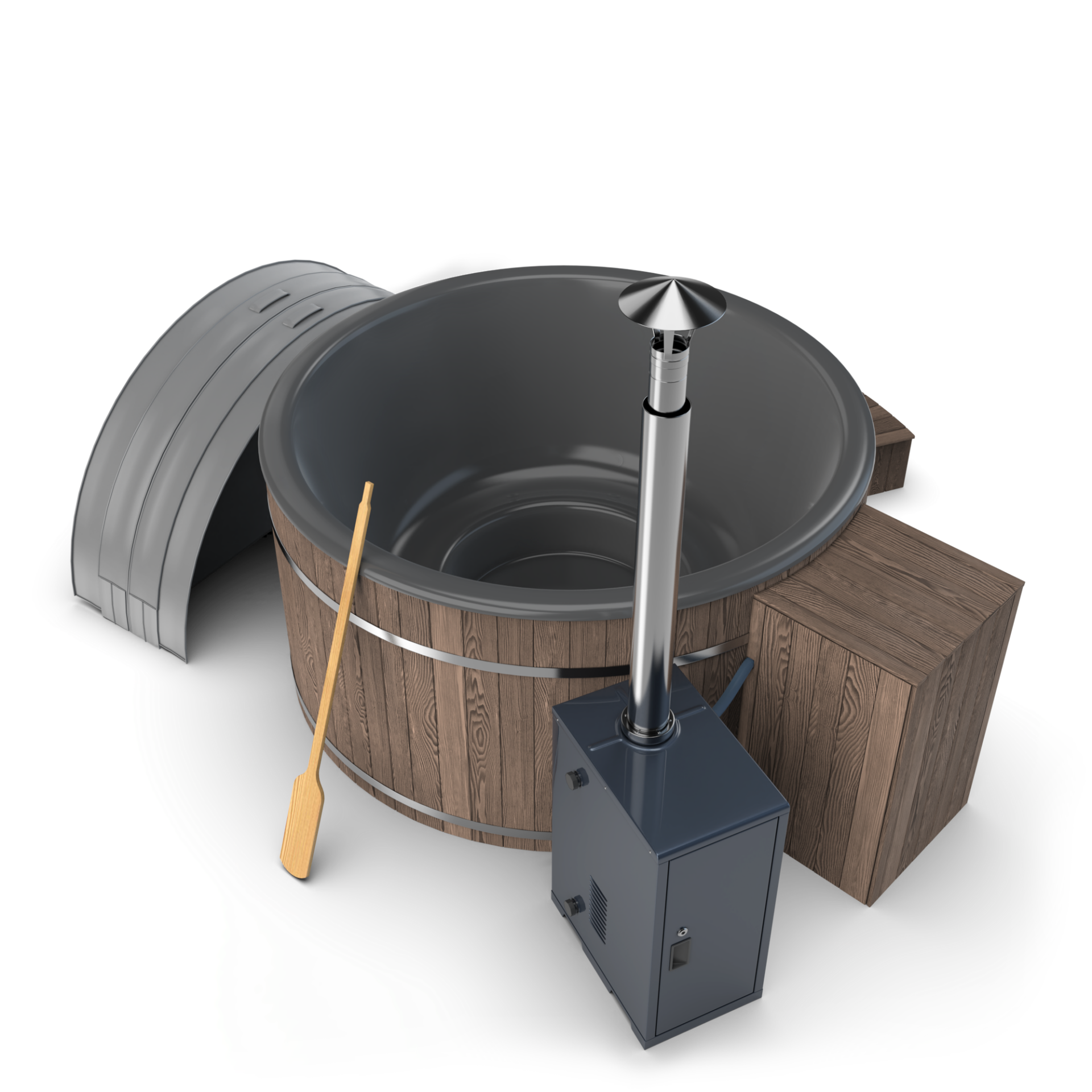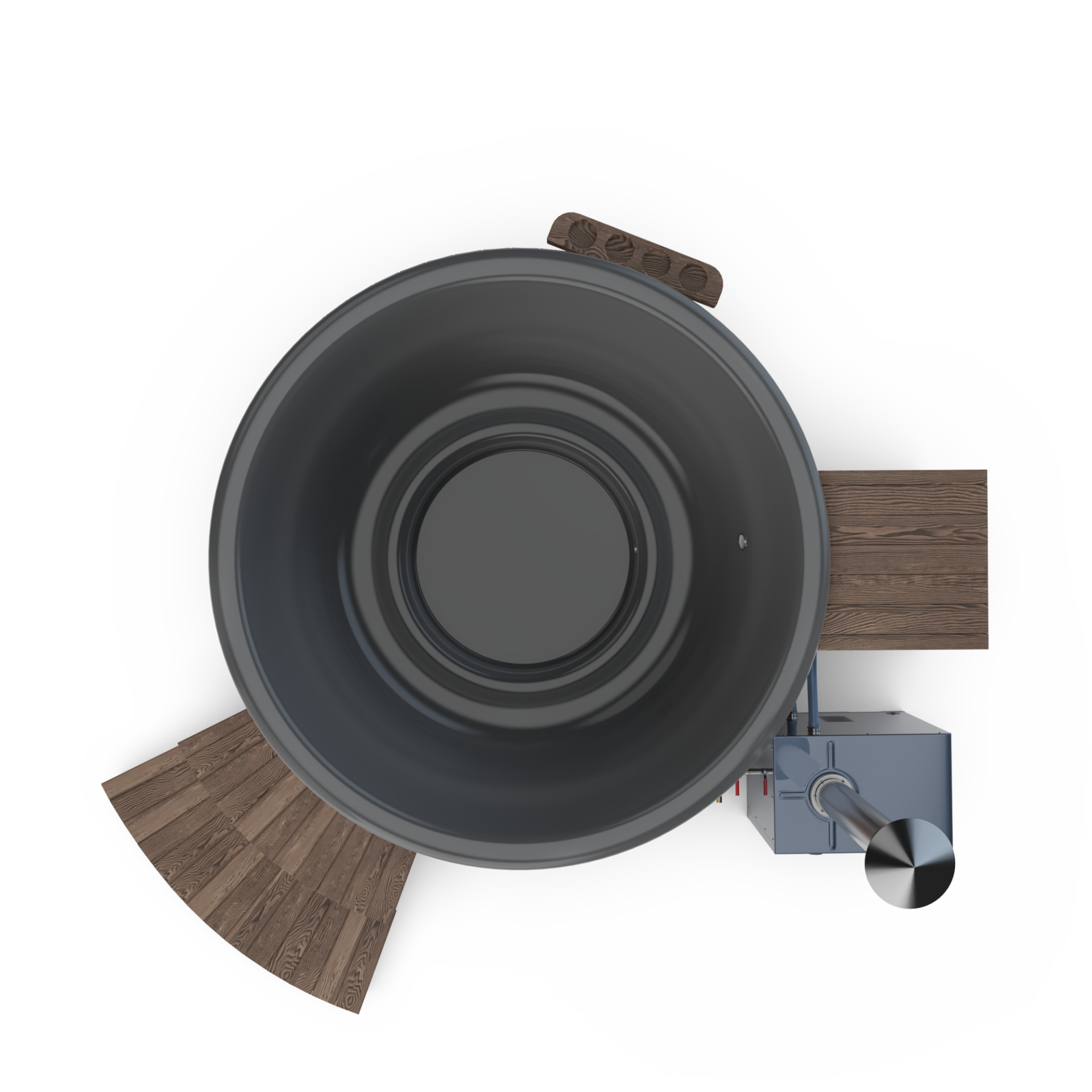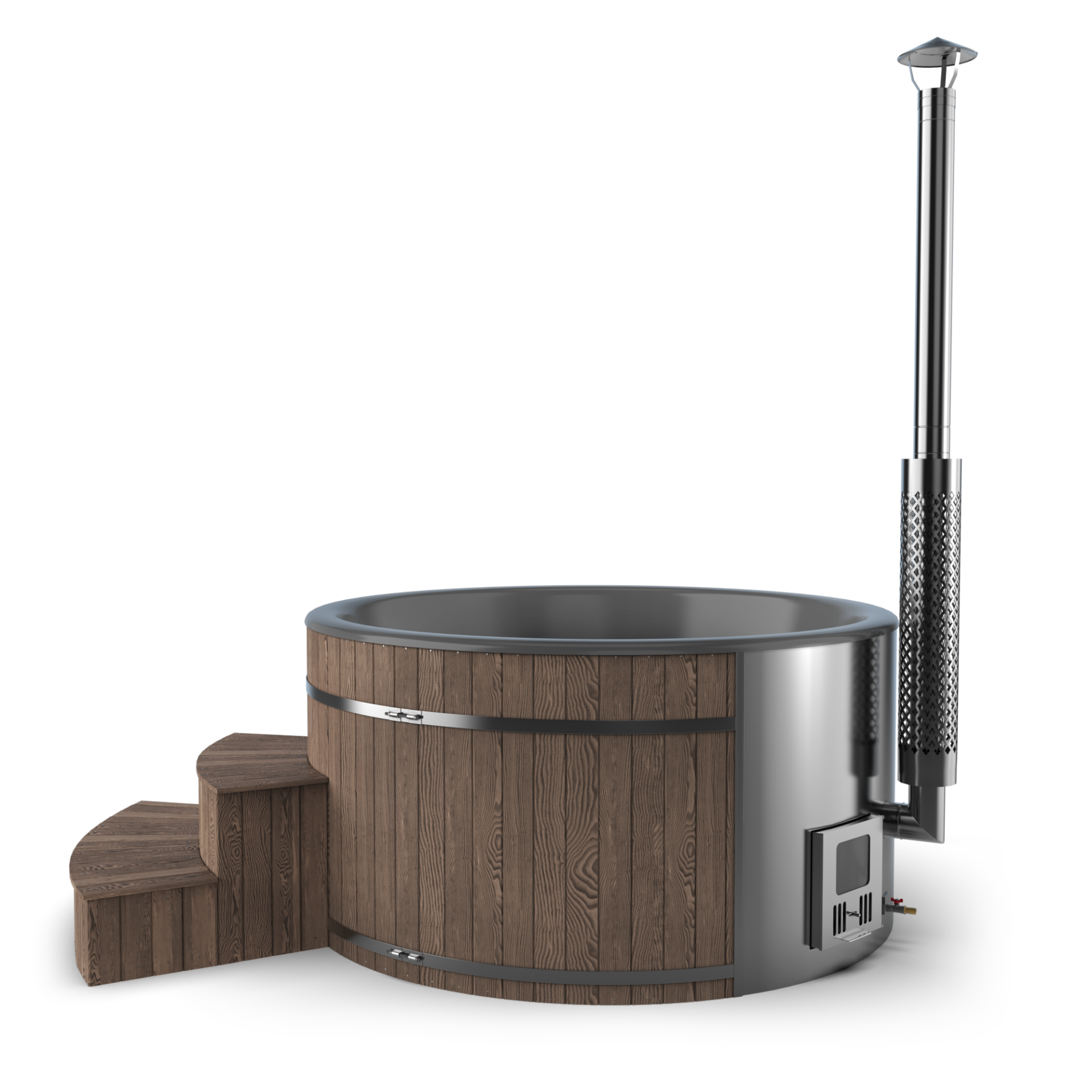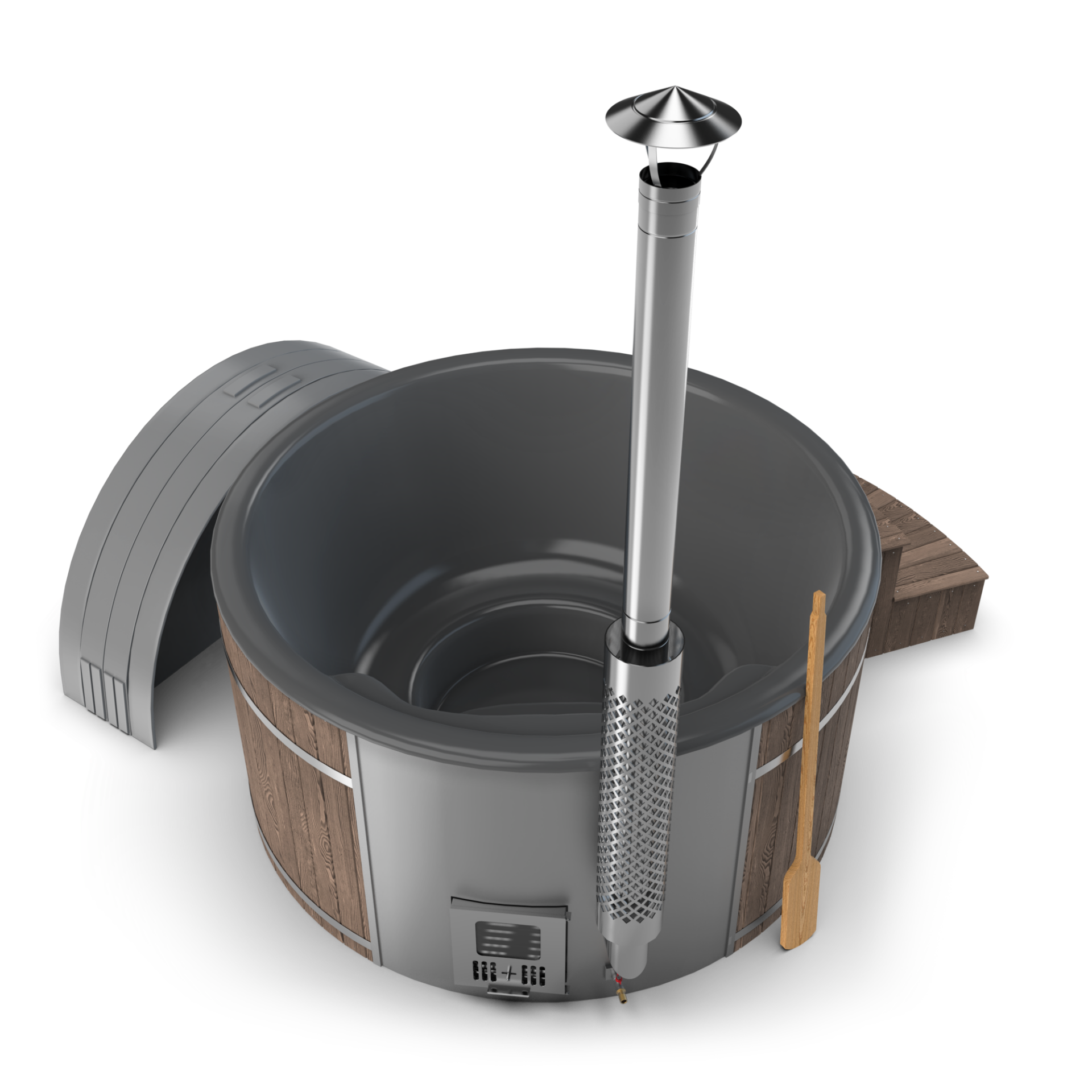 Delighted with everything
We are totally delighted with everything about our hot tub. We phoned them at 5.30 even though Royal Tubs said their office hours were 9-5. A wonderful man called Andrew took my call and really explained the range and options beautifully. Within an hour we had agreed the spec and incredibly they were able to deliver in 2 weeks! Can not recommend them more highly!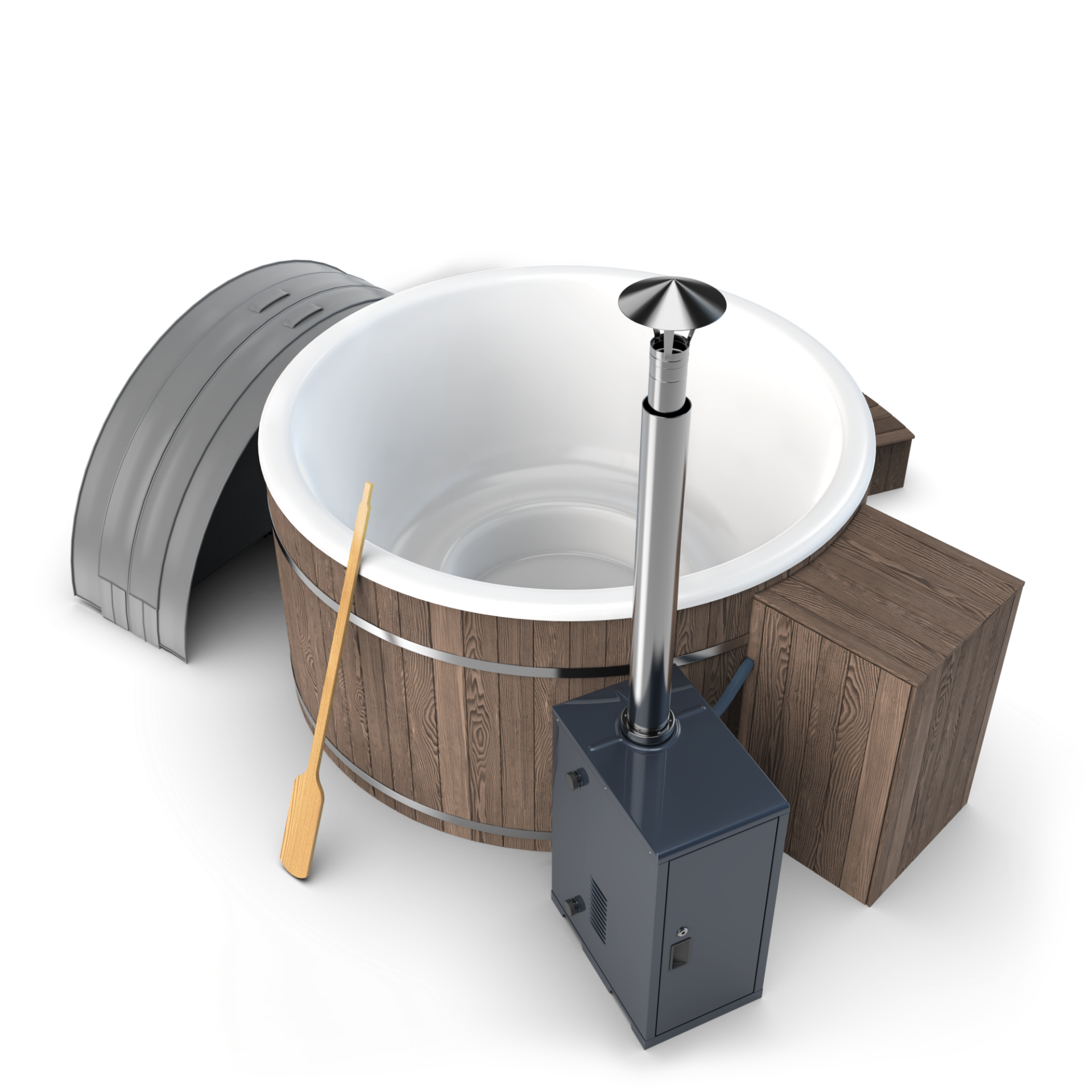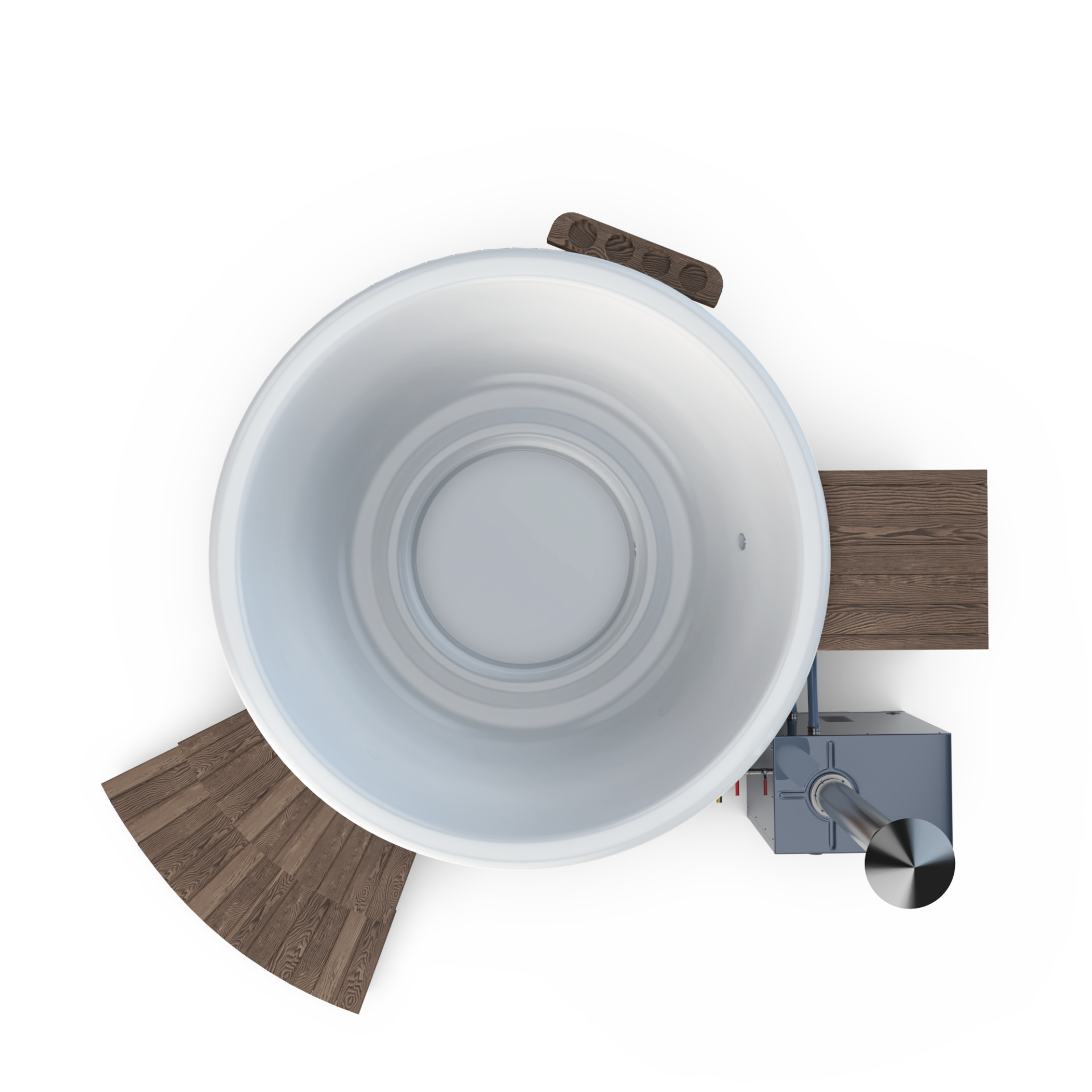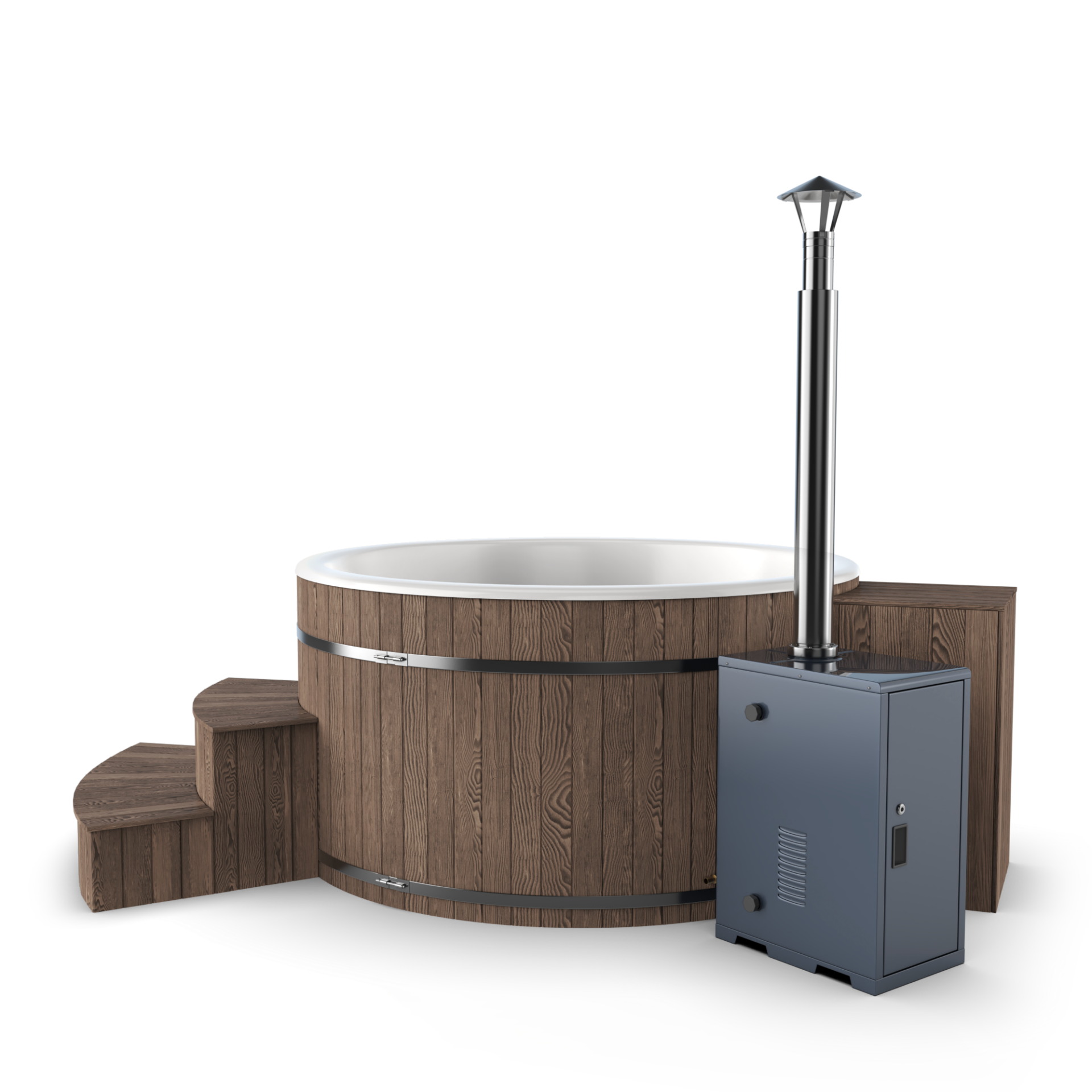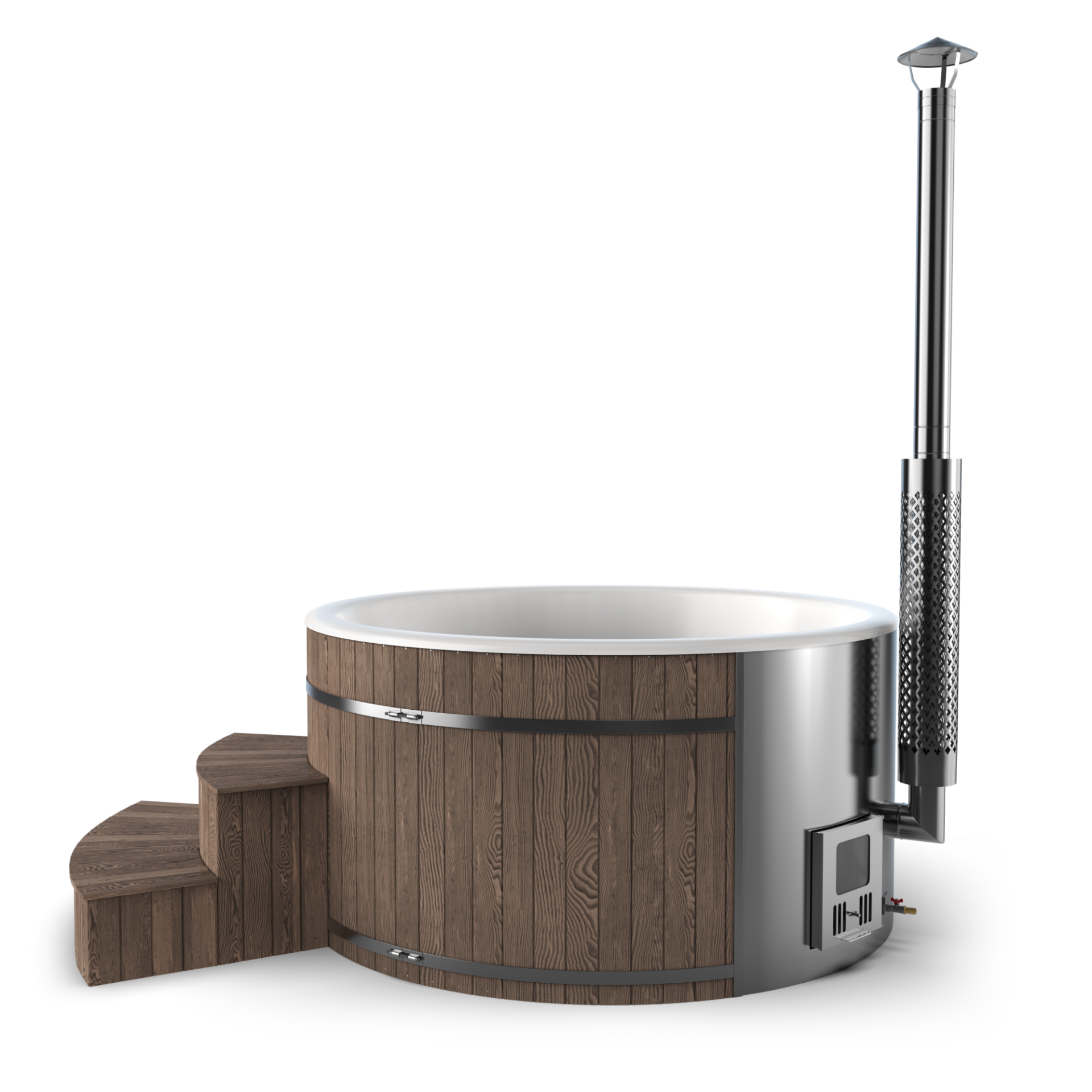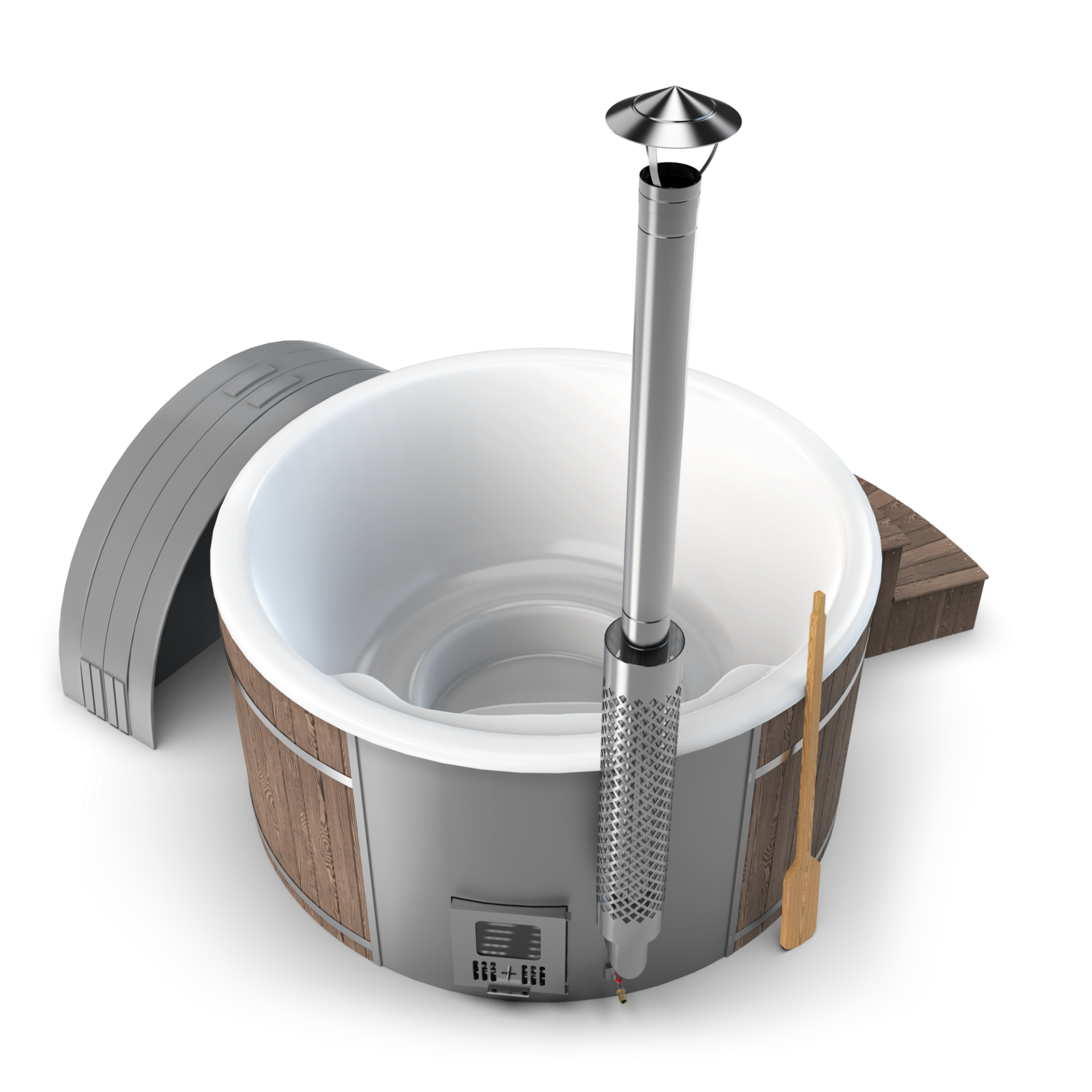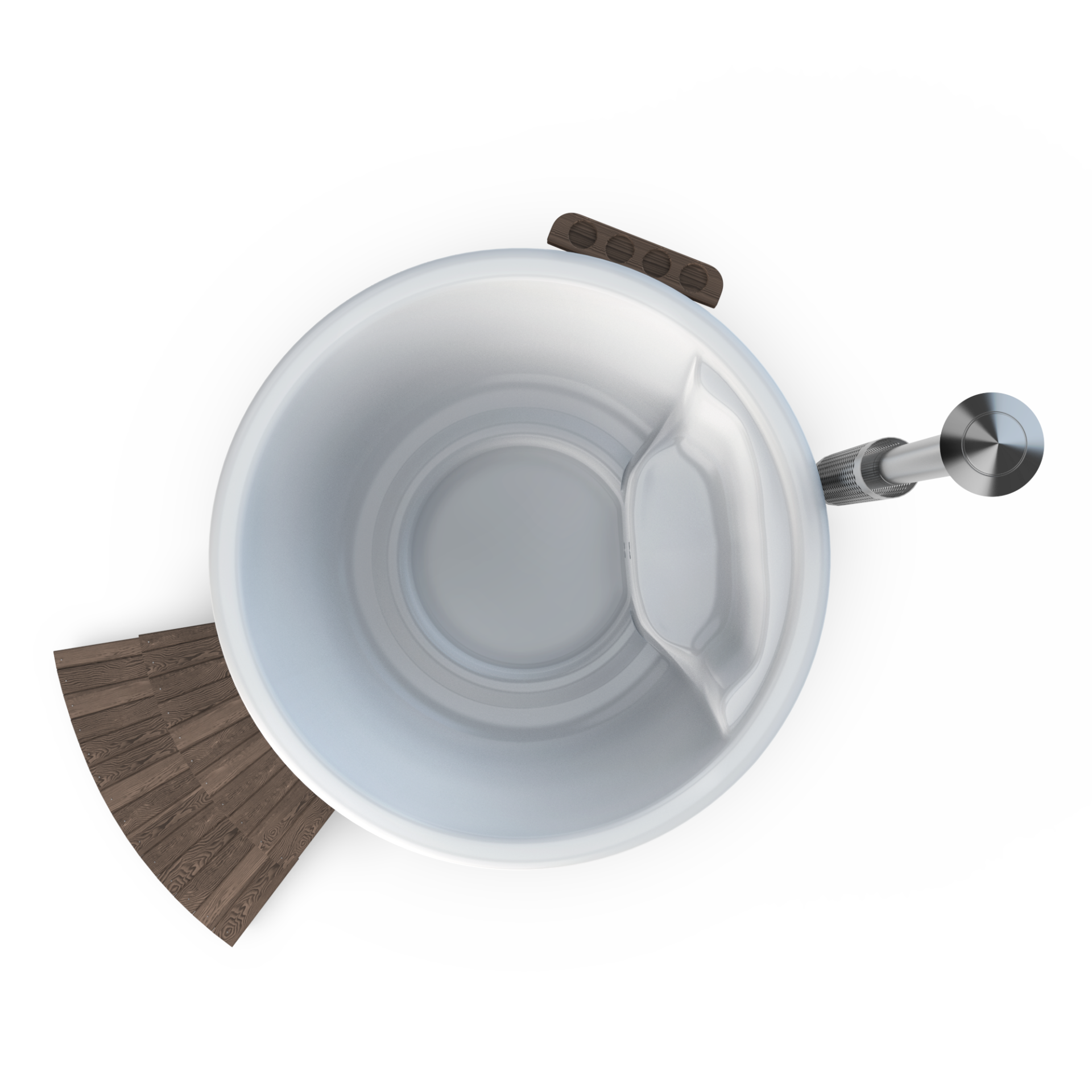 Cannot recommend enough!
The service was excellent. The two guys delivering the tub were also super helpful, showing me exactly how it works and helping us move it to our desired location. As for the tub itself, it's awesome and if anything, exceeded my expectations! It's dead easy to get going, you do have to be patient whilst heating the water but that's part of the fun of it & once you're in, sit back relax and crack open a cold beer (Tip: purchase the drinks holder, it's worth).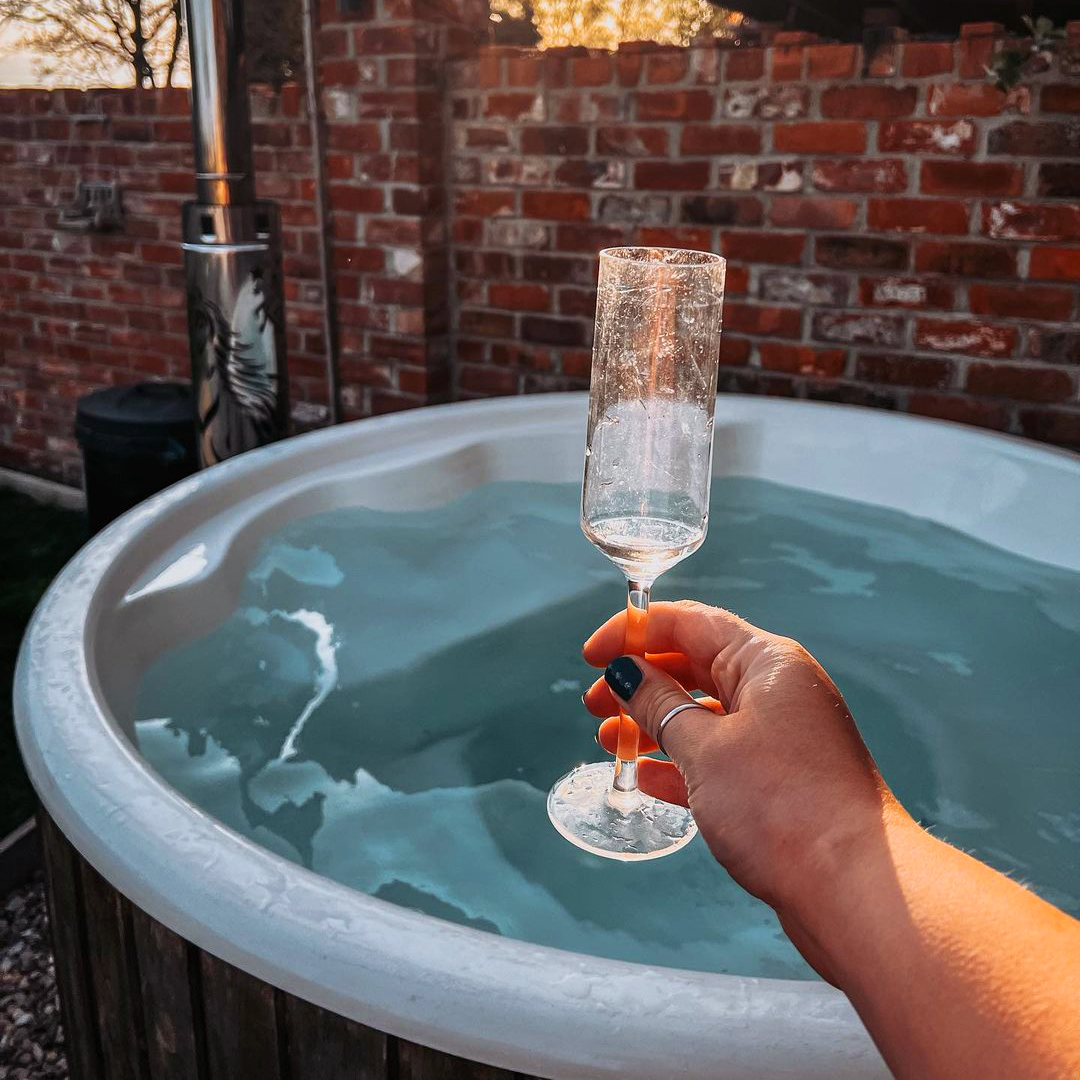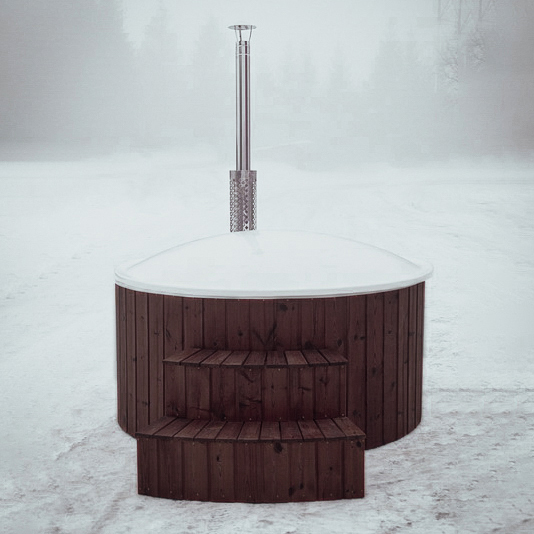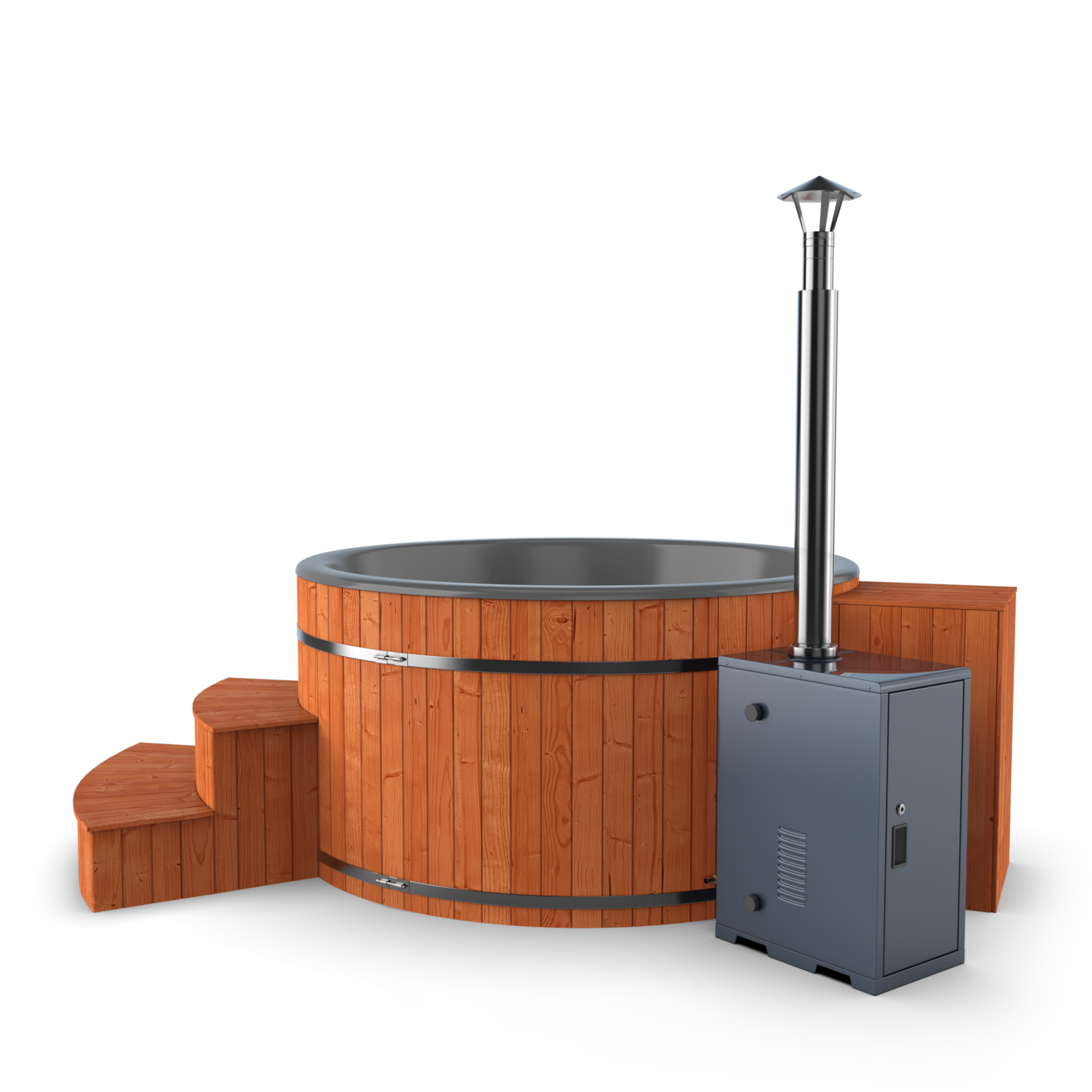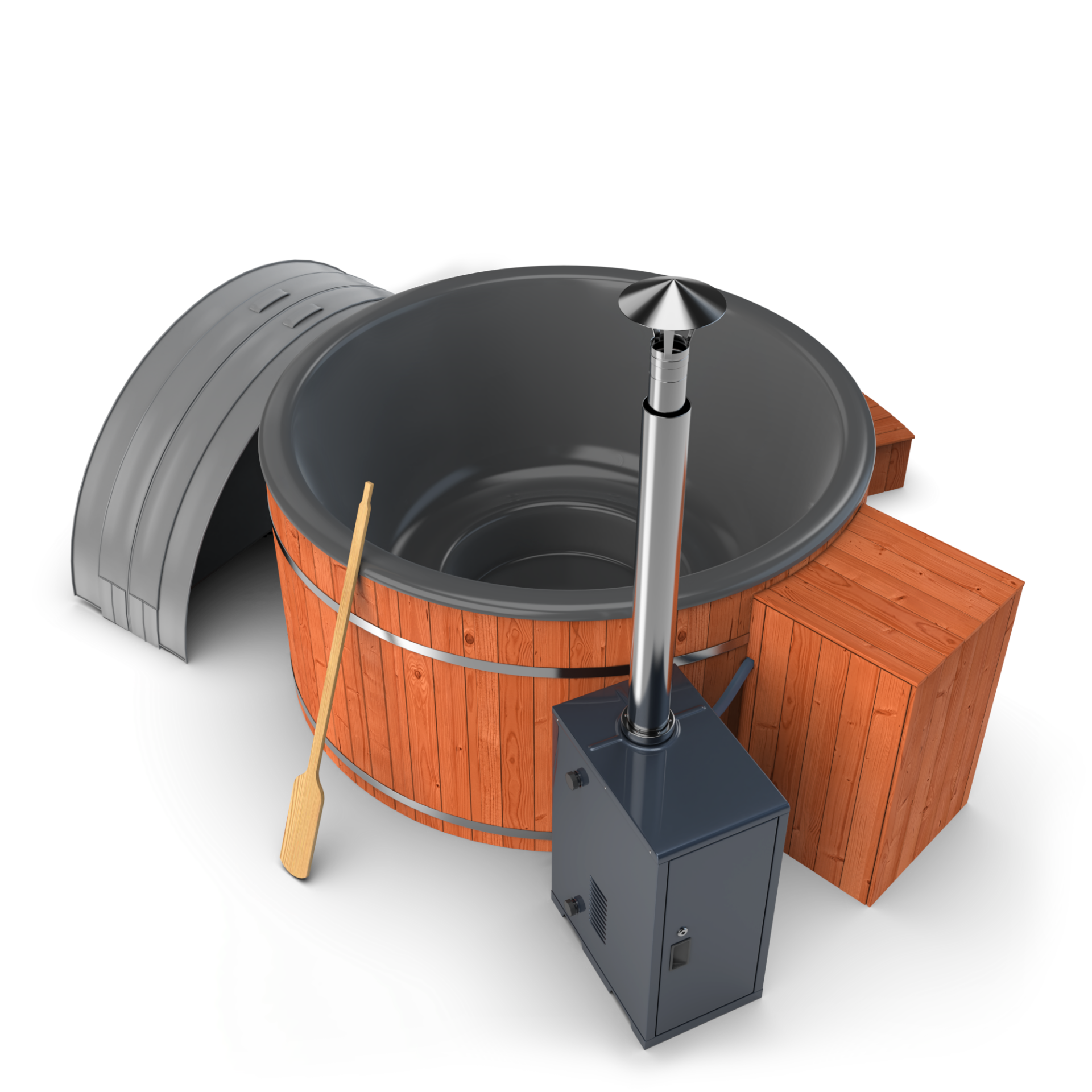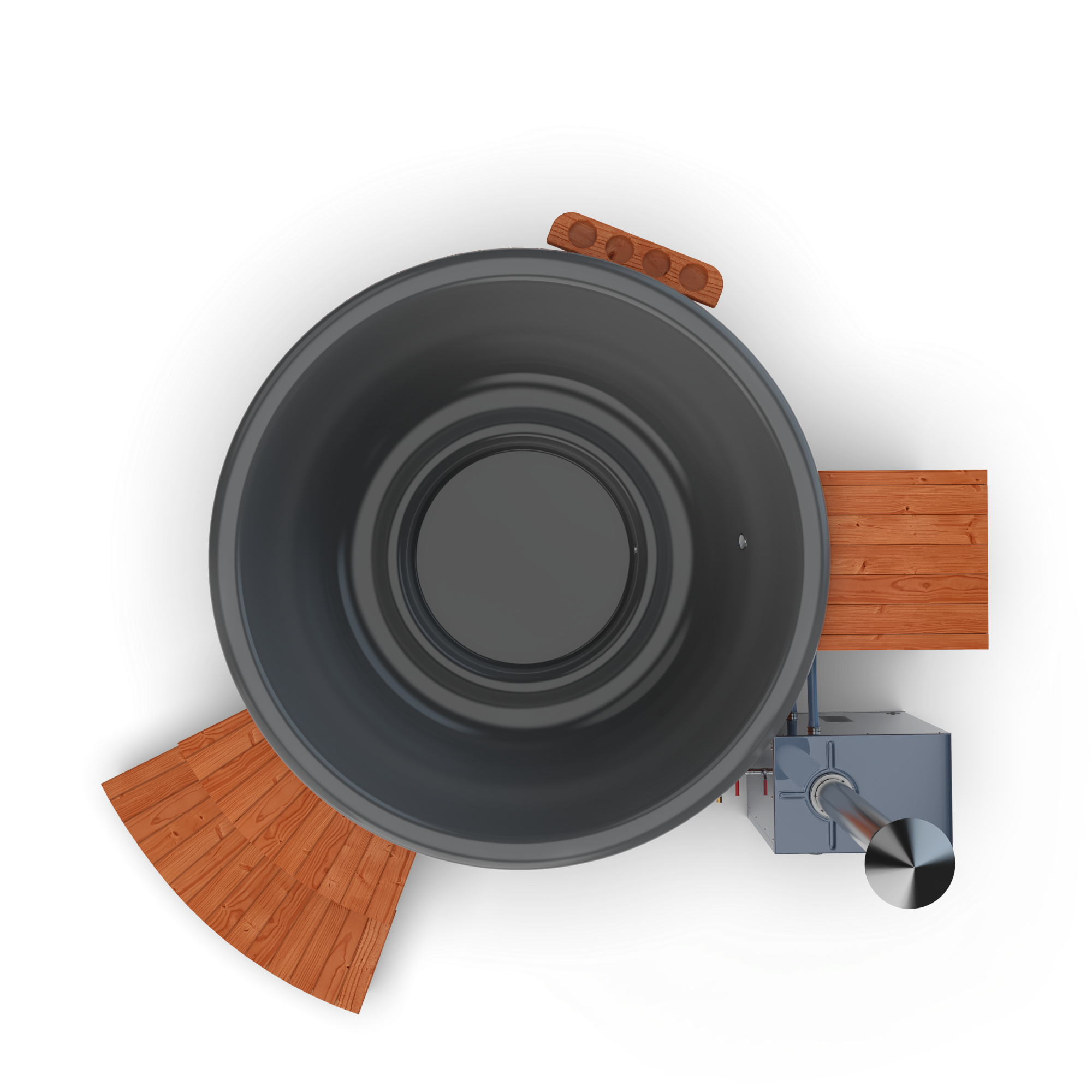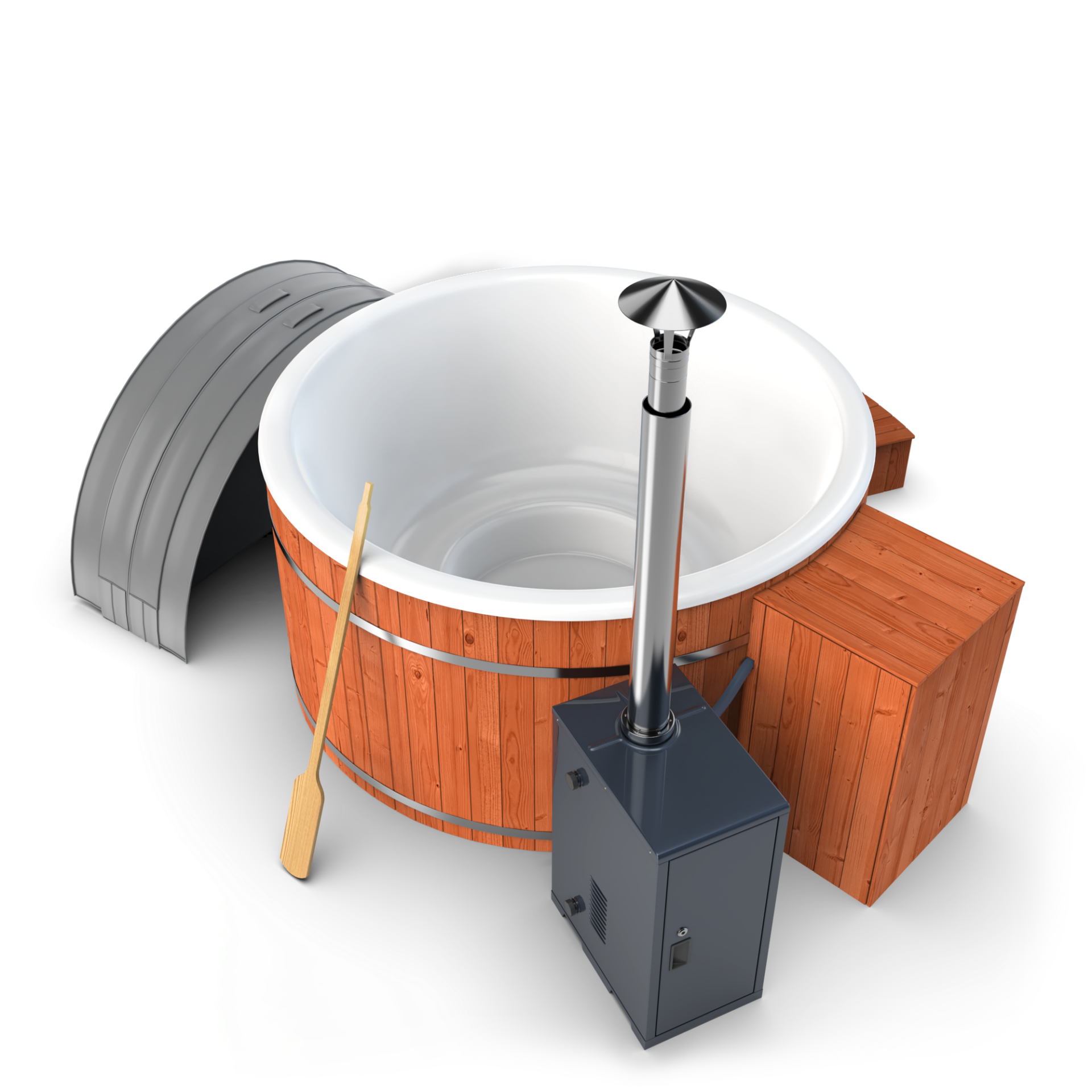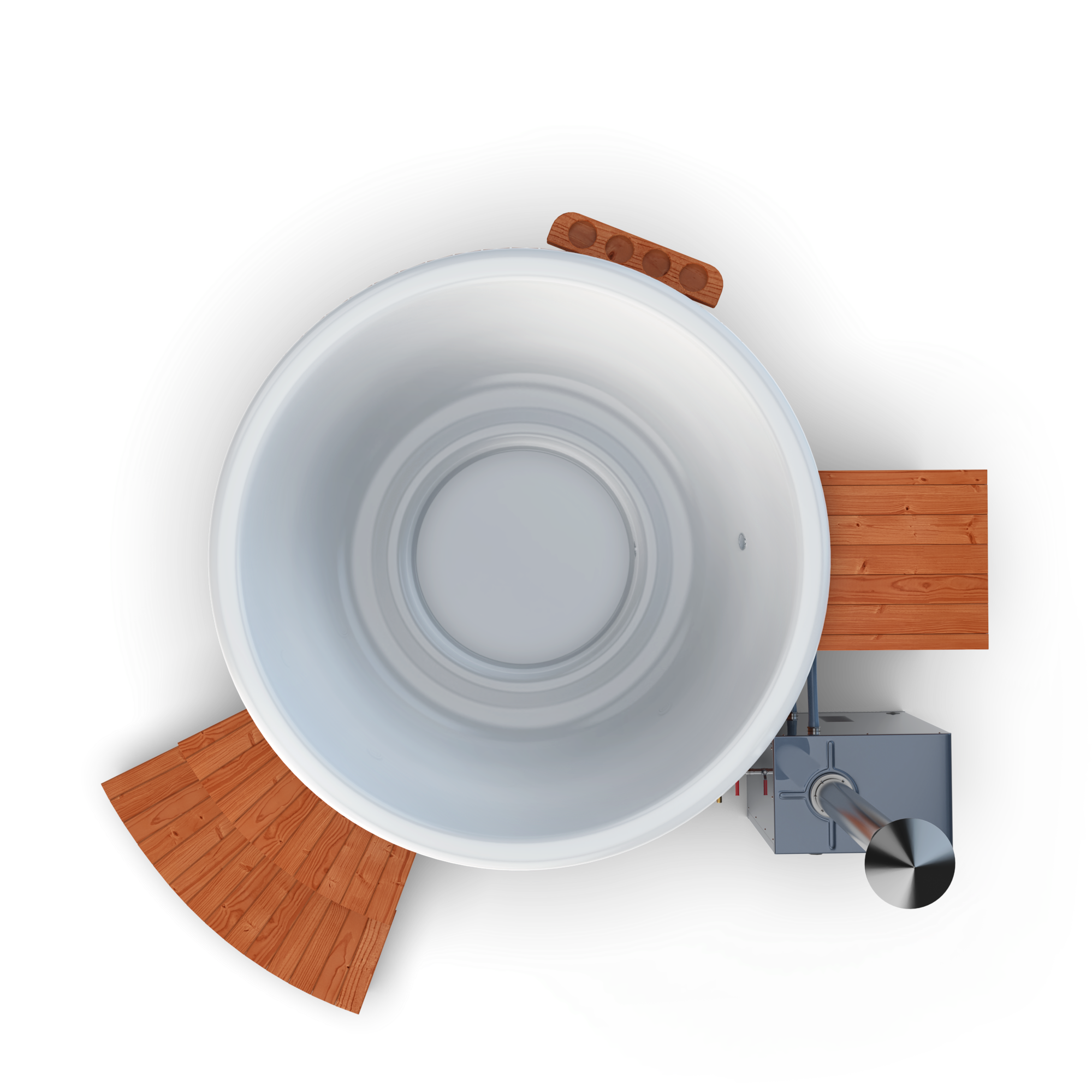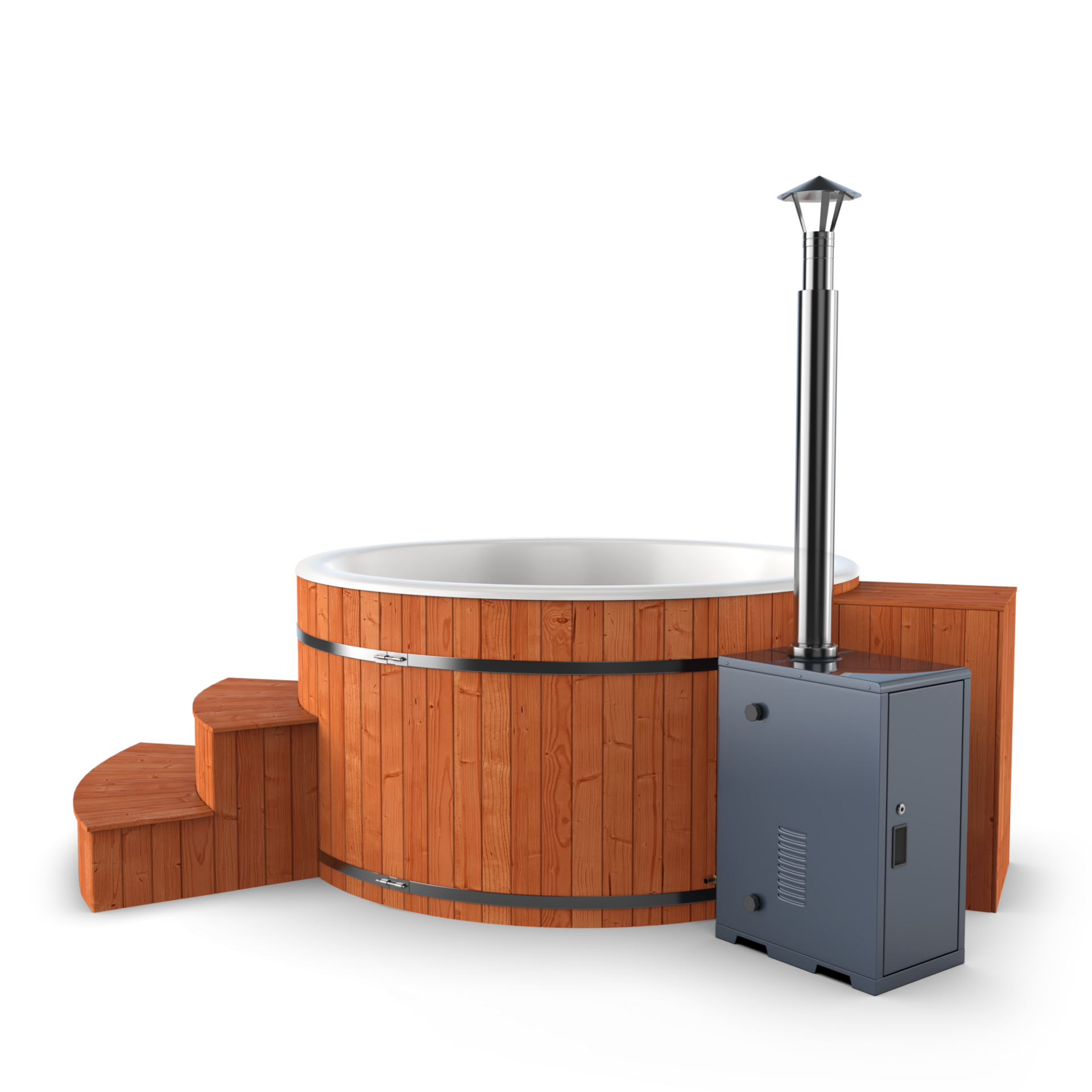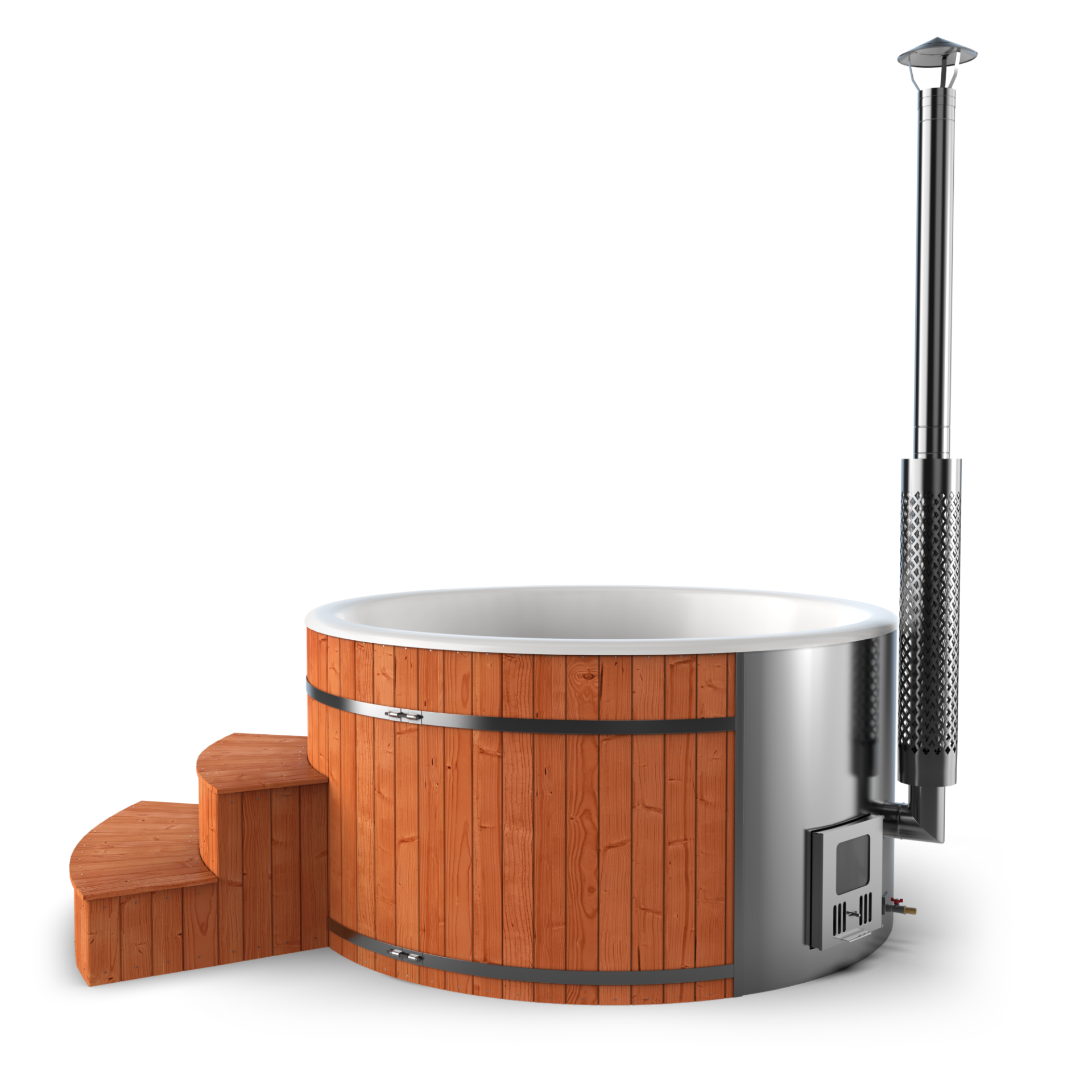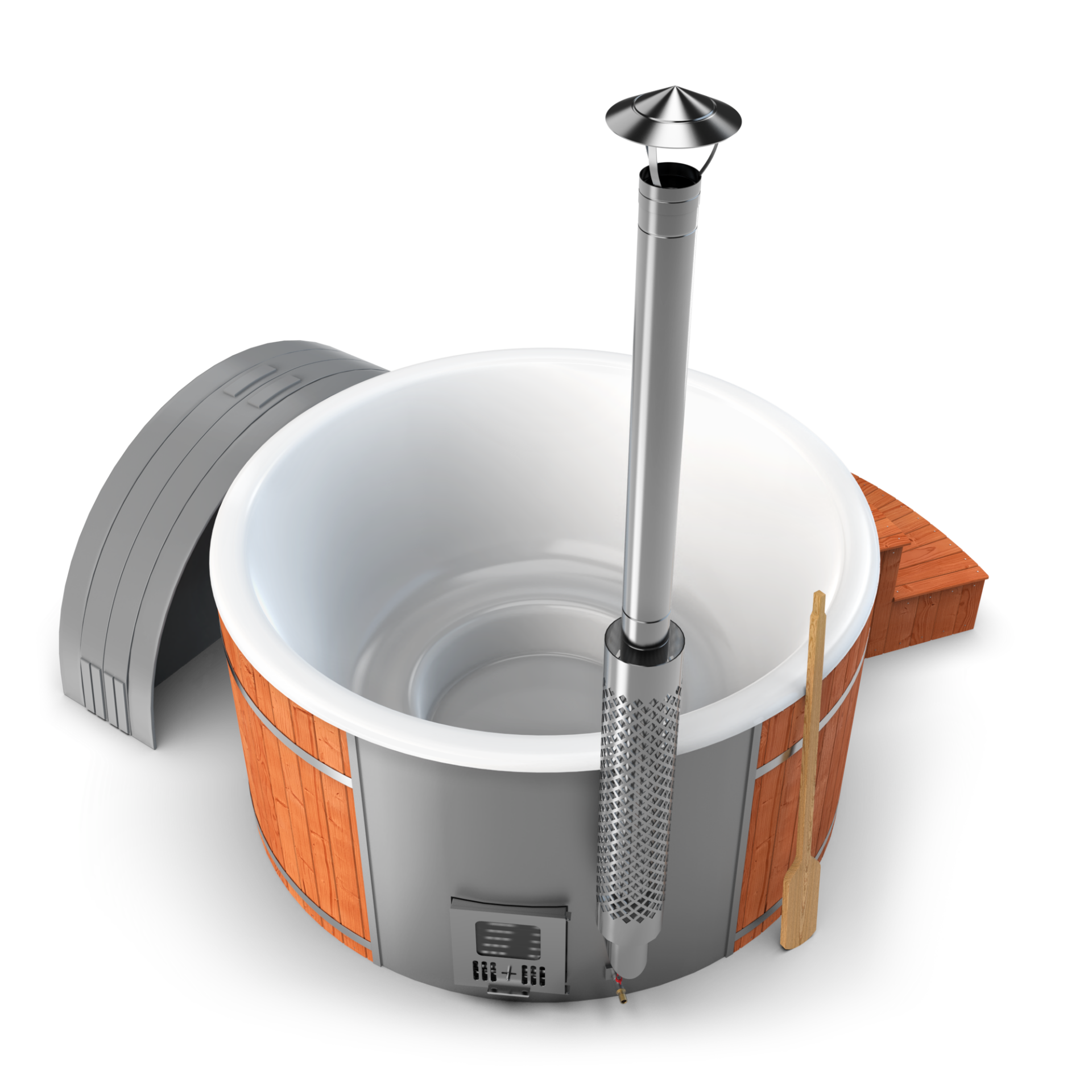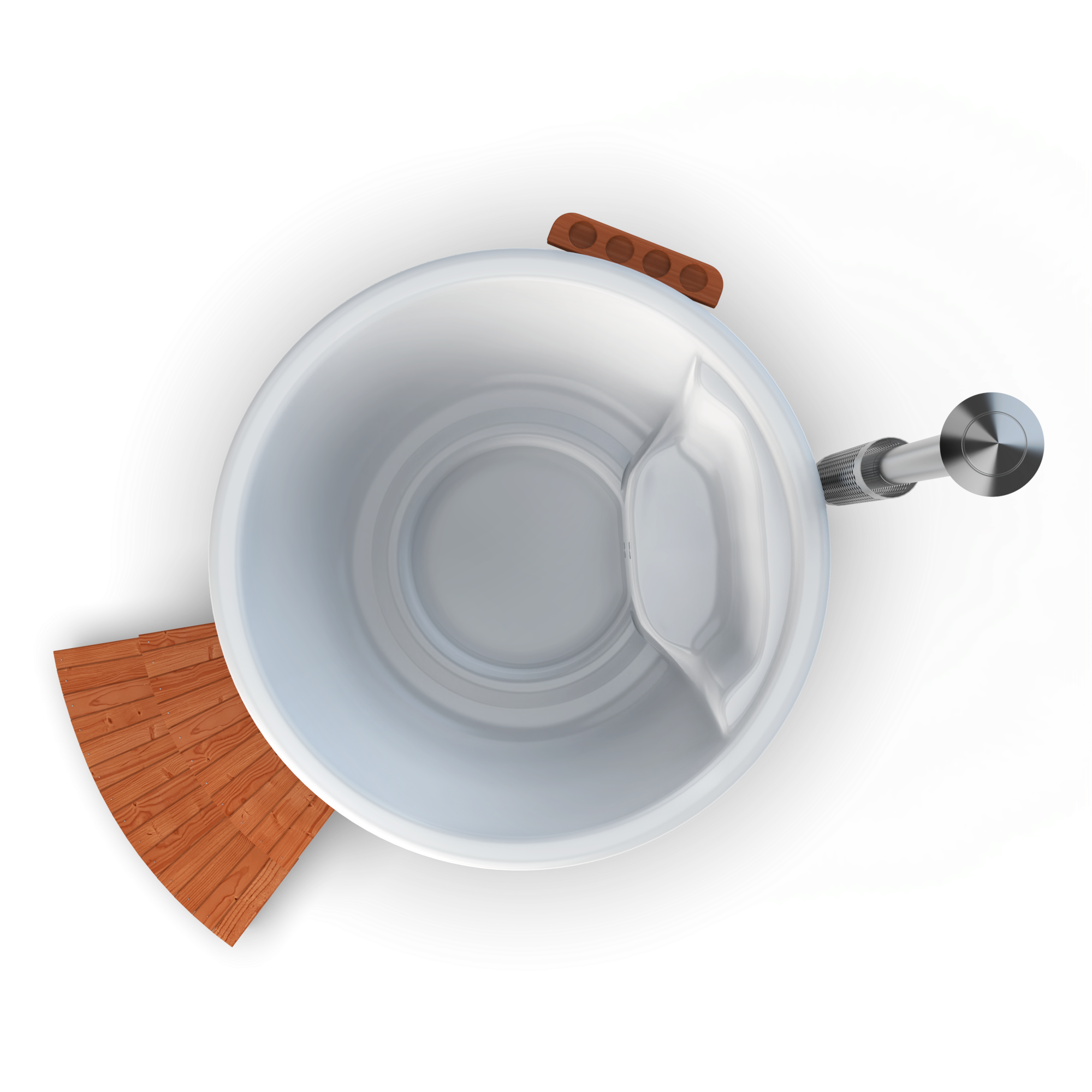 Fantastic deal
After looking at various hot tubs we decided we wanted the fibreglass wood fired type. Royal hot tubs did not disappoint, I contacted Andrew over Easter Weekend and he pointed me in the right direction, helping me choose the right spec. He did a fantastic deal on a high spec model. Delivery was quick and was all set up in under two hours. Thanks again.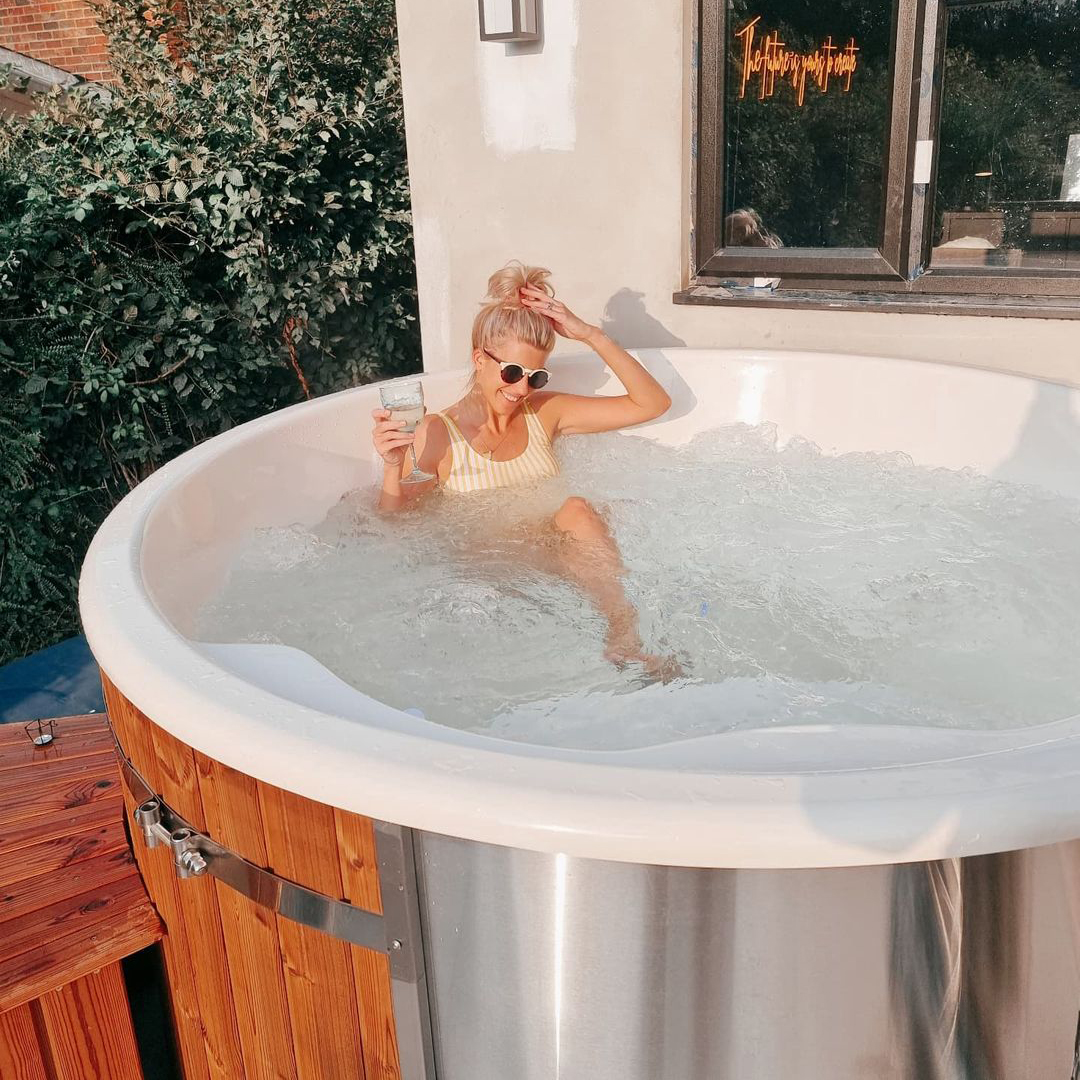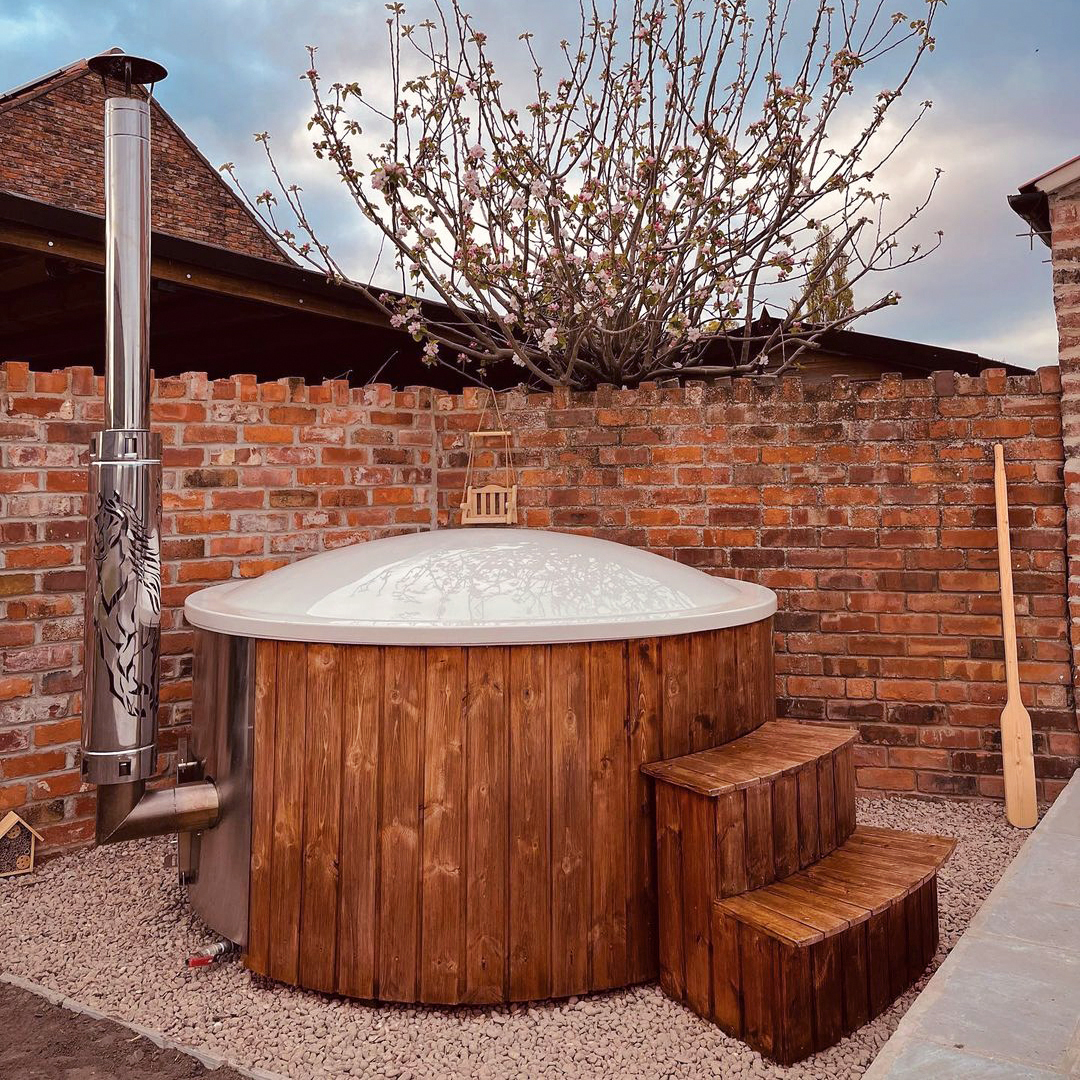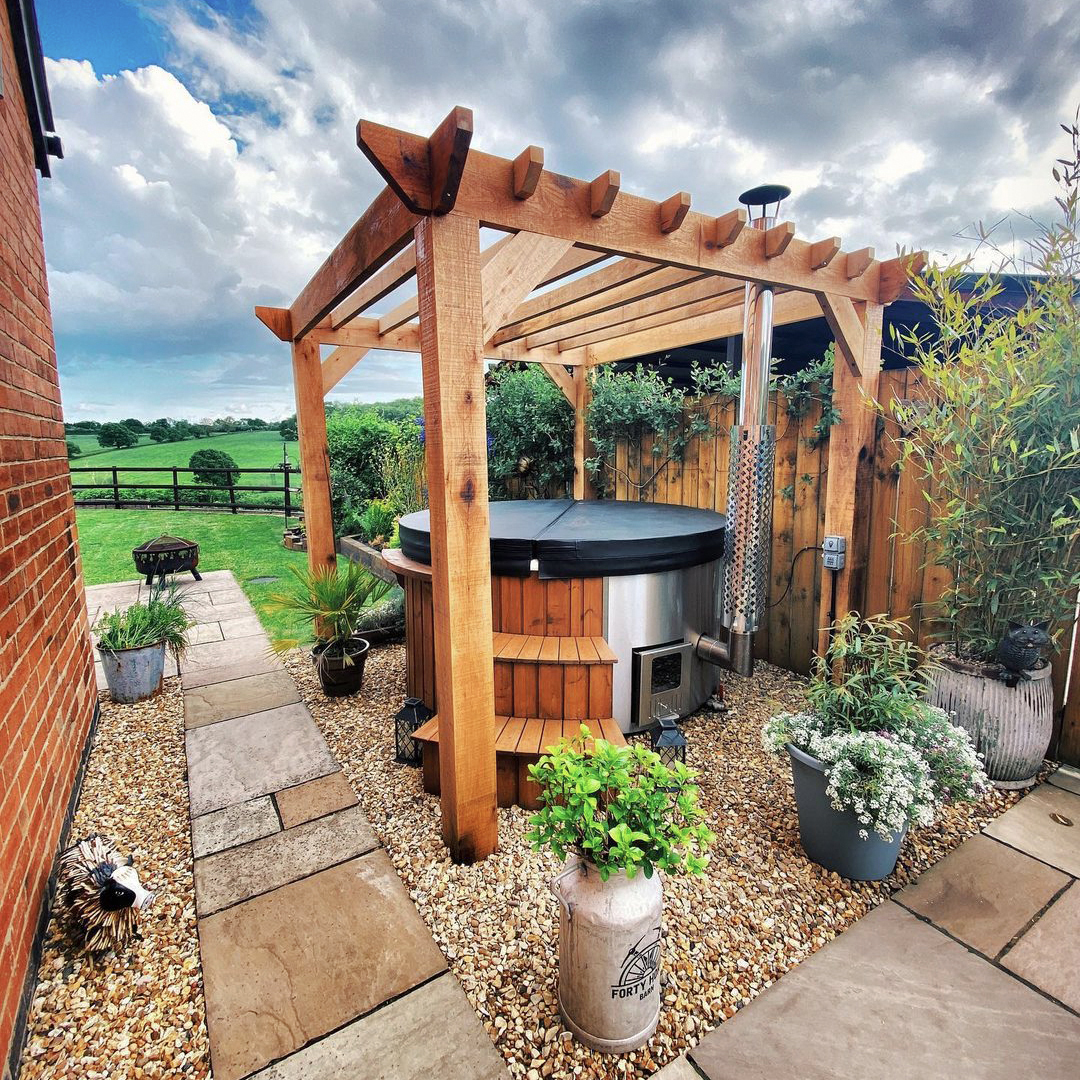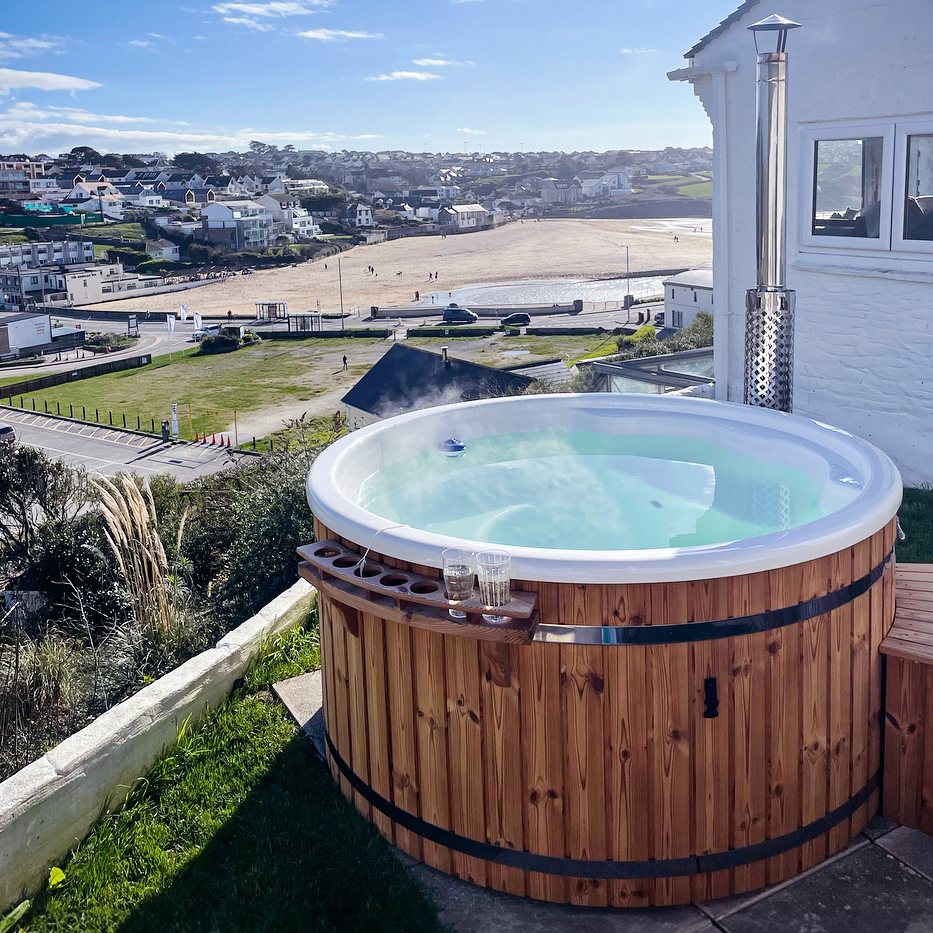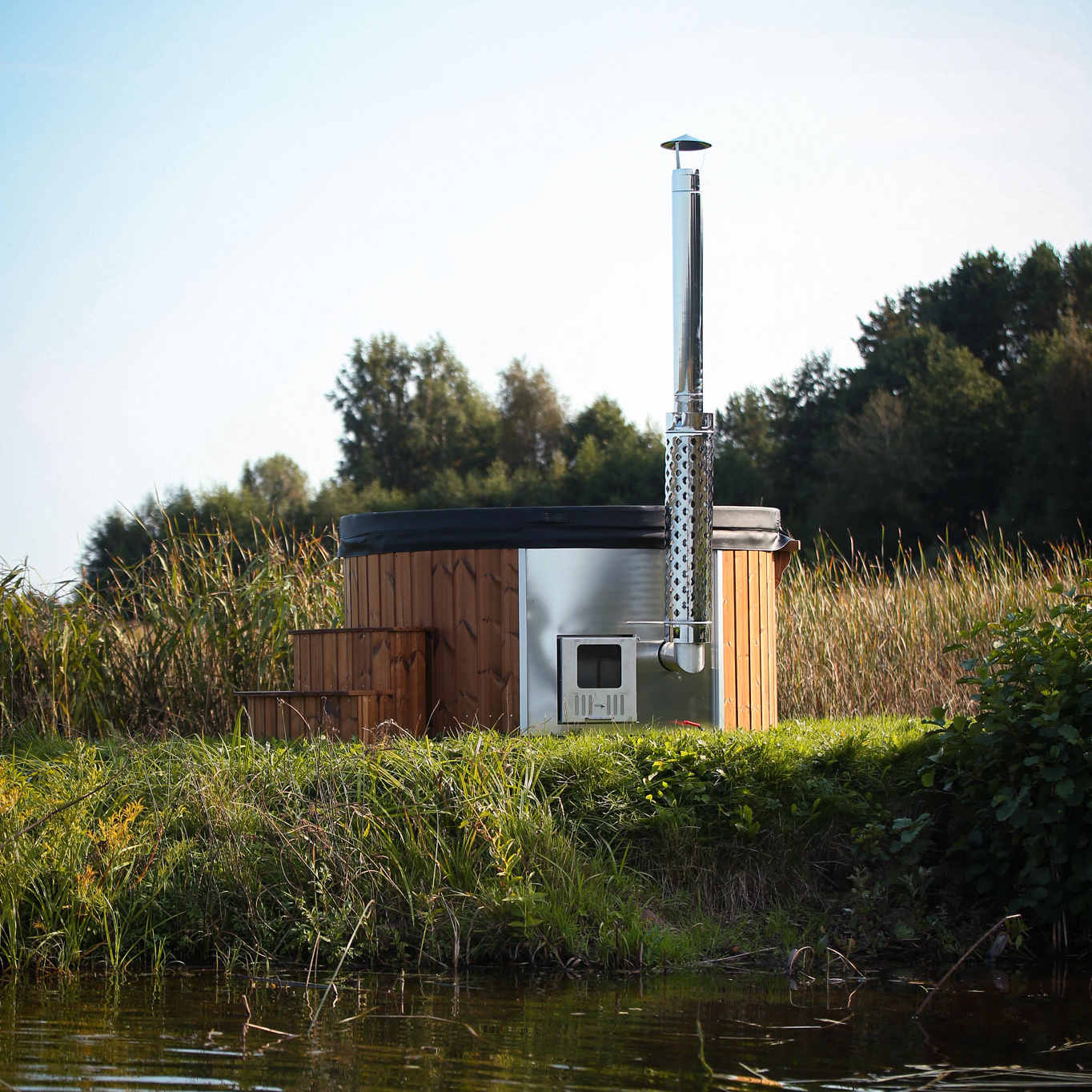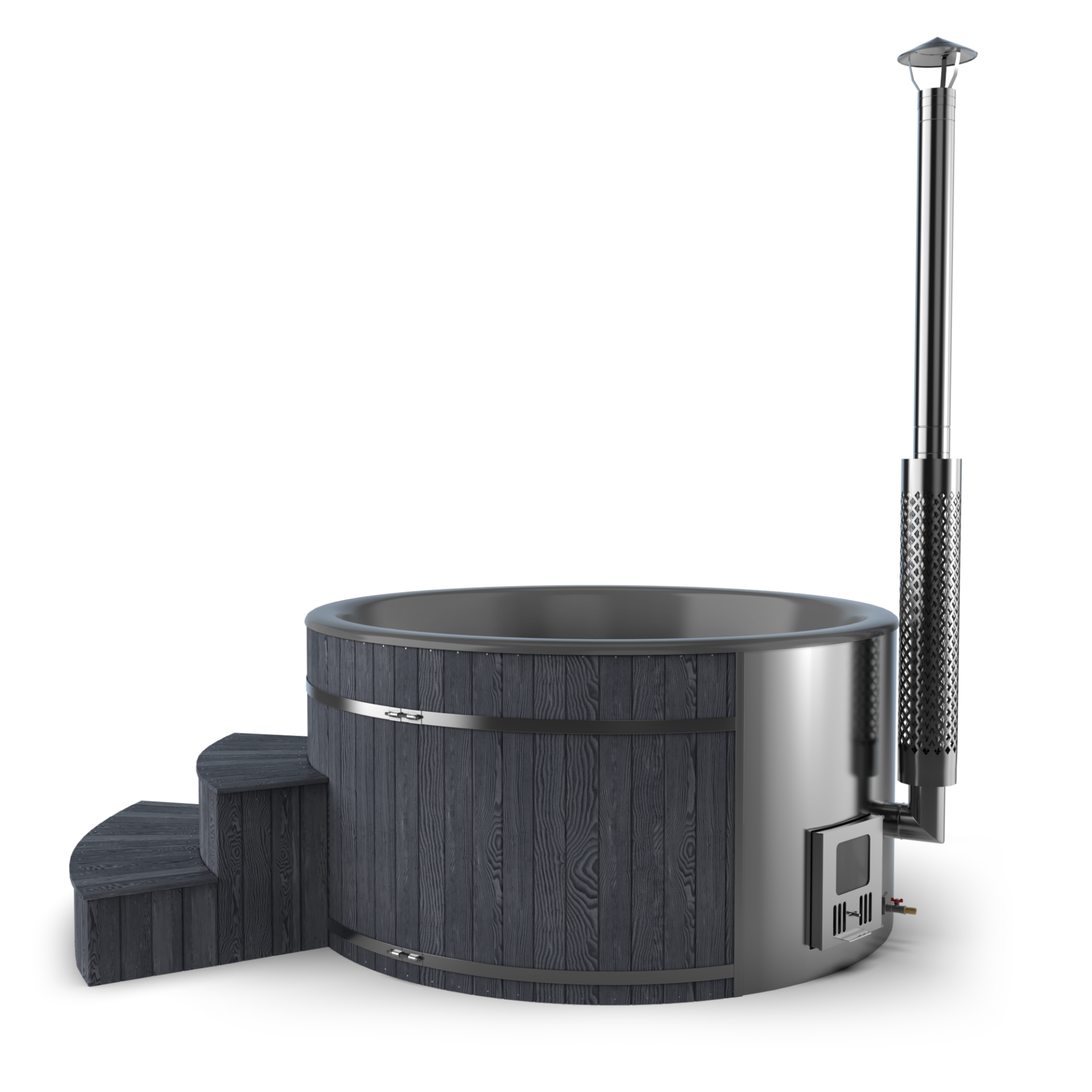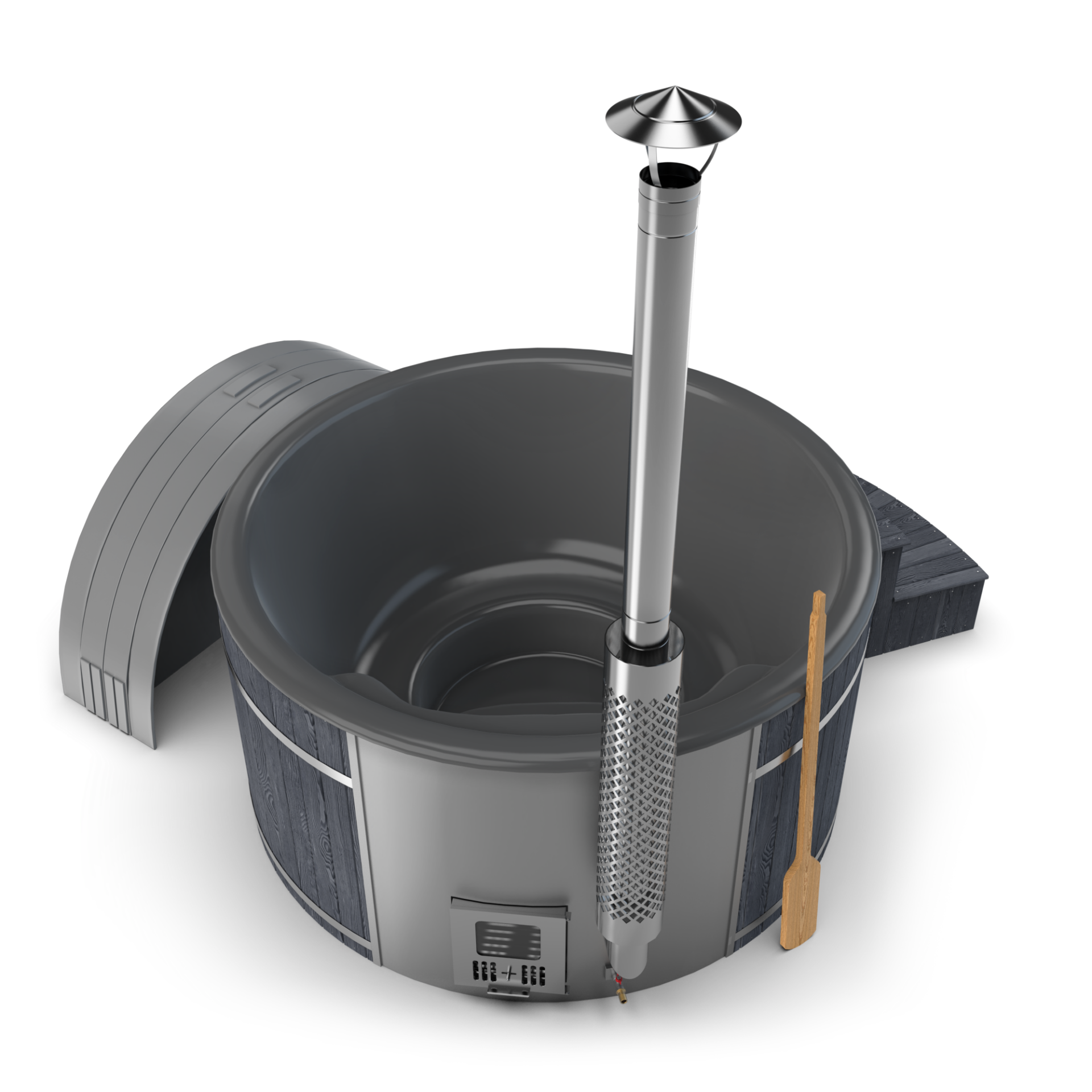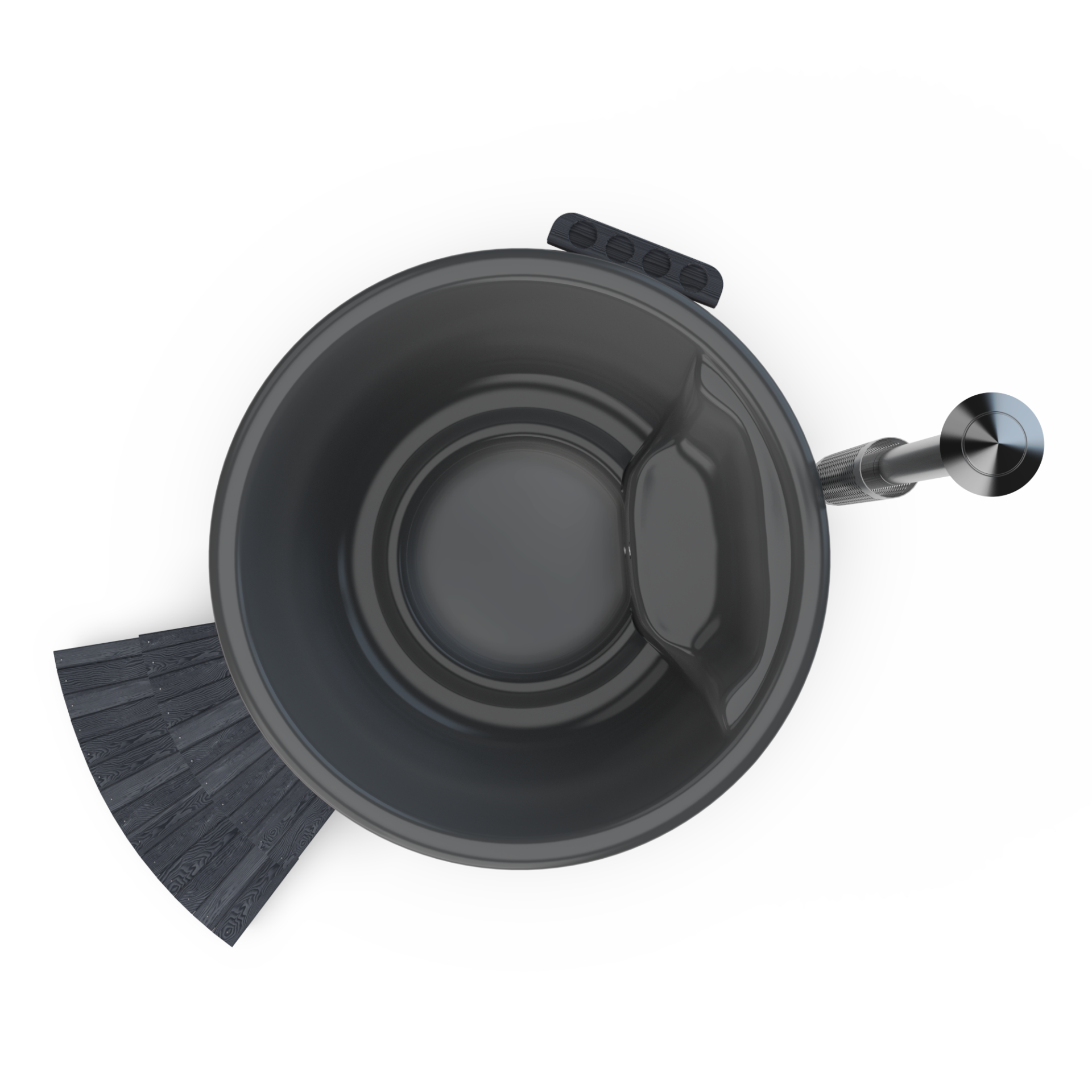 Highly recommend
Really delighted with my newly installed delux wooden hot tub. Gary provided an excellent service and did a great job even though at last minute I asked him to set it up for me to save my husband a job, I hope he wasn't too late to his next job after working in the pouring rain to put it together. I would highly recommend Royal Tubs. They are built in the UK and are available for a chat if you have any concerns.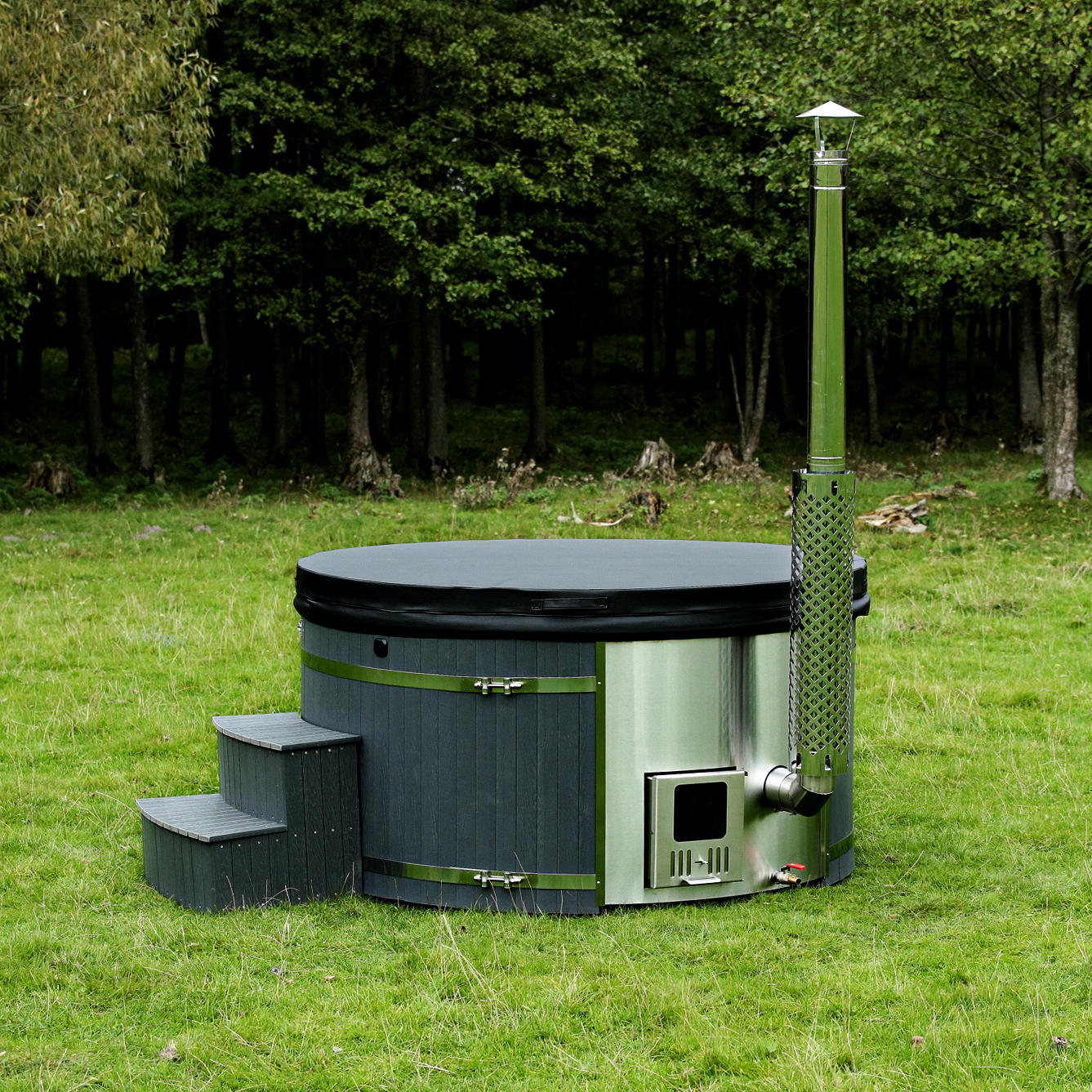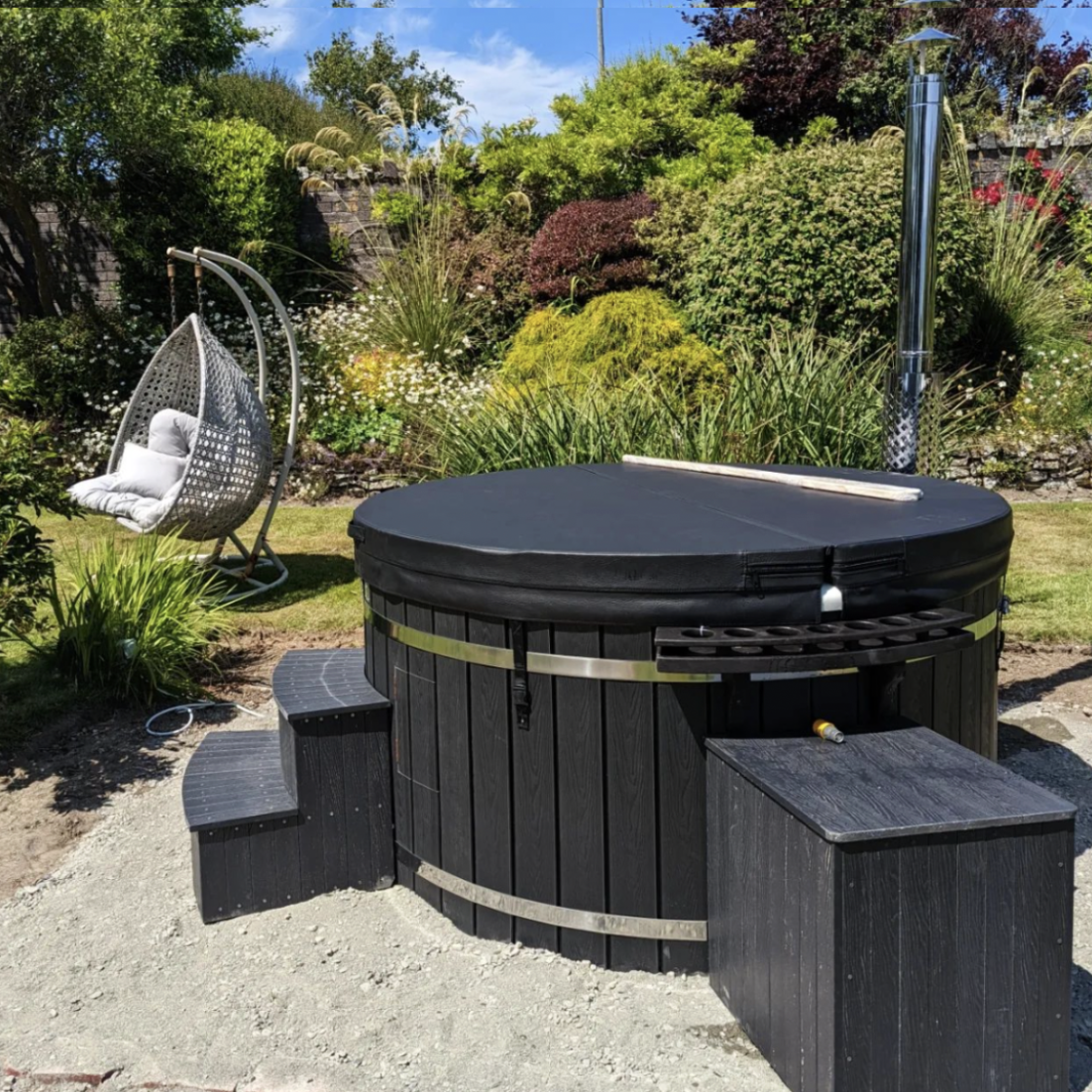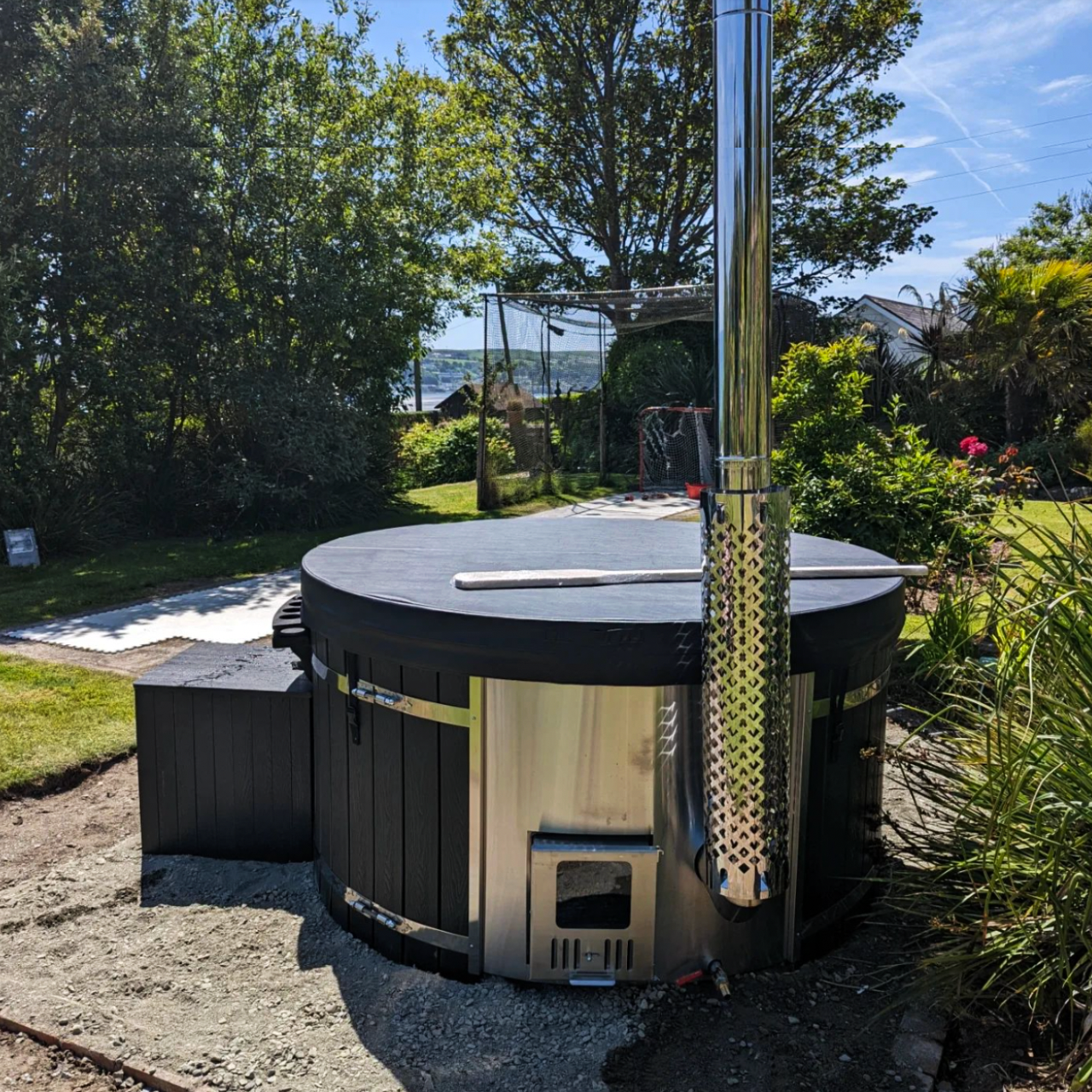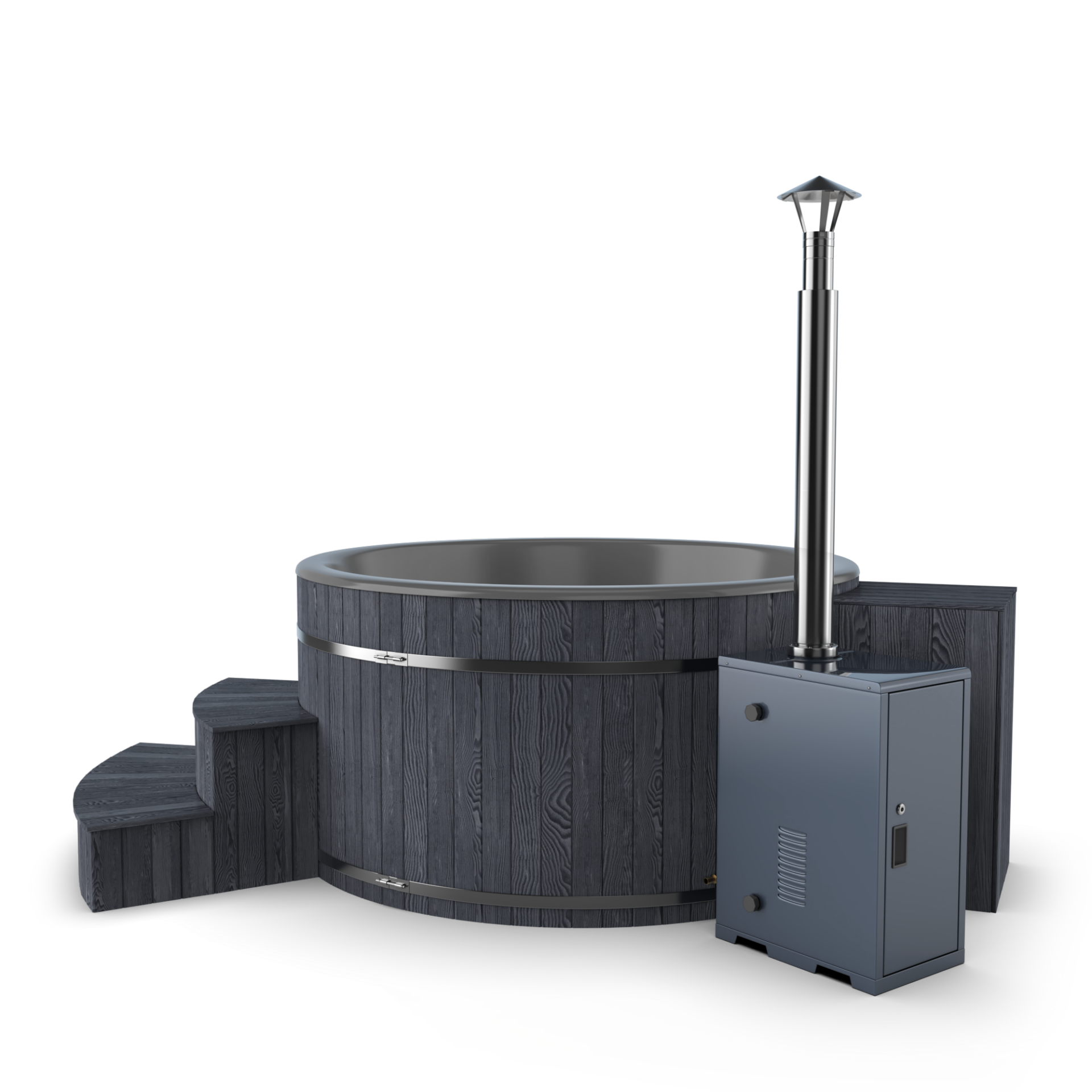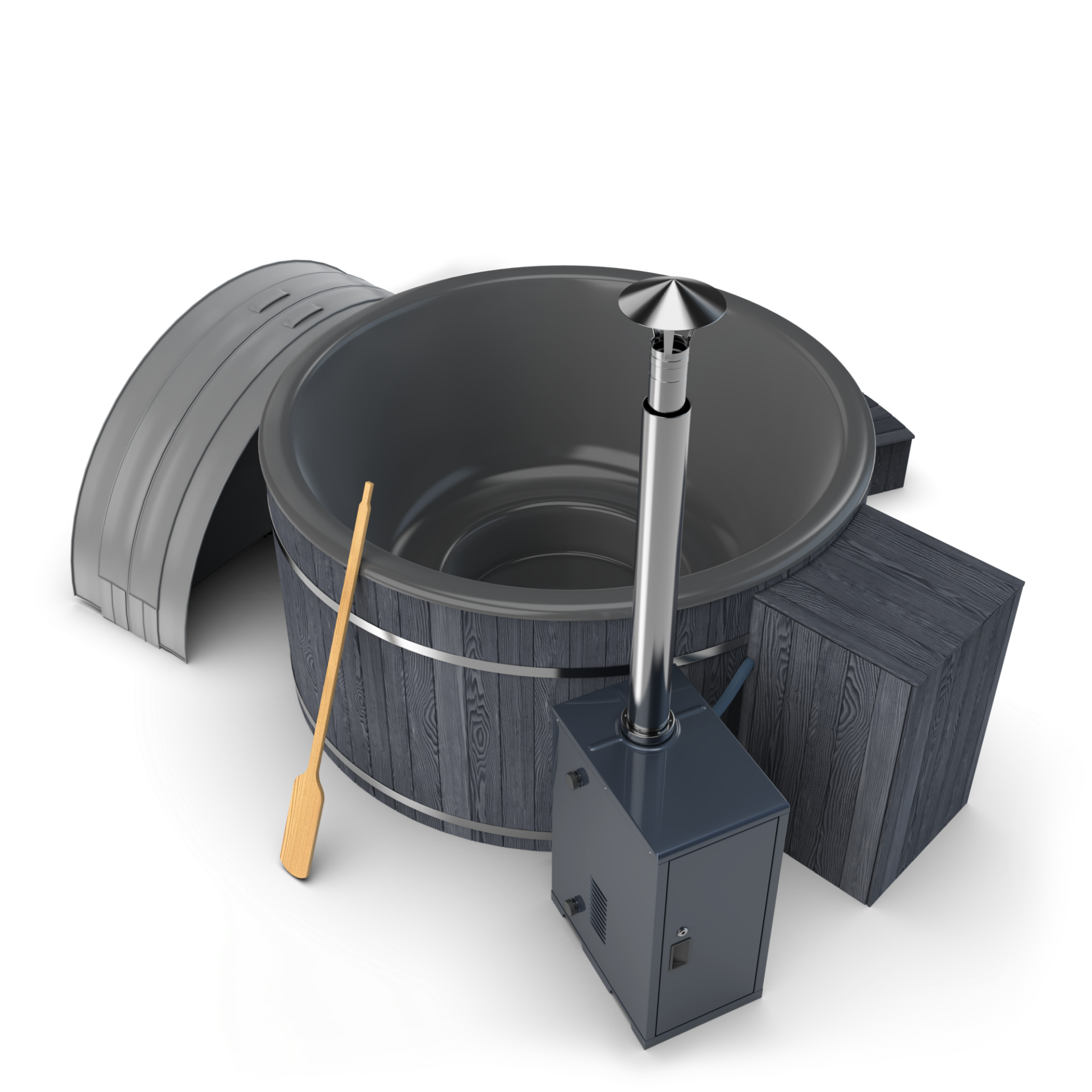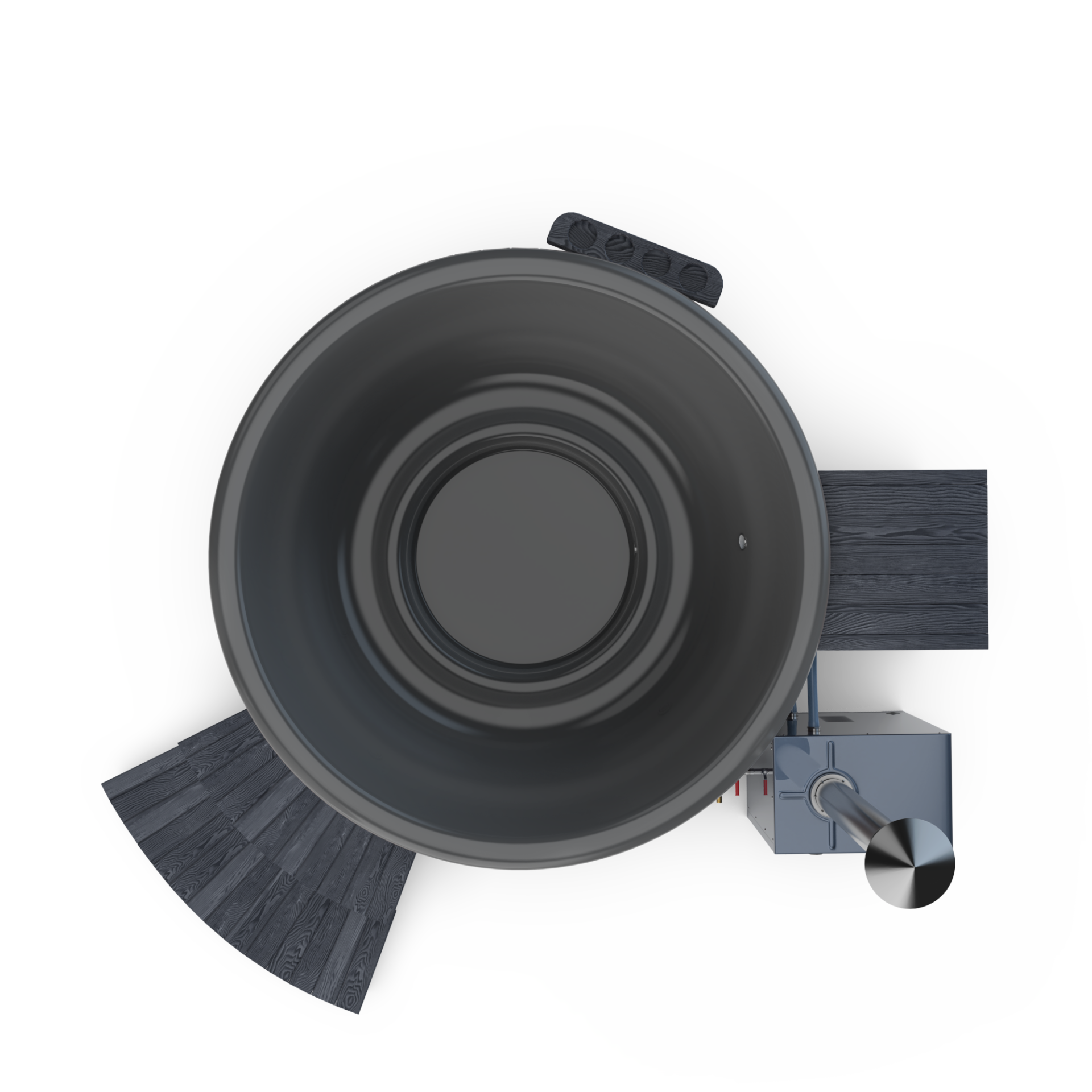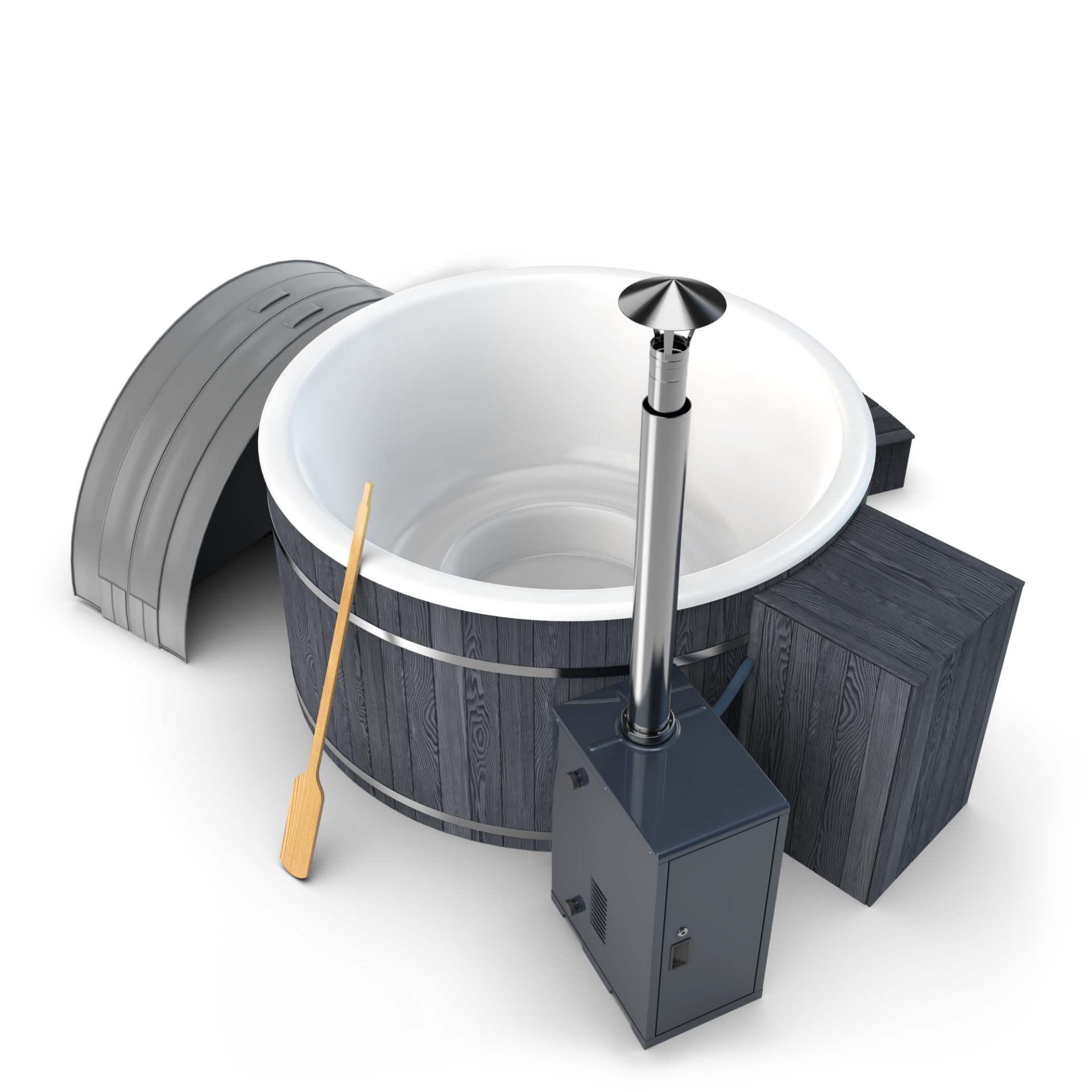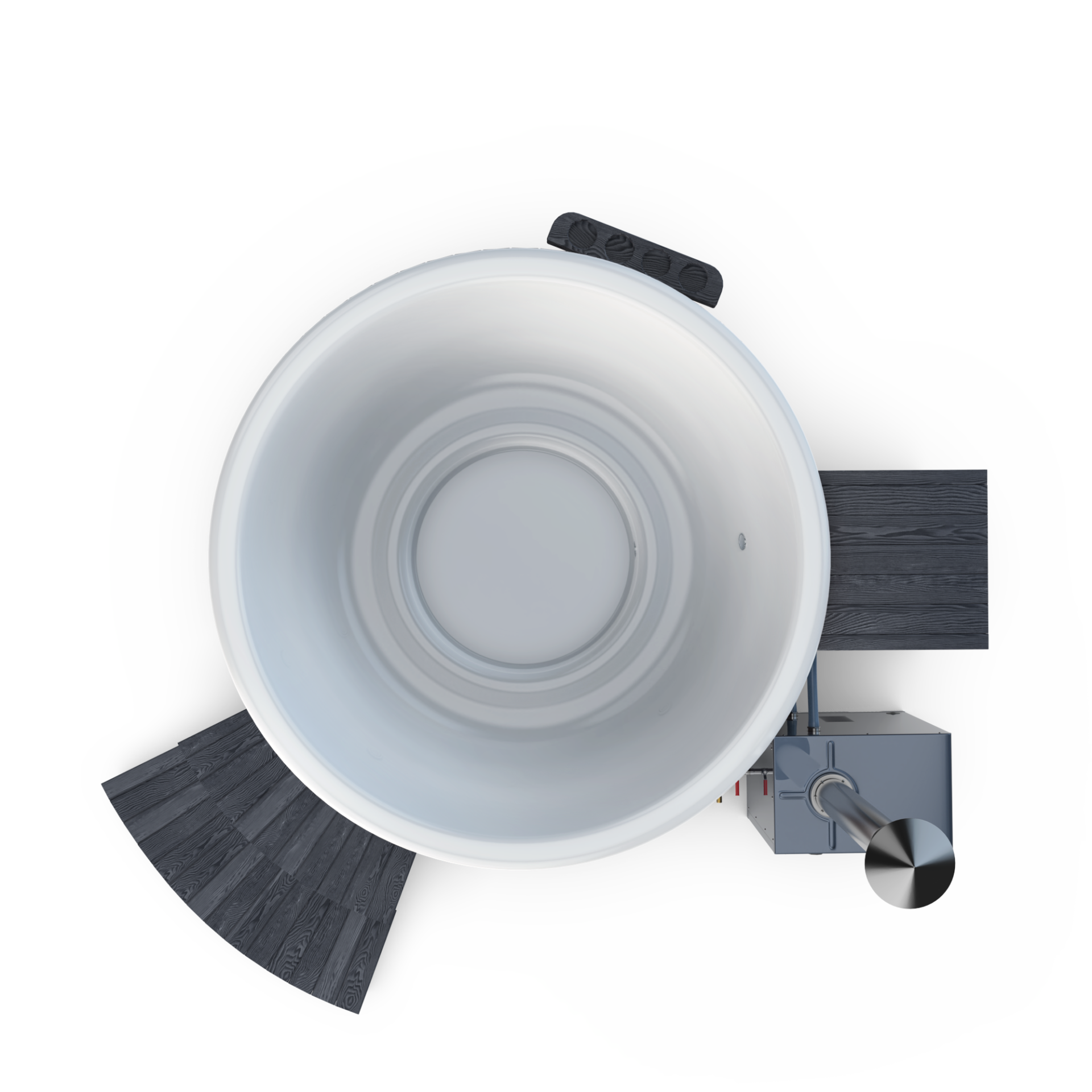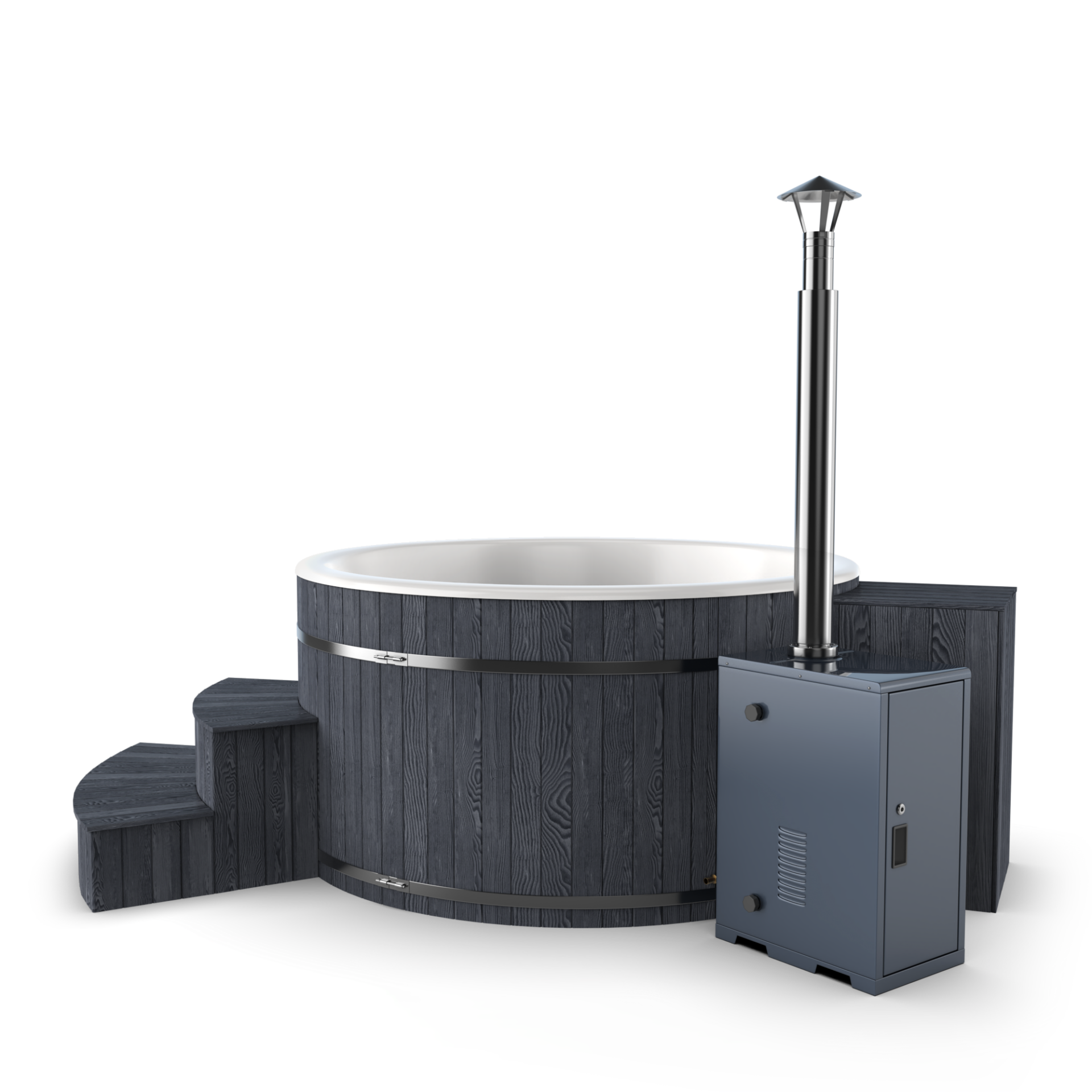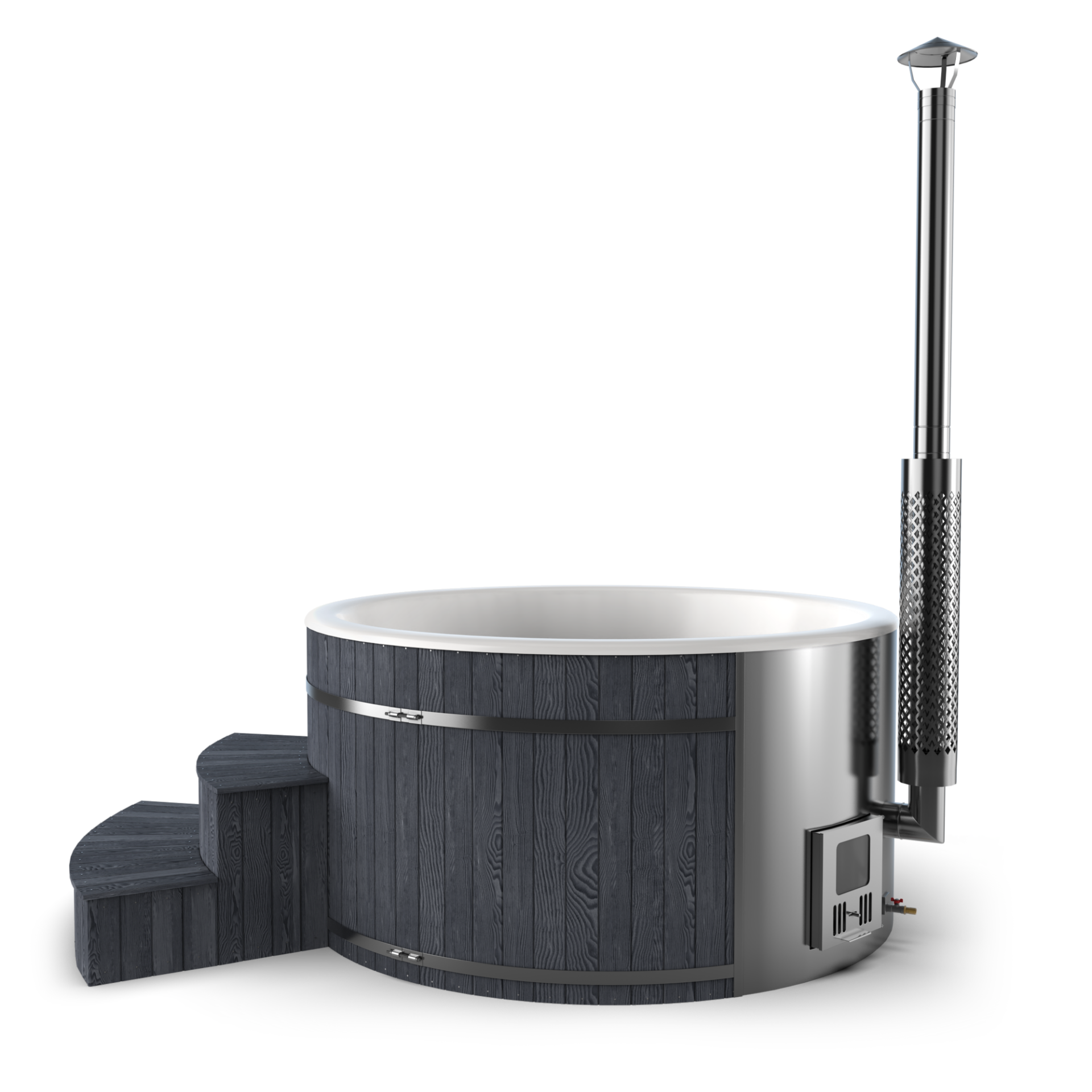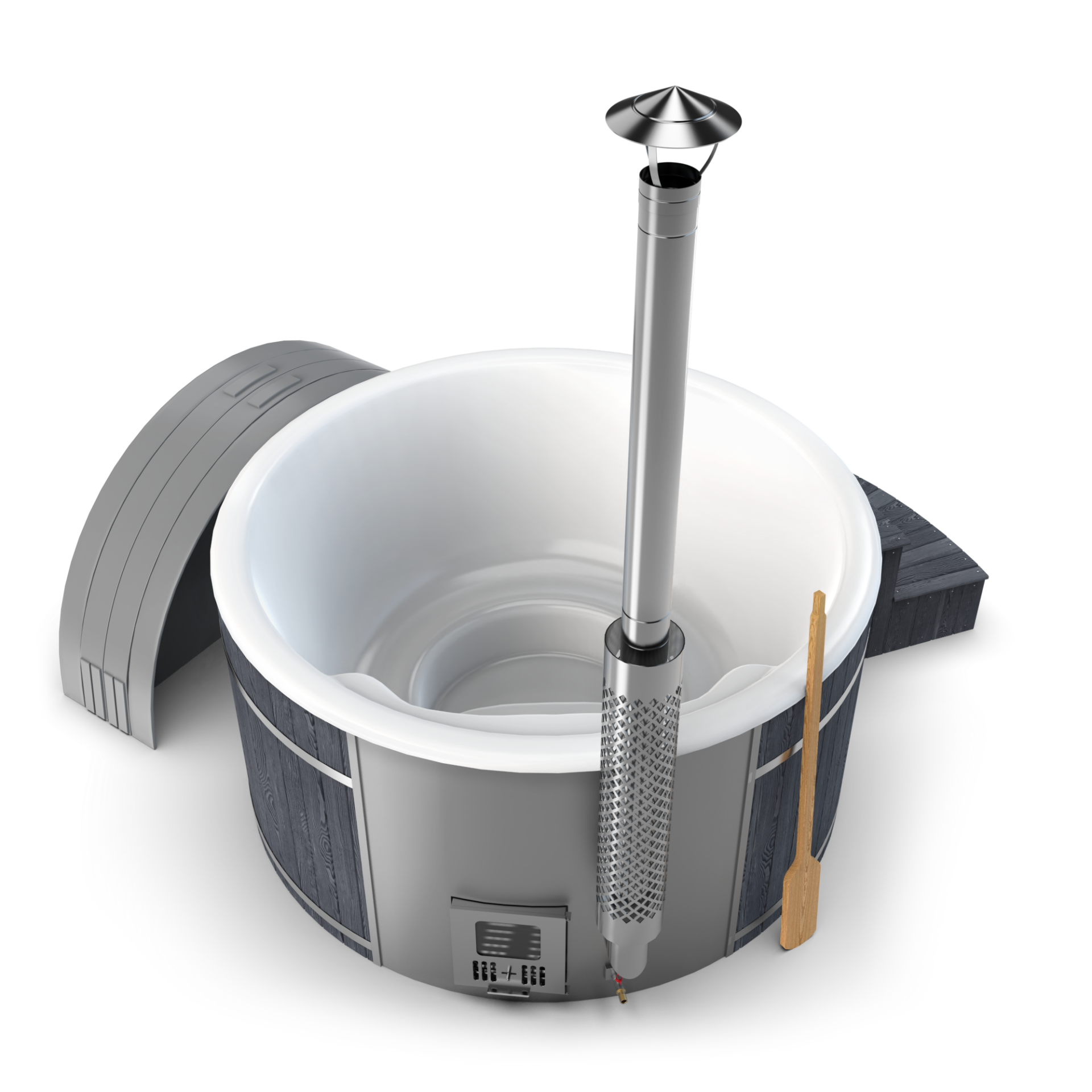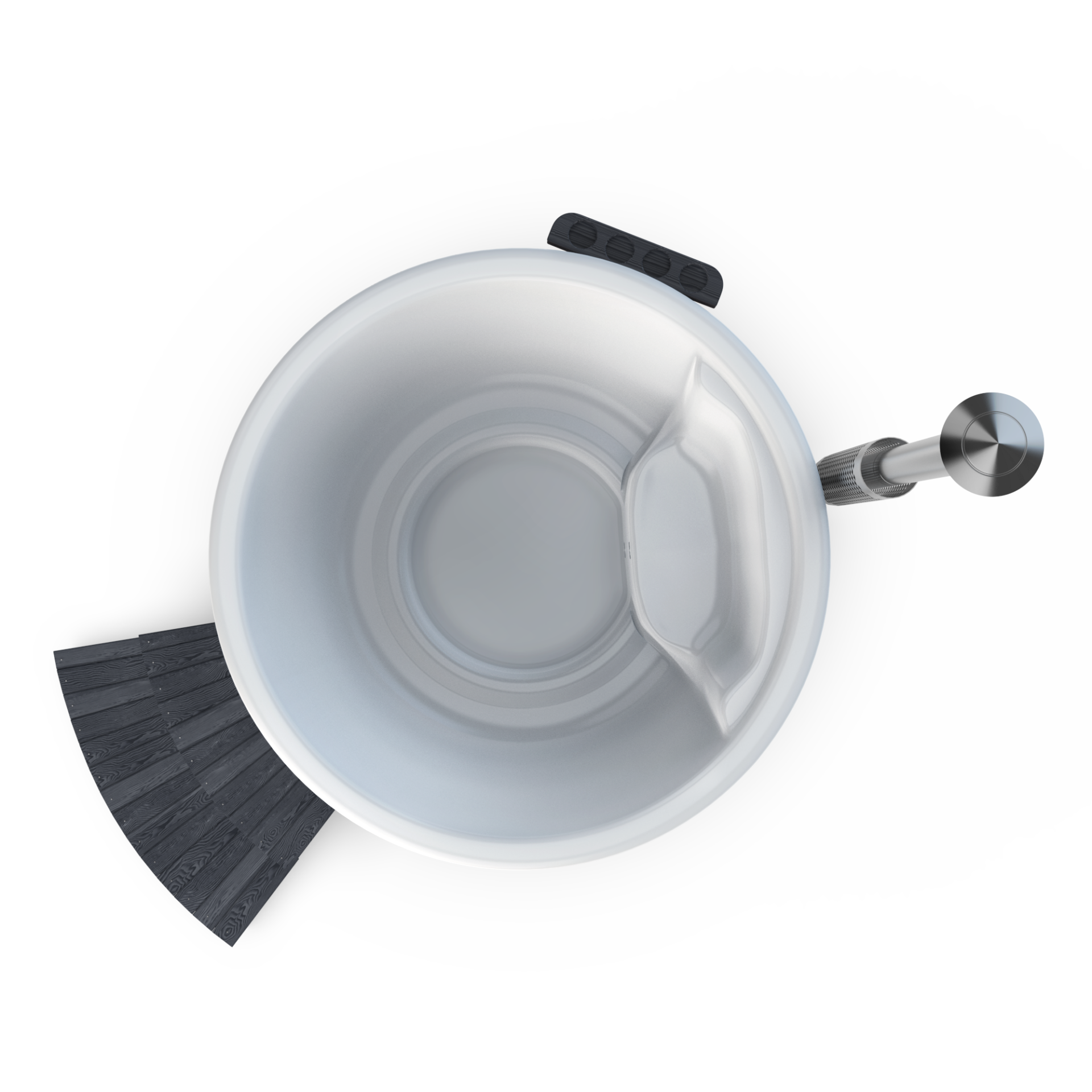 Brilliant delivery team
Brilliant hot tub and even better delivery crew. We had to float it across a river before hauling it up a bank and into place. Delivery team of Darryl and Guntars were well up for the challenge.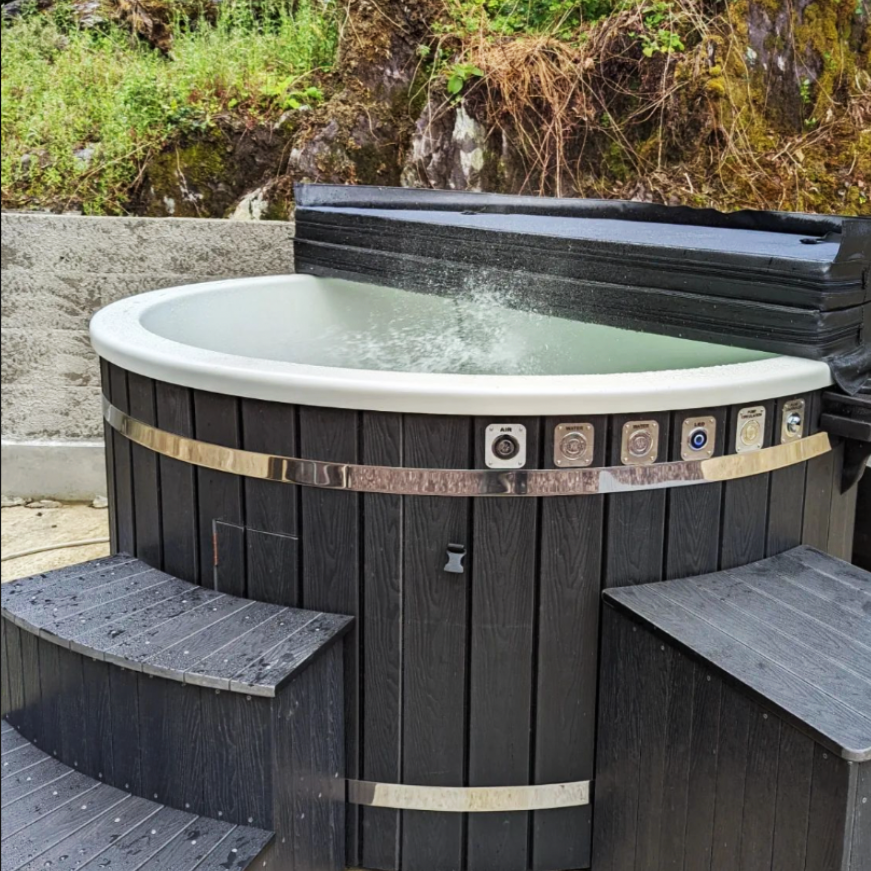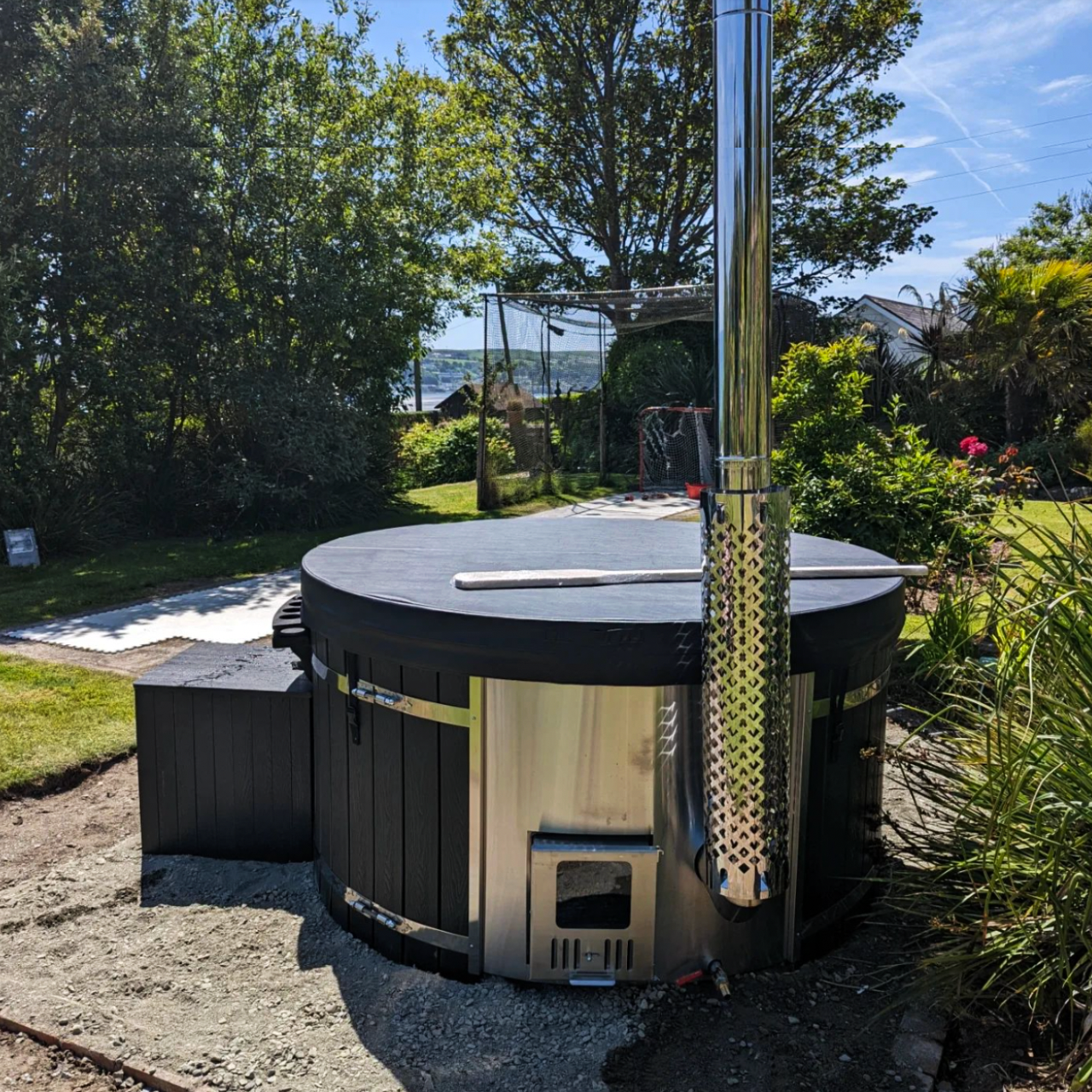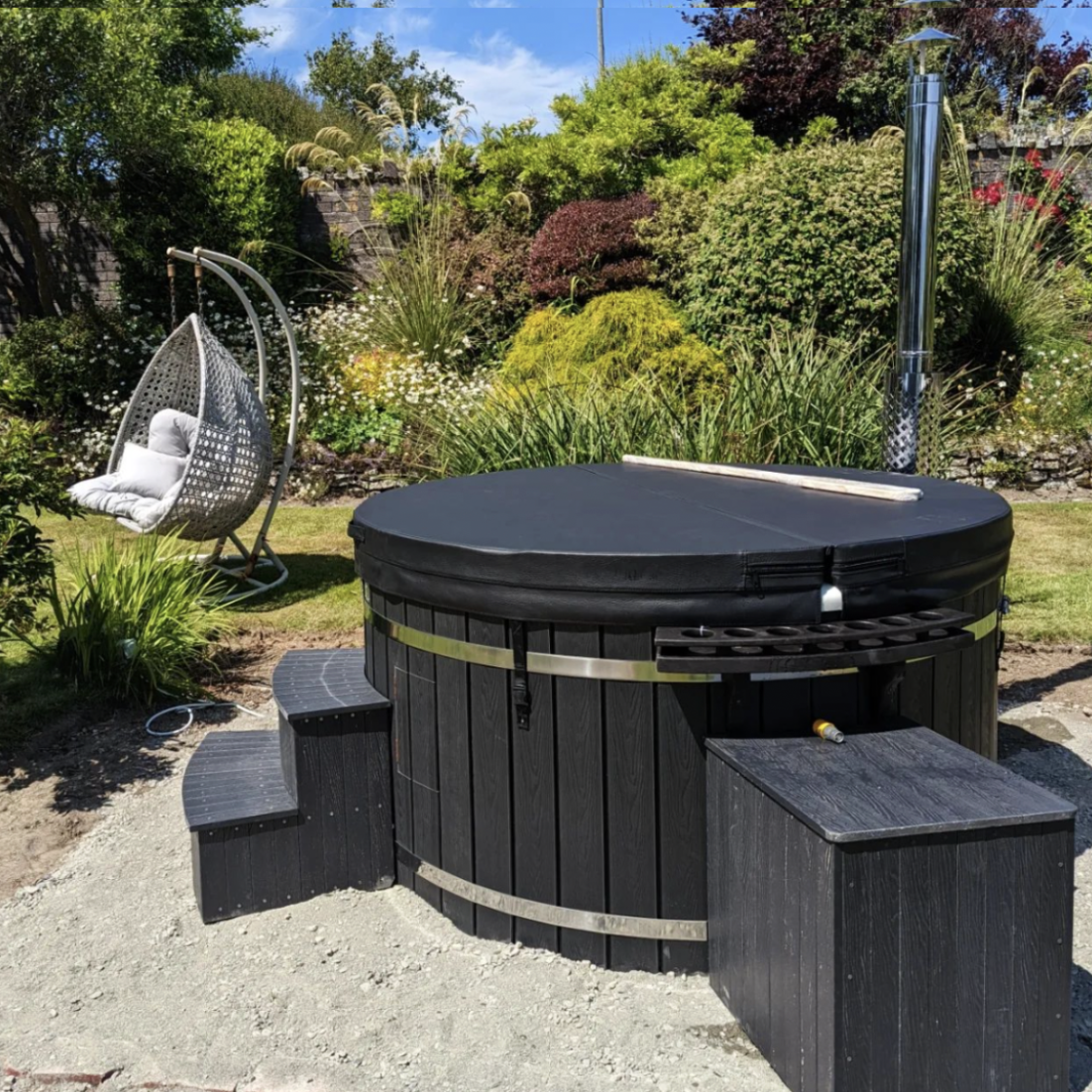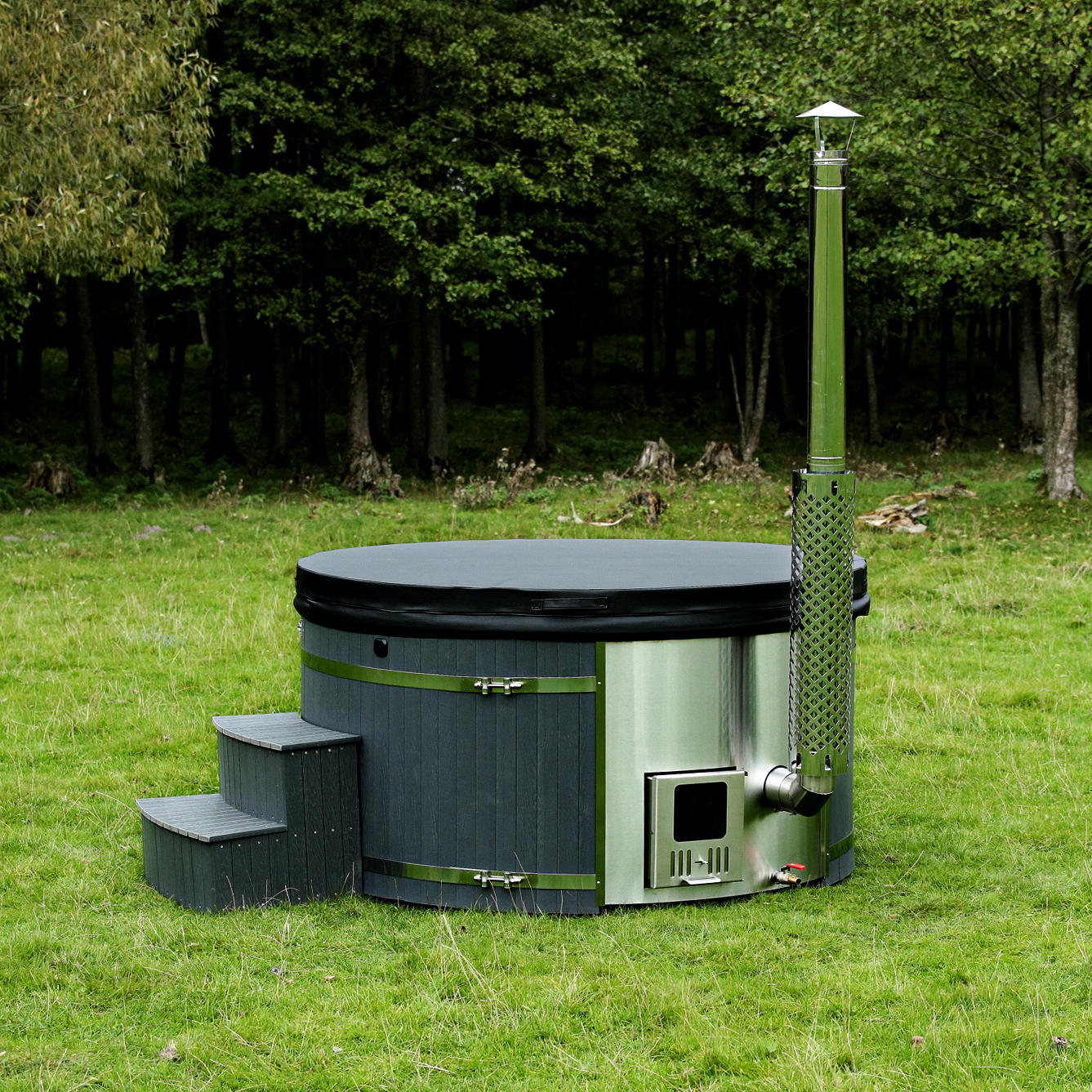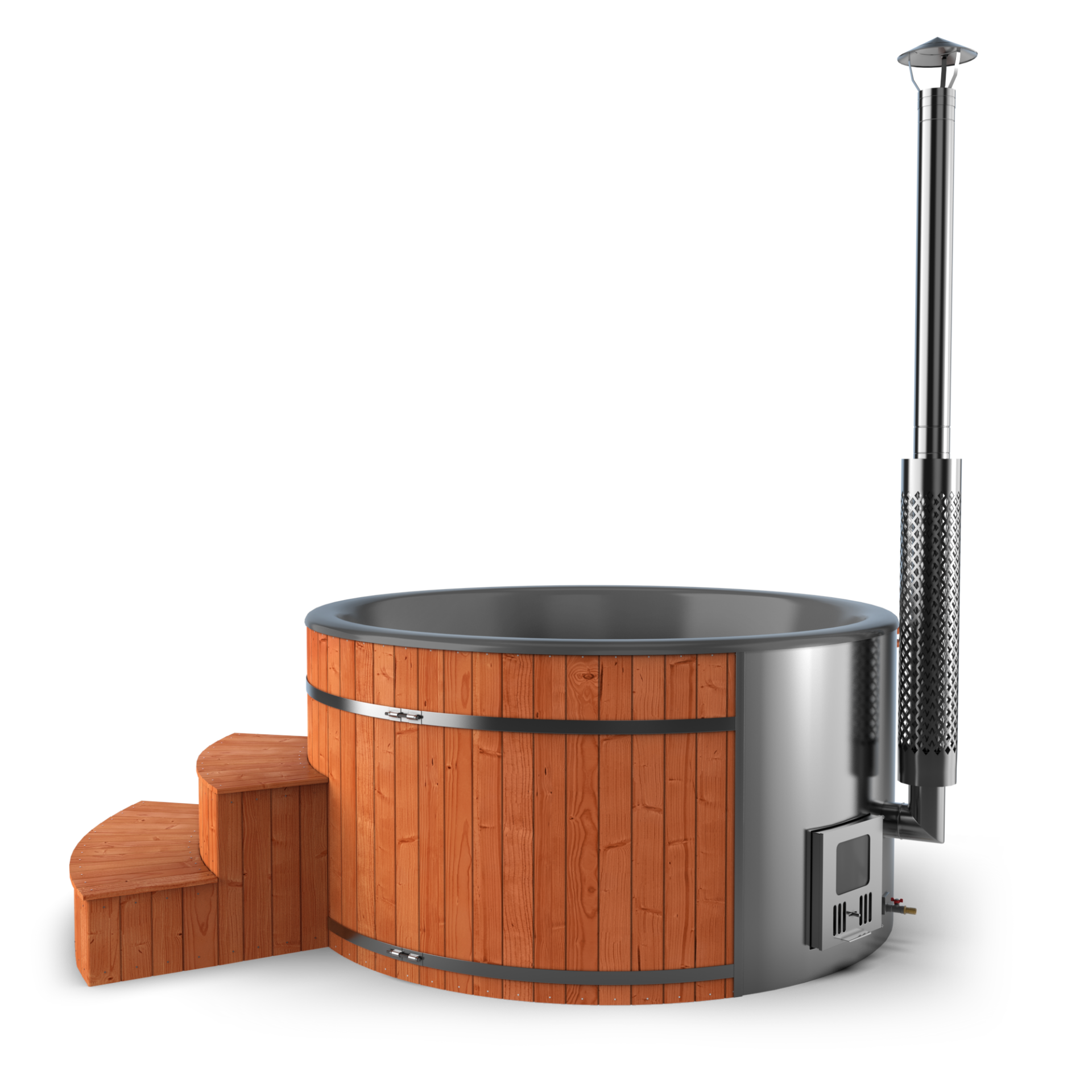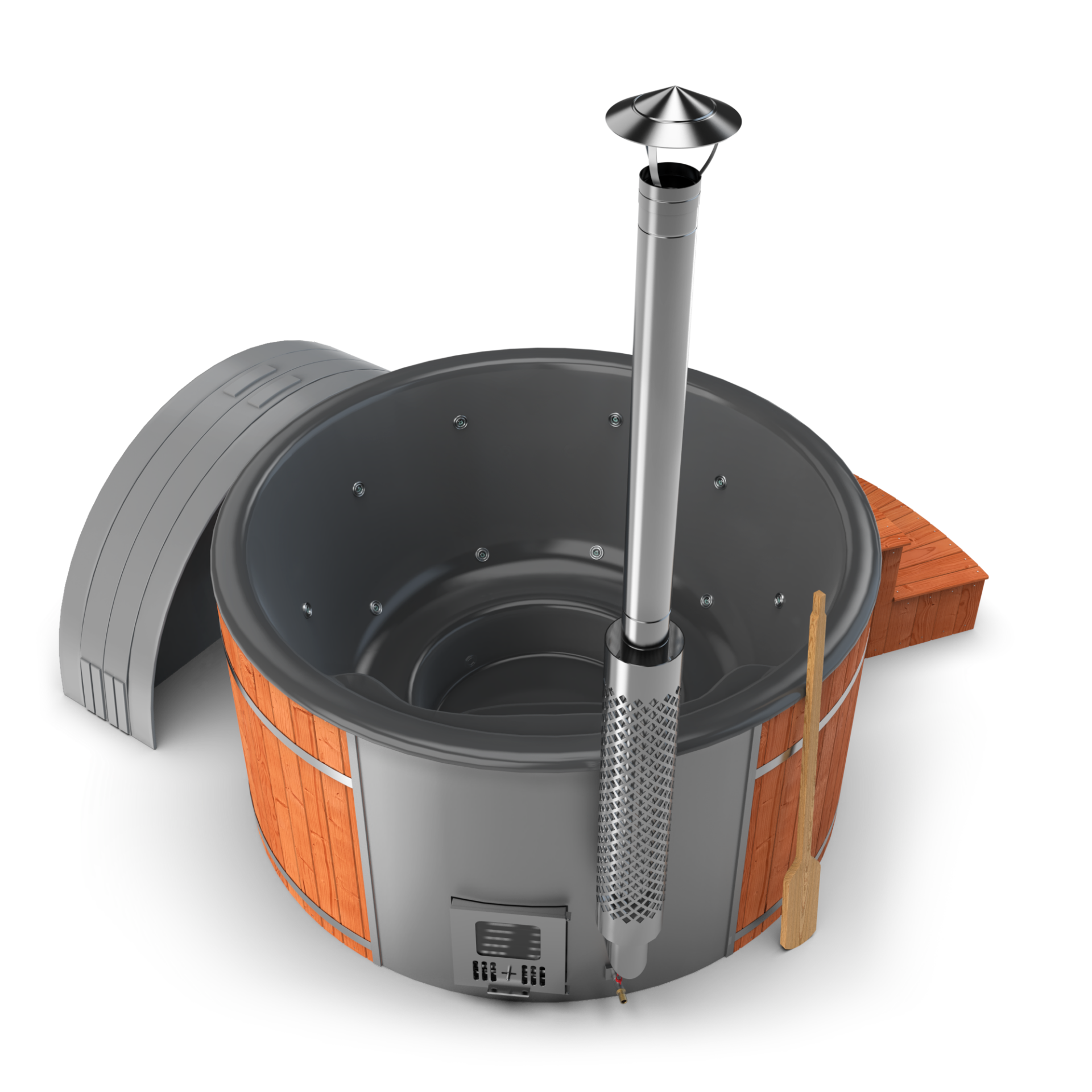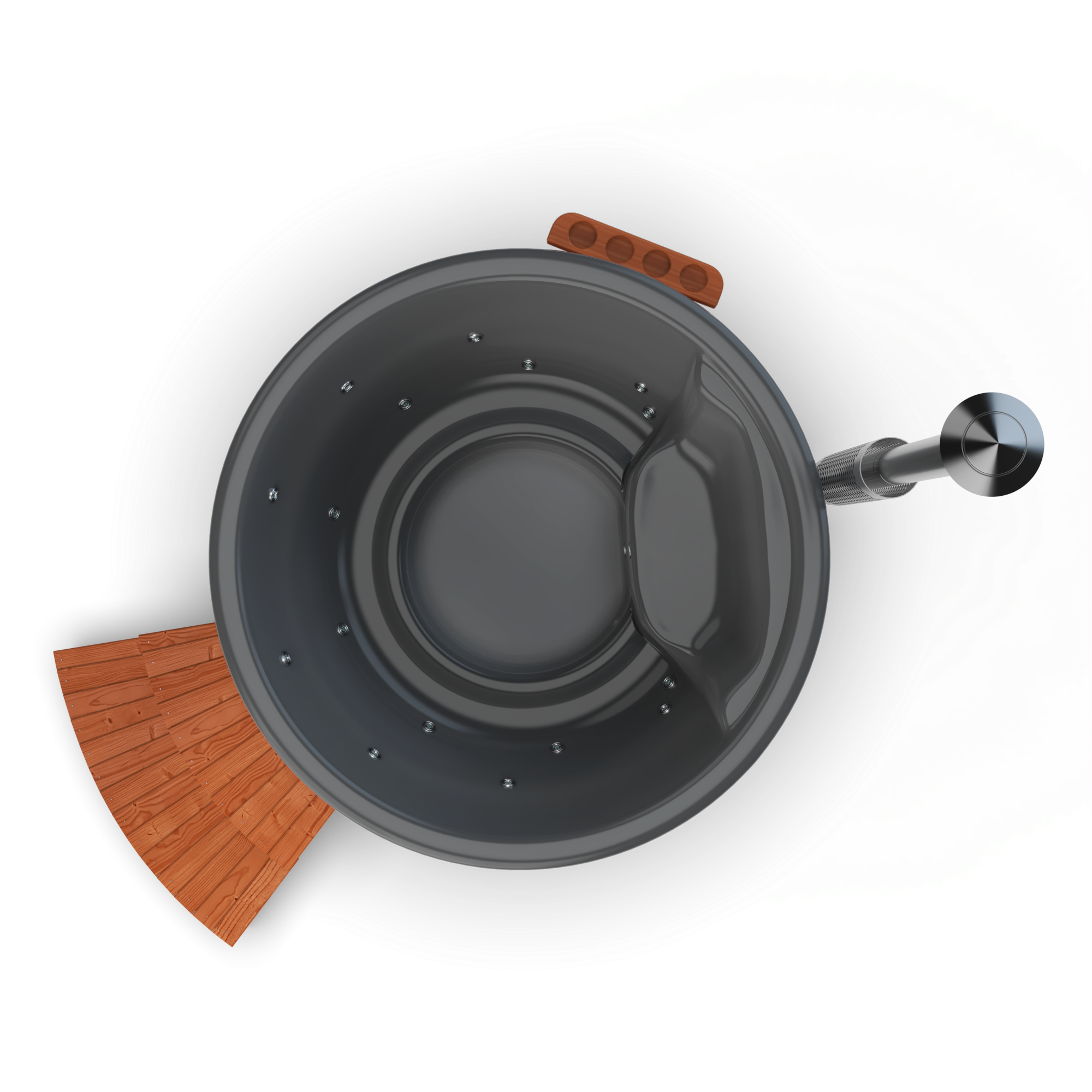 It's exhilarating
We took delivery of our gorgeous wood fired hot tub yesterday and have enjoyed our first go in it tonight. OMG! If you're thinking of getting one, do not hesitate, it's amazing, it's exhilarating, it's awesome. I realise this review may sound a bit over the top, but so often these days customer service and satisfaction are disappointingly low. I feel that in this case the credit is very well deserved. Excellent service all around. Many thanks.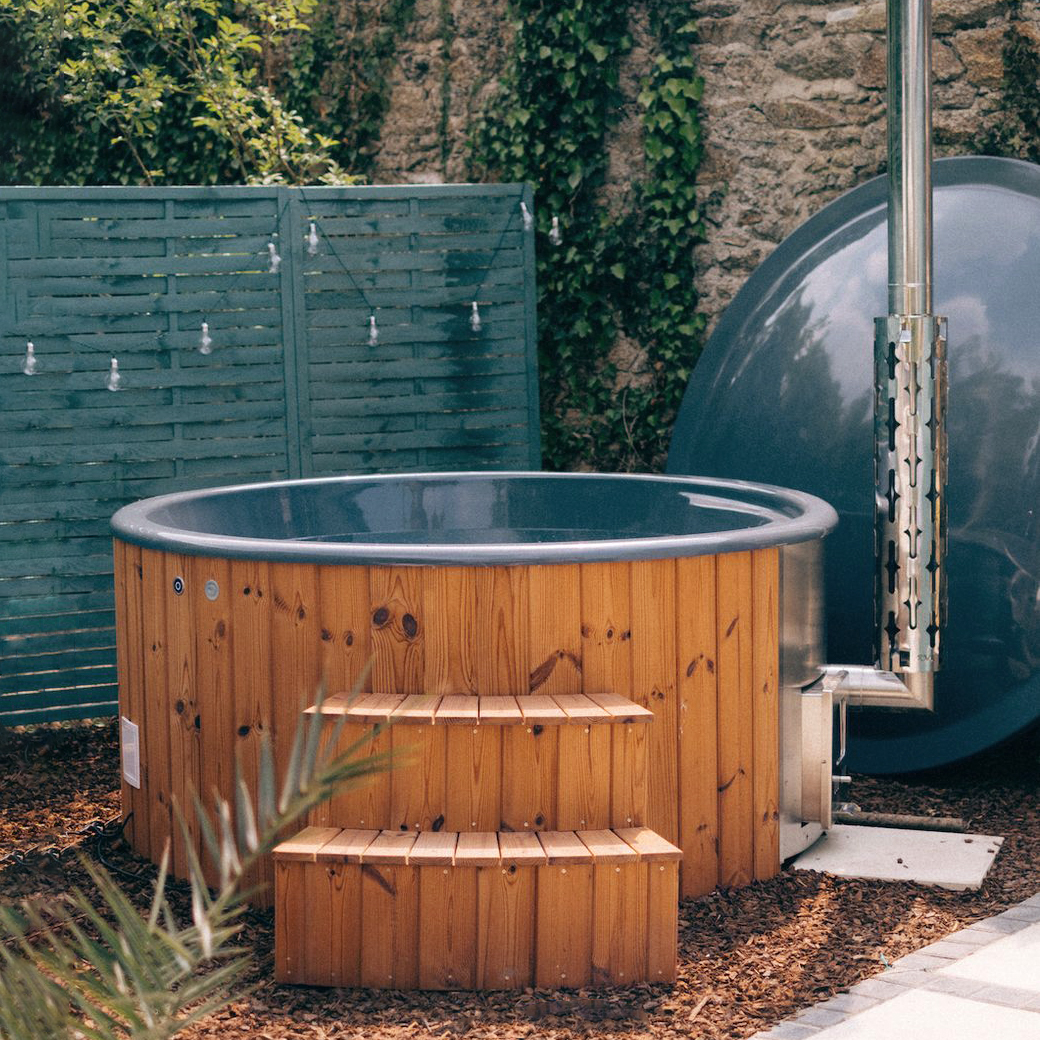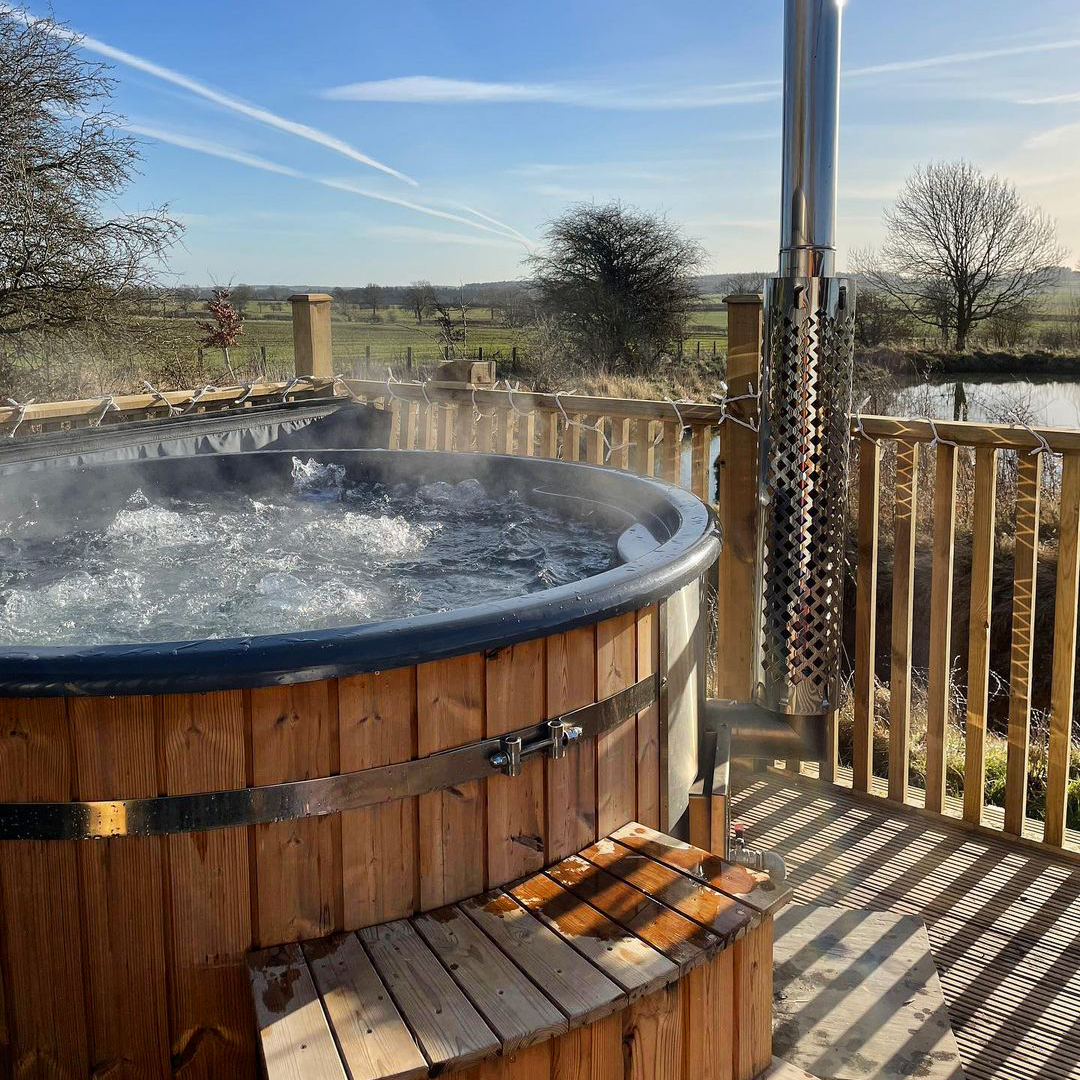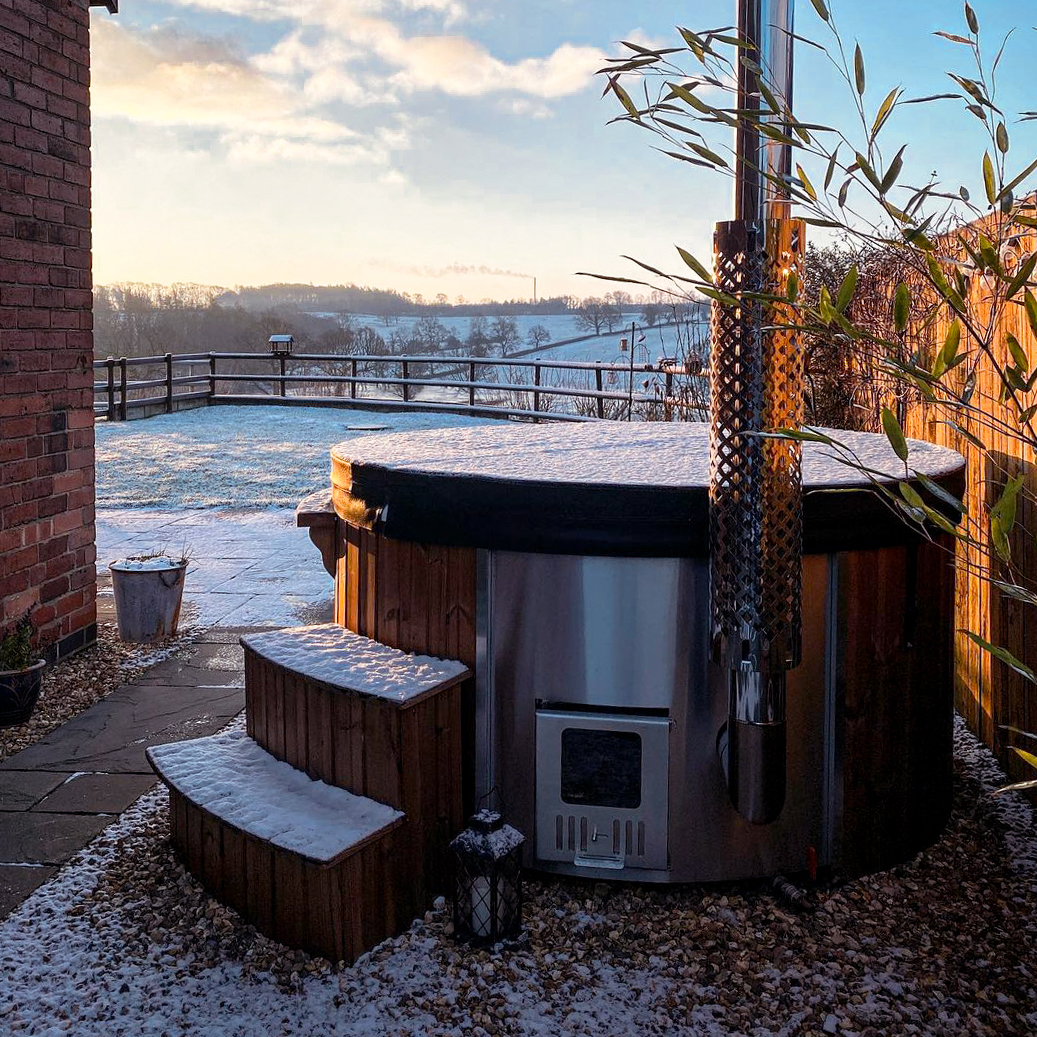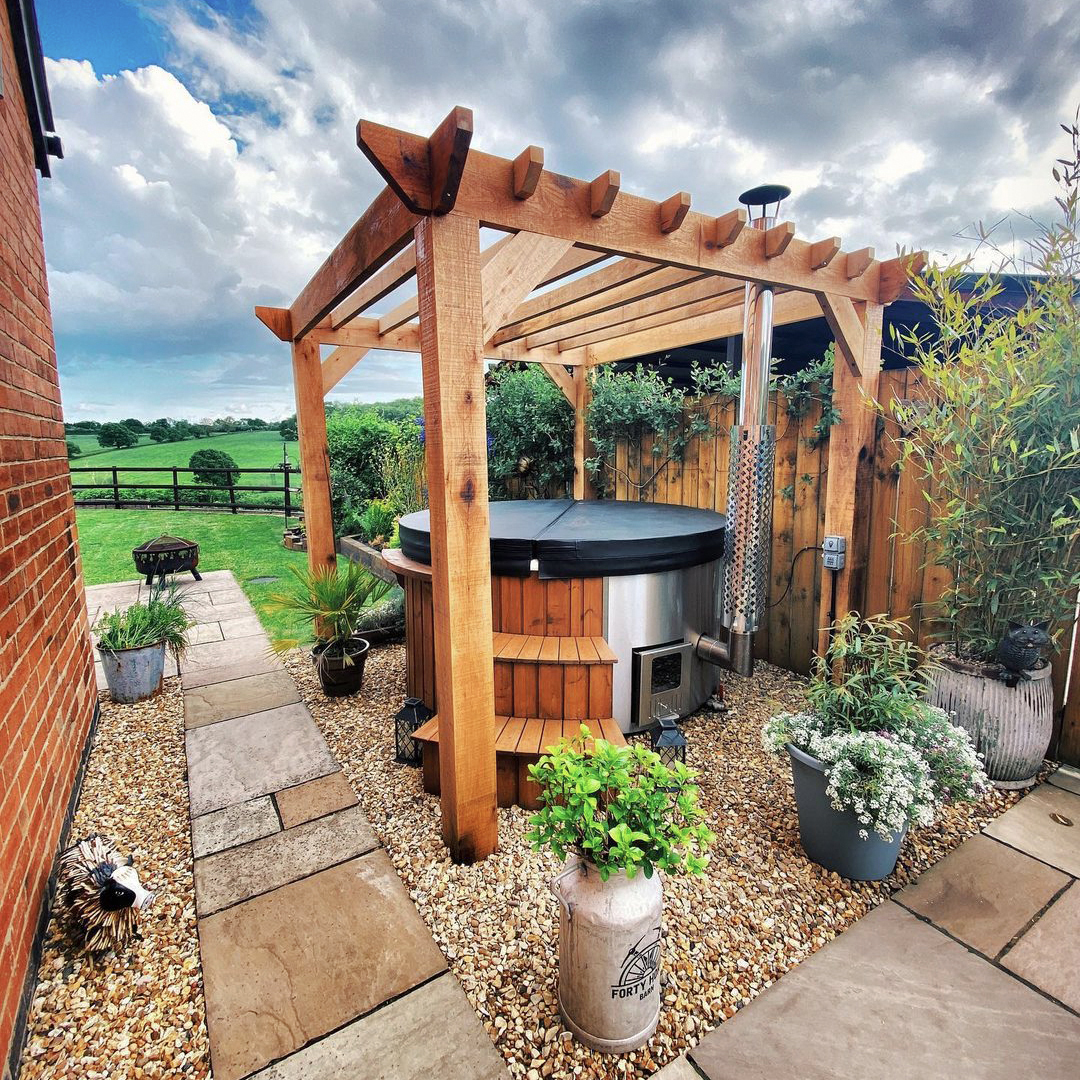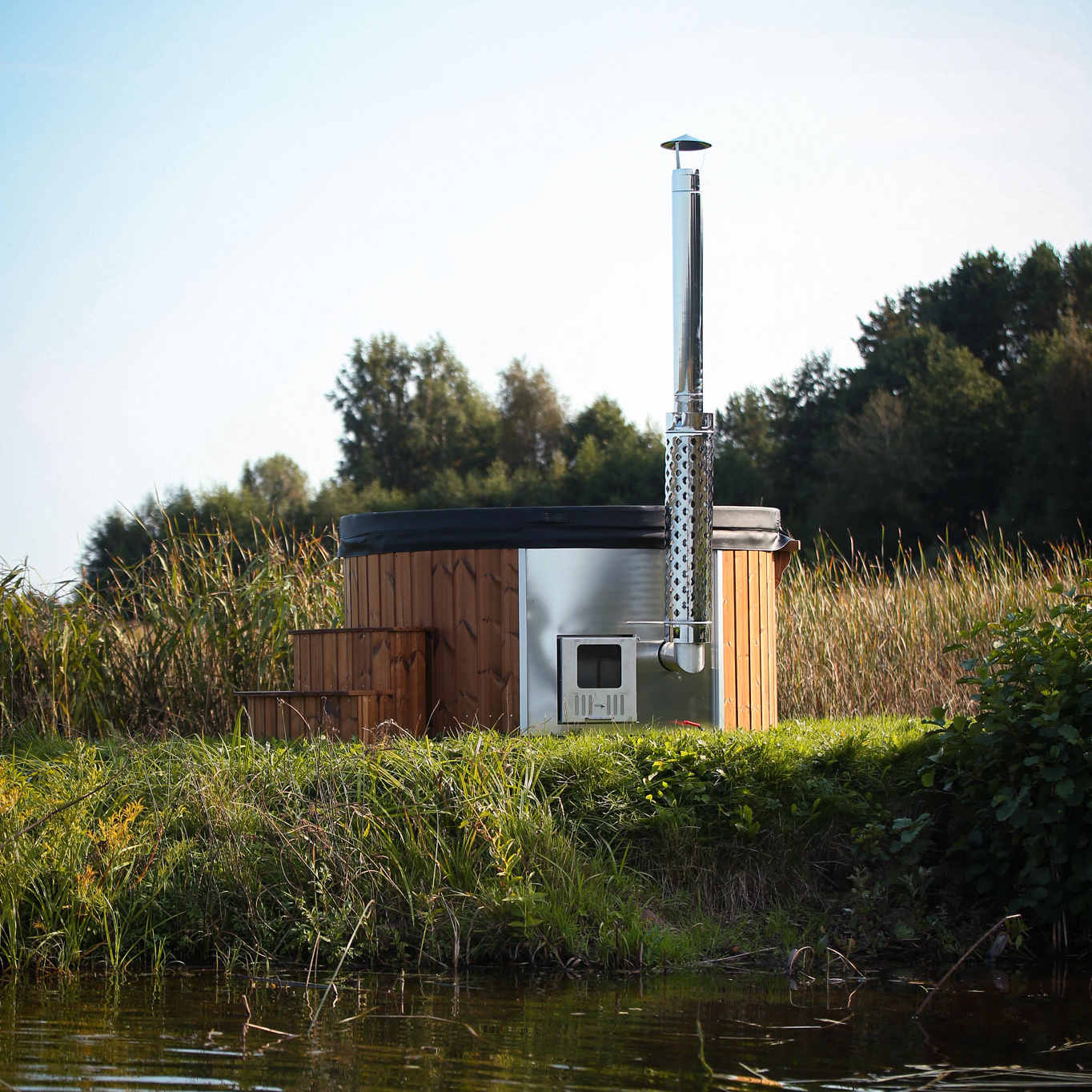 Deluxe Off-Grid (+ a free gift!)
Finance available - buy now, pay monthly with iDeal4Finance. Learn more.

A free set of a table + 4 garden chairs

Shaped liner gives superior comfort

Resistant to water, heat & sun

Fits 6-8 adults
In Stock! Ships in 1-3 days

Nationwide UK Delivery

Secure transaction
Key features
Ergonomic acrylic liner

External integrated heater

No need for electricity

Heats-up in ±2 hours

Resistance to Water & Heat
304 heater steel upgrade

Stainless steel chimney with a heat guard

Insulated lid

Stainless steel straps

High flow drain tap

Stirring paddle

Wide steps

1 x mini bar / drink holder

Wood treatment
Description
The Deluxe Off Grid Package is the perfect union of modern convenience and an age-old ritual of relaxation.  With our UK-first acrylic liner, integrated external stove and warm thermowood exterior cladding, this package delivers a tub that's built to last as long as the countryside it nestles into.  
Delivery
Royaltubs.co.uk supply and deliver to all of mainland Britain, including Scotland however the delivery price may vary depending on your location.
For more information, please visit our Delivery page.
Specifications and Measurements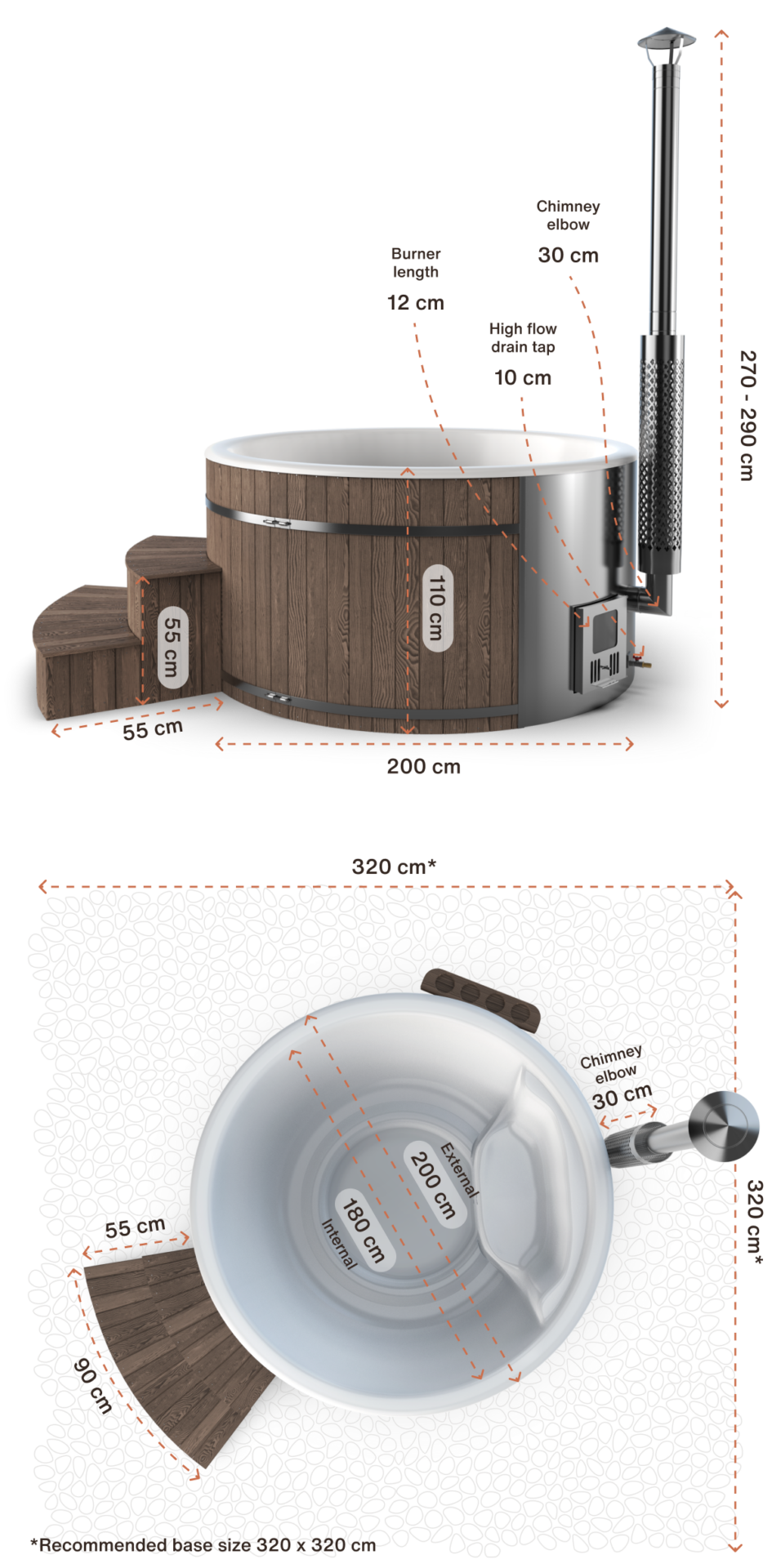 Dimensions
Height:
43 inches (1100 mm)
External diameter:
78,7 inches (2000 mm)
Internal width:
70,9 inches (1800 mm)
Depth:
33,5 inches (850 mm)
Chimney height:
106,3 x 114,2 inches (2,7 – 2,9 m) measured from the ground up
Base Measurements
Recommended Minimum Width:
126 inches (3200mm)
Recommended Minimum Length:
126 inches (3200mm)
Other Specs
Capacity:
Fits 6-8 adults
Water volume:
317 gallons (1200 l)
Heating time:
Summer ± 1.5 hrs, Winter ± 2.5 hrs
Heater fuel:
Softwood/Hardwood
Package
Package weight:
418,8 lbs (190 kg)
Assembly & Instructions
All of the hot tub packages are delivered pre-assembled.
For specific instructions on how to assemble hot tub accessories, please refer to the Instructional Videos page.
Please refer to the User Manual page for instructions on using and maintaining the hot tub.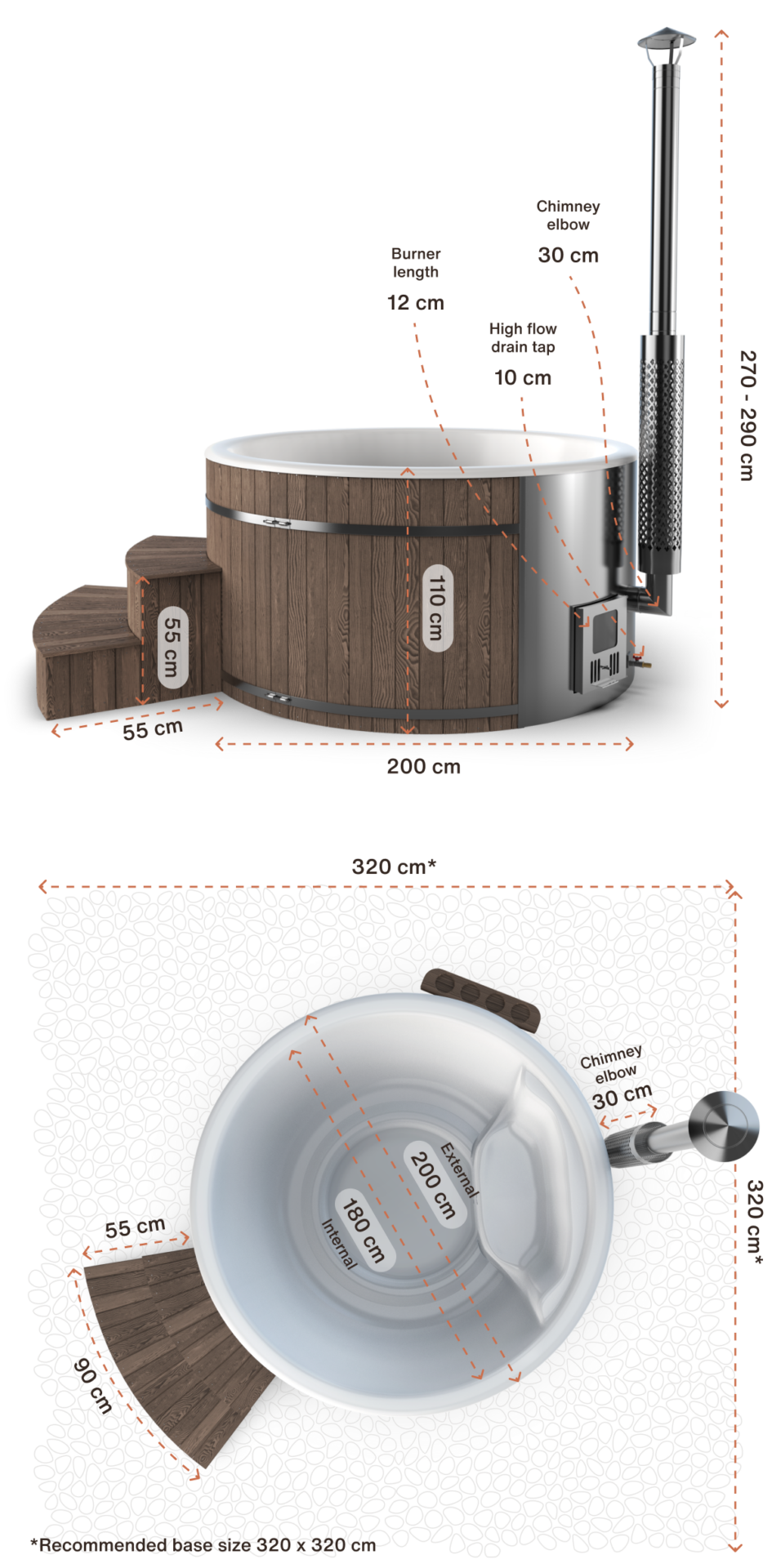 The Pinnacle Of Luxury In Your Own Back Garden
Enjoy your own place of peace with this stunning tub, built with relaxation in mind. Scandinavian thermowood meets an interior shaped for comfort, creating a luxury centrepiece you'll never want to leave.
The comfort-moulded acrylic liner is robust and resistant to UV, chemicals, and accidental scratches, while the upgraded stove will deliver once-in-a-lifetime memories, again and again.  You only need logs and a hose to bring this tub to life, making it perfect for retreats off the beaten trail, or simply those who prefer a slower pace of life.
More Info About Features
Key features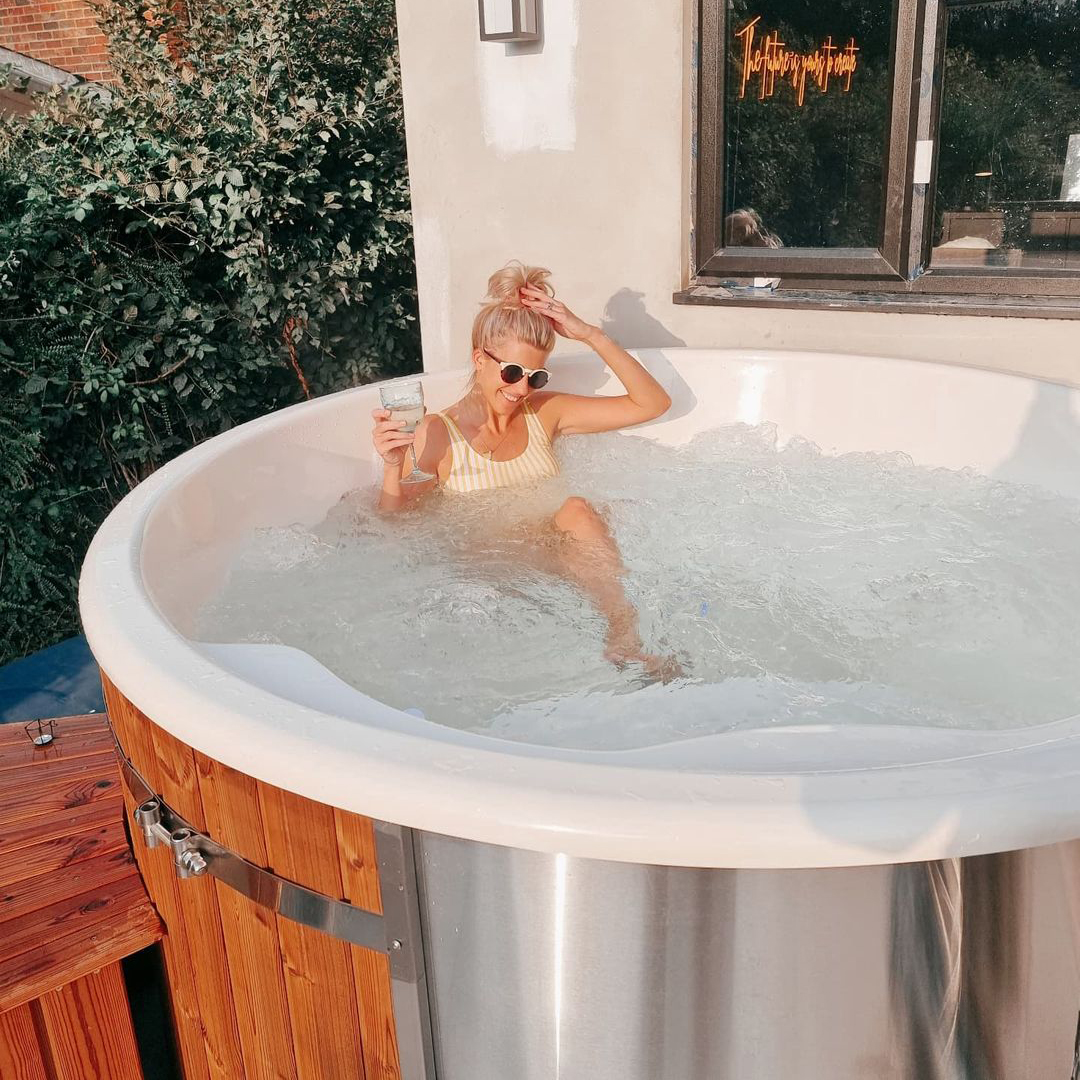 Durable Acrylic Construction for Lasting Comfort
Crafted from a single sheet of acrylic, this design boasts exceptional durability against scratches, chips, and stains. Its structural strength minimizes flex, while UV and chemical resistance, paired with various color customization options, ensure lasting beauty and easy care.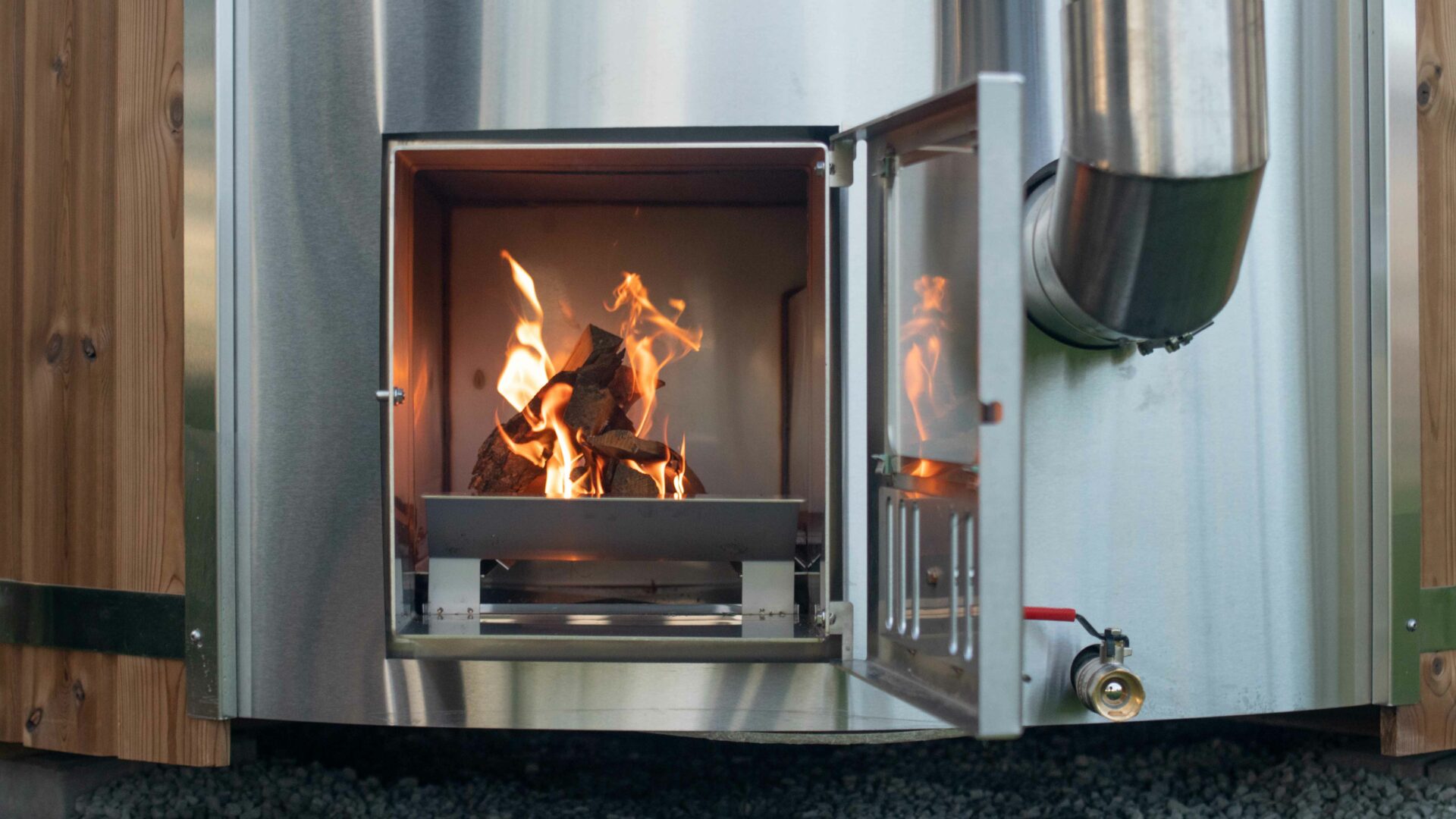 Efficient External Heater for Optimal Warmth
Offering superior control over the water temperature, an externally integrated heater provides a seamless heating experience. Its location outside the tub ensures efficient heating without intruding on the bathing space, allowing for a more enjoyable and energy-saving soak.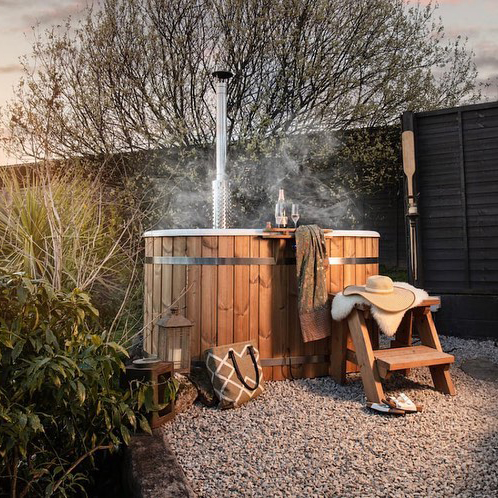 Electricity-Free Convenience for Ultimate Relaxation
Enjoy a hassle-free wood-fired hot tub experience with the "No Need for Electricity" feature. Designed to operate without external power sources, this innovation ensures uninterrupted relaxation, allowing you to immerse yourself in warmth and comfort without any worries.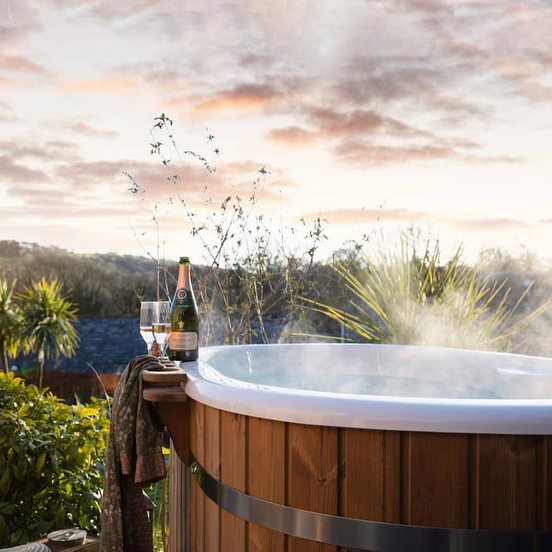 Rapid Warmth: Heats Up in ±2 Hours
Experience quick relaxation with the "Heats Up in ±2 Hours" feature. Designed for efficiency, this rapid heating system ensures that your wood-fired hot tub reaches a comfortable temperature in approximately two hours, allowing you to swiftly unwind and immerse yourself in soothing warmth.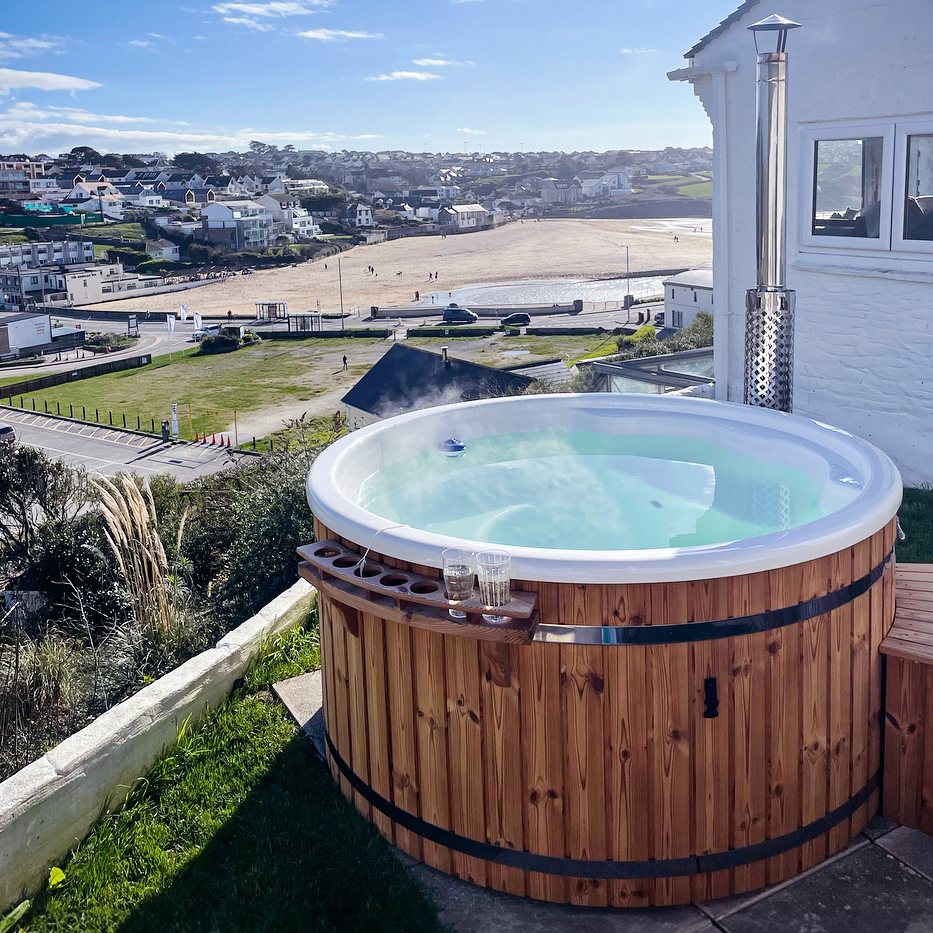 Unwavering Endurance Against Water and Heat
Embrace the beauty of longevity with our hot tub's natural resistance to water and heat. Crafted to endure the rigors of hot tub life, this feature ensures a steadfast defense against moisture, temperature changes, and the elements, preserving the elegance and functionality of your wood-fired oasis for years to come.
More Info About Features
Other Features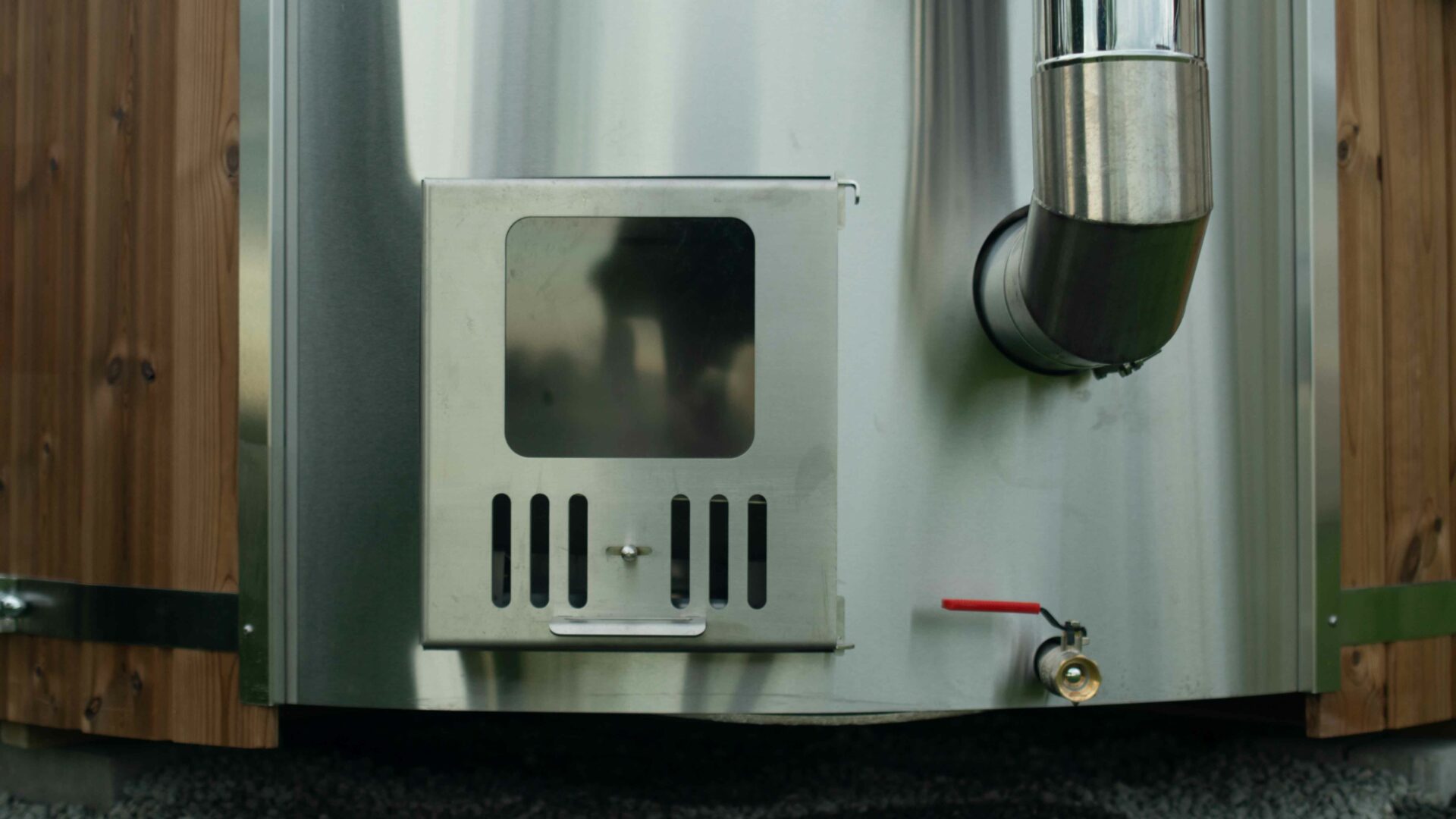 Enhanced Heater Durability with 304 Steel
Elevate your wood-fired hot tub experience with the 304 heater steel upgrade. Crafted from premium-grade stainless steel, this enhancement ensures exceptional corrosion resistance, extending the heater's lifespan and maintaining optimal performance for countless relaxing sessions.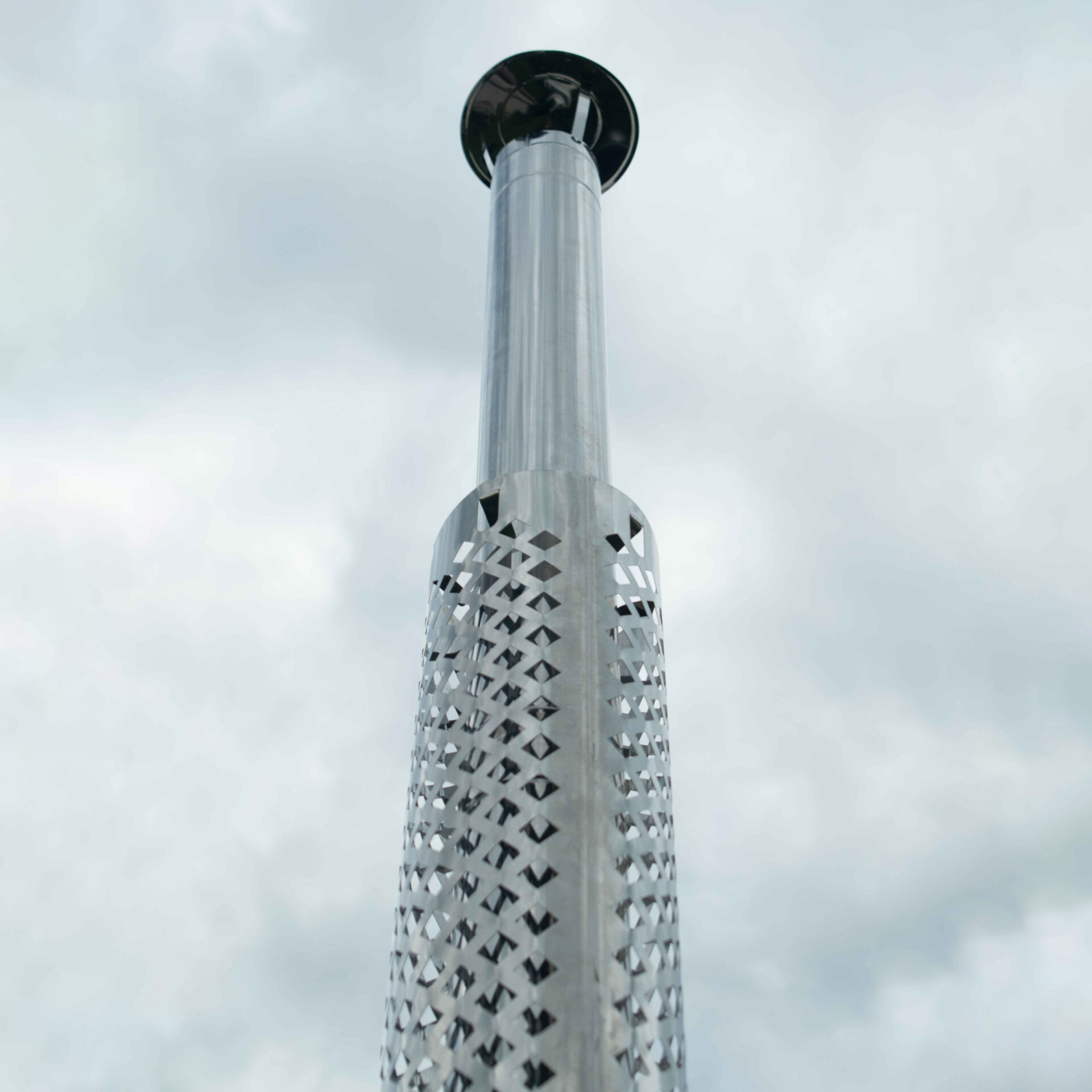 Durable Stainless Steel Chimney
The stainless steel chimney, complete with a heat guard, optimizes heat retention and safety. This integral component efficiently channels smoke while ensuring minimal heat loss, enhancing the wood-fired hot tub experience with effective ventilation and added protection.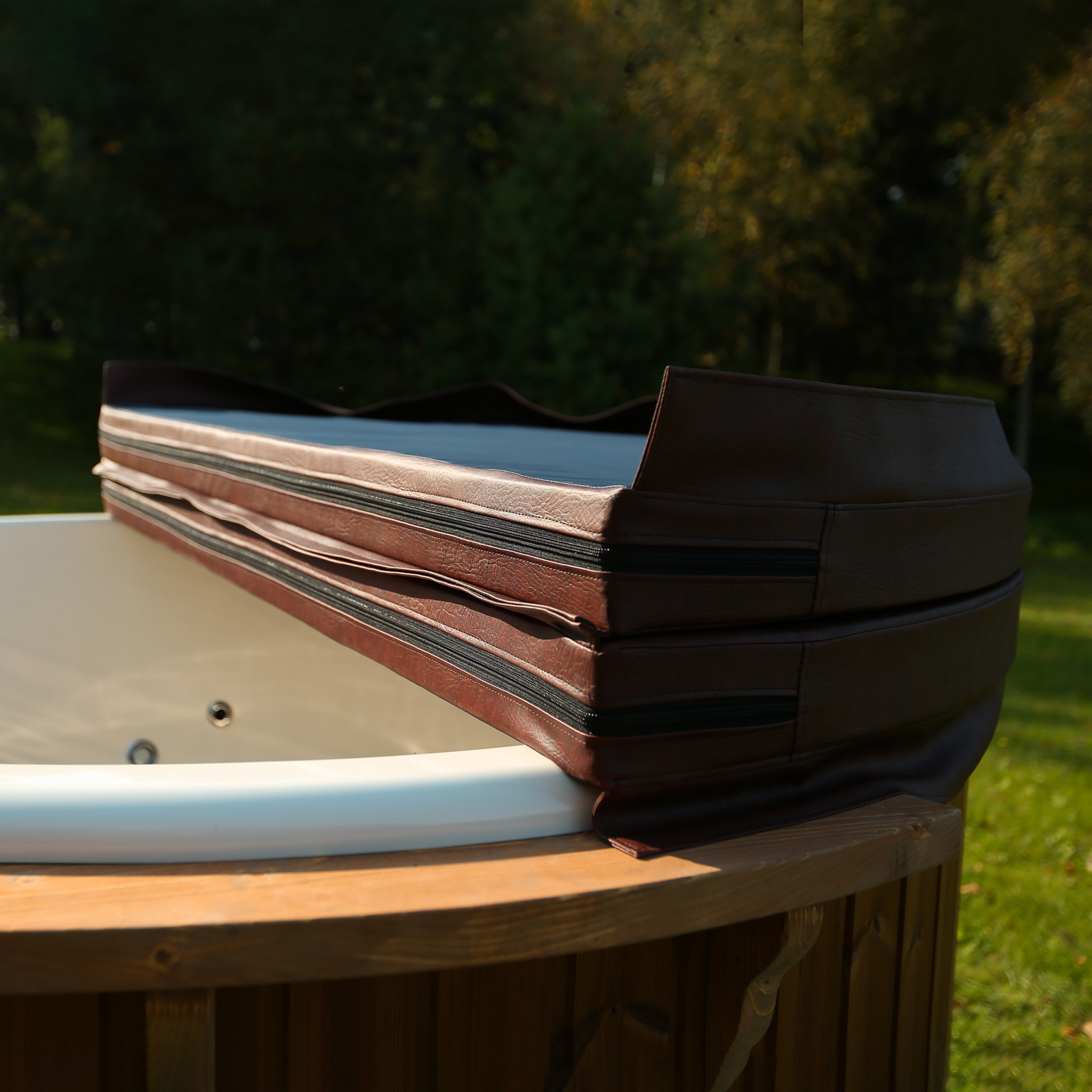 Enhanced Heat Retention with Insulated Lid
The insulated lid conserves heat, promoting quicker reheating and reduced energy consumption. This innovative feature minimizes heat loss, allowing you to enjoy a warm and inviting wood-fired hot tub experience whenever you desire, while also being environmentally conscious and cost-effective.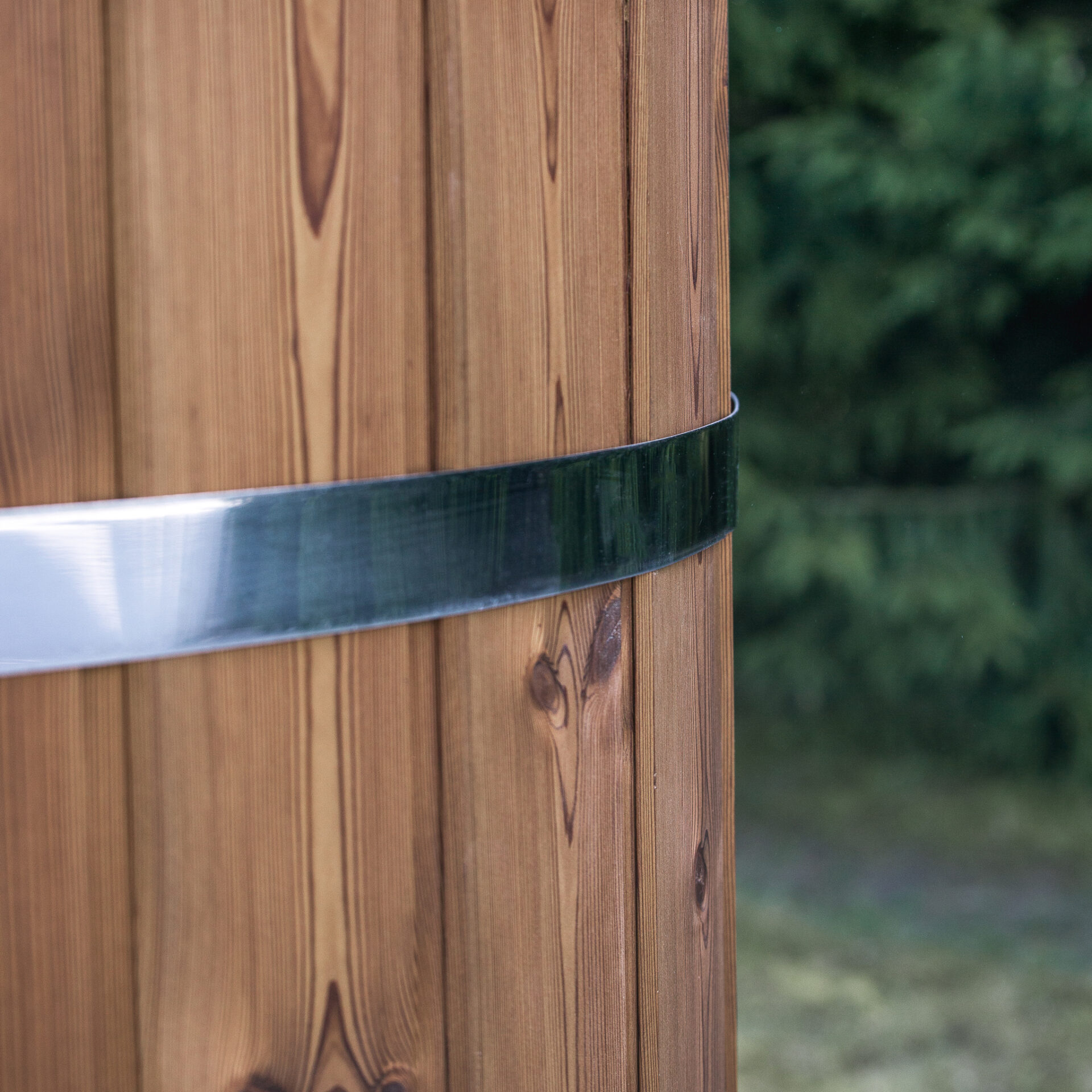 Durable Steel Straps for Structural Integrity
Expertly crafted from durable stainless steel, these robust straps provide enduring structural support. Engineered to reinforce the hot tub's stability, they enhance the longevity of your serene retreat, ensuring lasting relaxation and peace of mind for many years to come.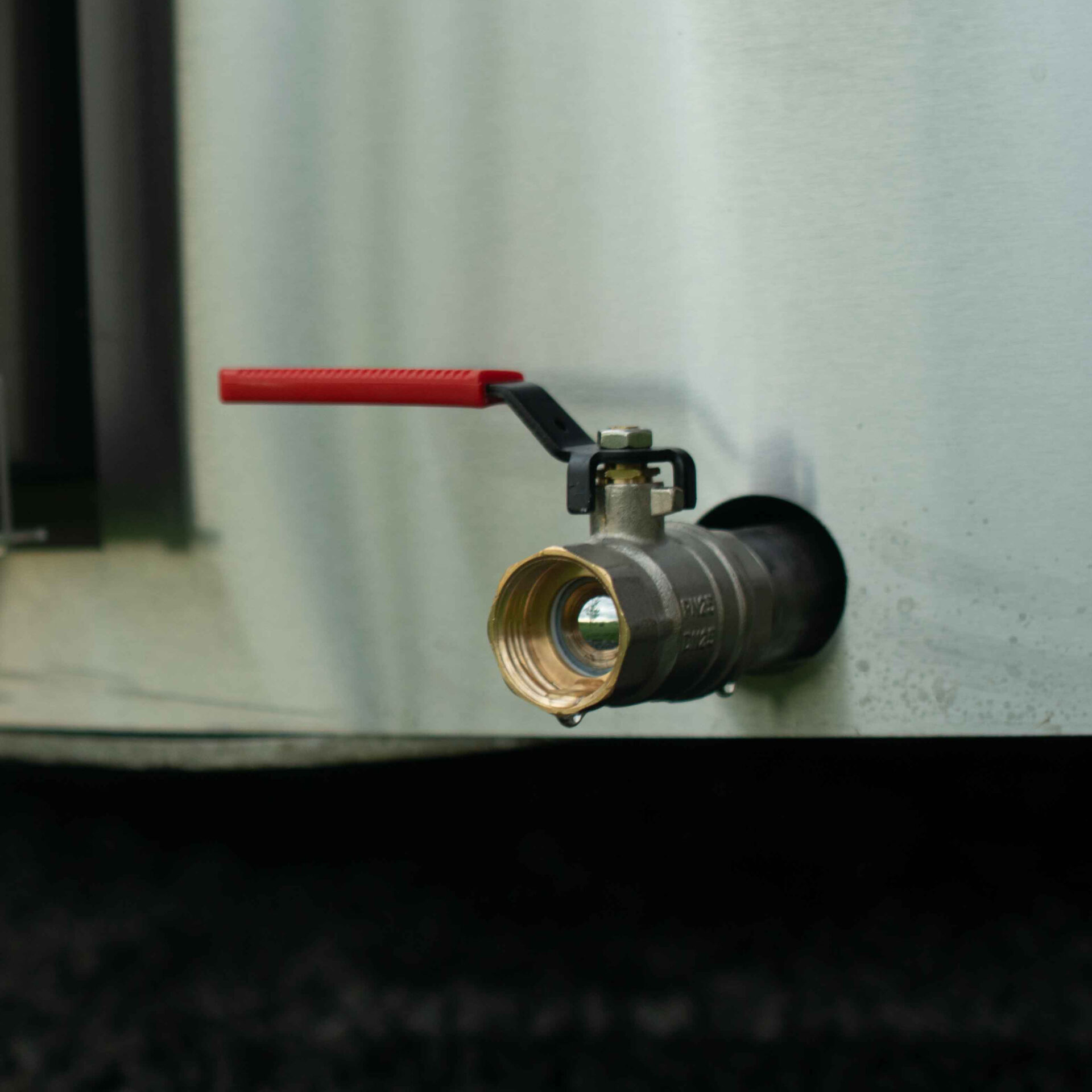 Efficient Draining with High Flow Tap
The ingeniously designed high flow drain tap expedites swift water removal, greatly simplifying the cleaning process. This innovation significantly enhances maintenance, enabling quick and efficient drainage, thus contributing to a hassle-free wood-fired hot tub upkeep routine.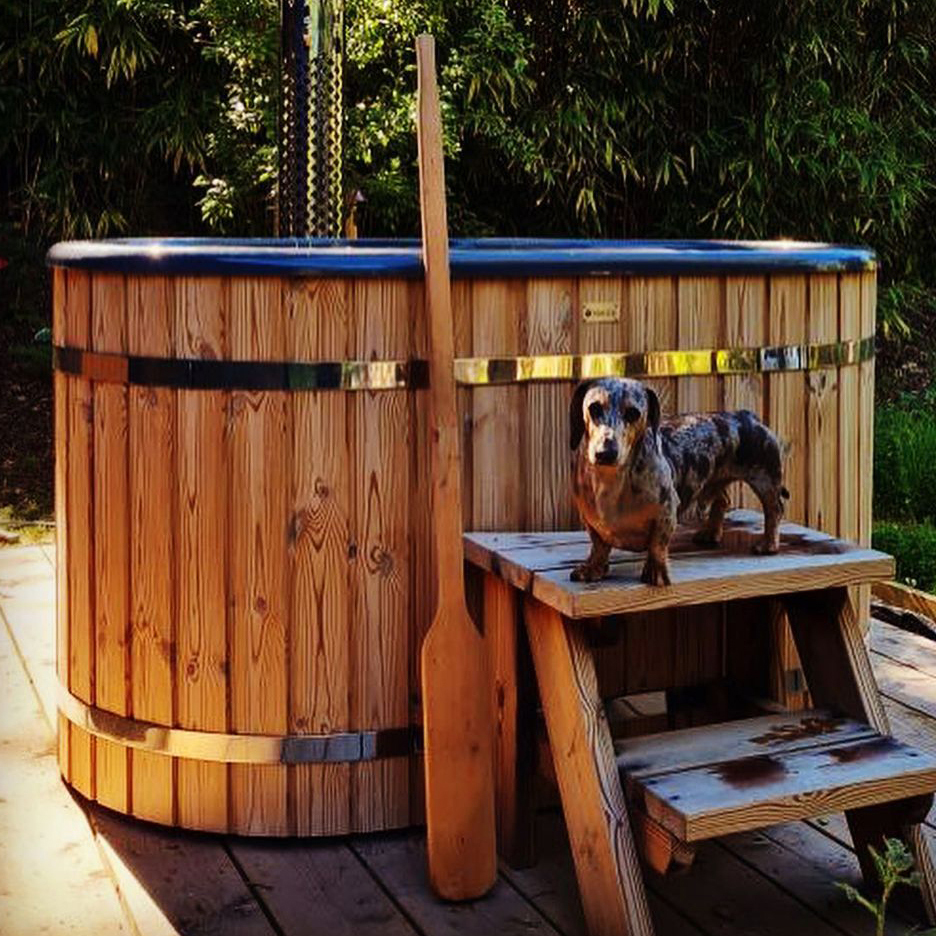 Even Heat Distribution with Stirring Paddle
Engineered for optimal results, the specially designed stirring paddle guarantees uniform warmth, enabling precise temperature readings. Its even heat distribution elevates the wood-fired tub experience, ensuring consistent comfort for an ideal and deeply soothing soak.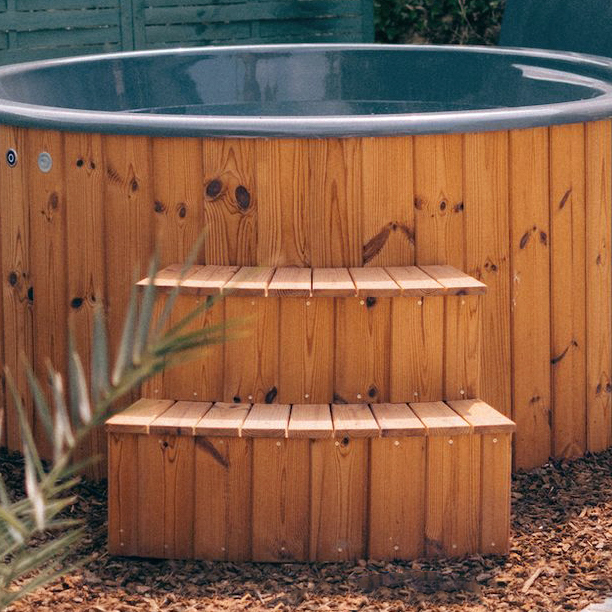 Spacious Steps for Easy Tub Access
Wide steps provide effortless access, enhancing safety and preventing splashing. Expertly designed to harmonize with the tub's exterior, these spacious steps offer both functional ease and aesthetic unity, ensuring a seamless and inviting wood-fired hot tub experience that complements your outdoor space.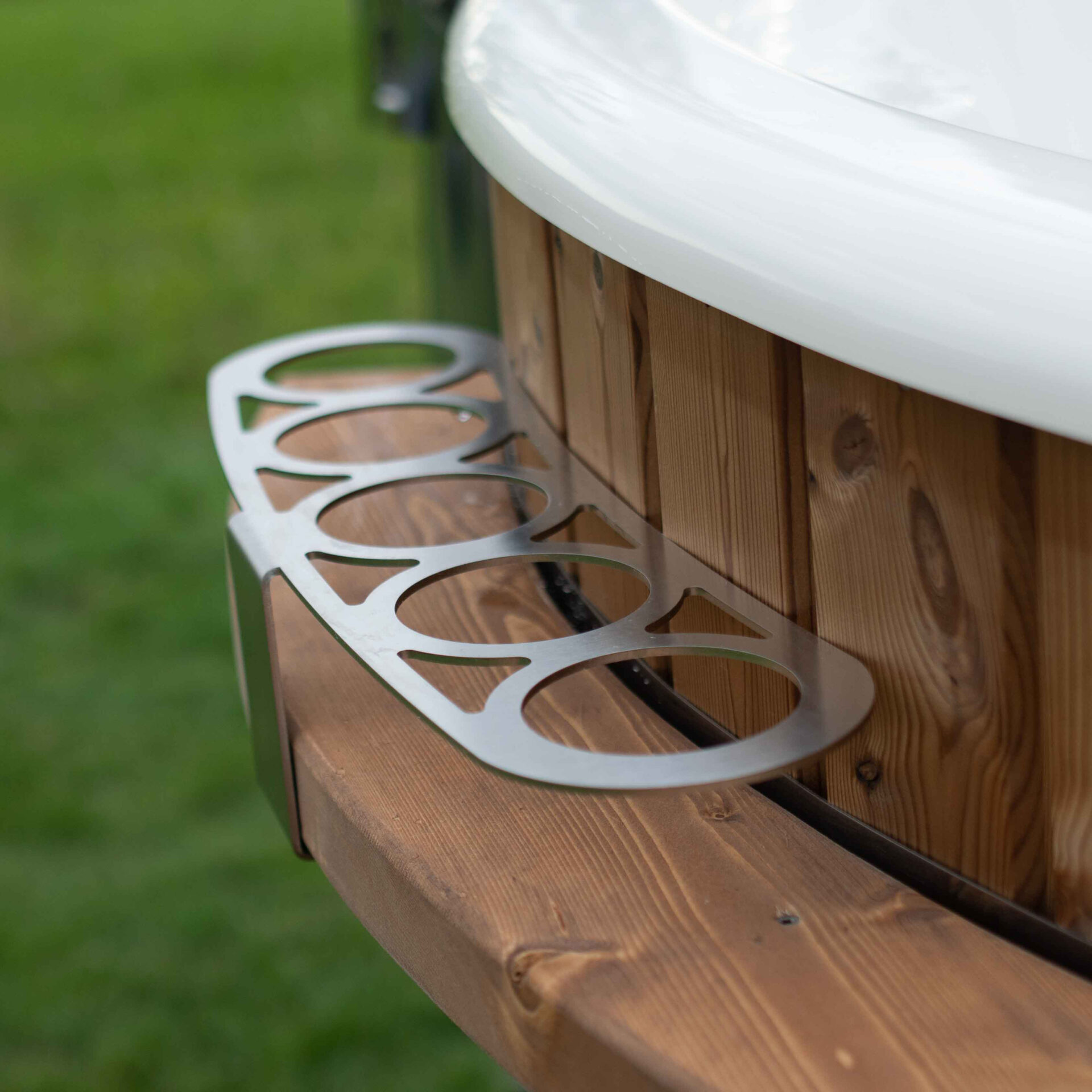 Convenient Mini Bar for Refreshments
Elevate your wood-fired hot tub experience with the added convenience of the mini bar / drink holder. Carefully designed to keep your favorite beverages within easy reach, it enhances relaxation by offering quick access to refreshments while you enjoy your soothing soak, creating a truly indulgent atmosphere.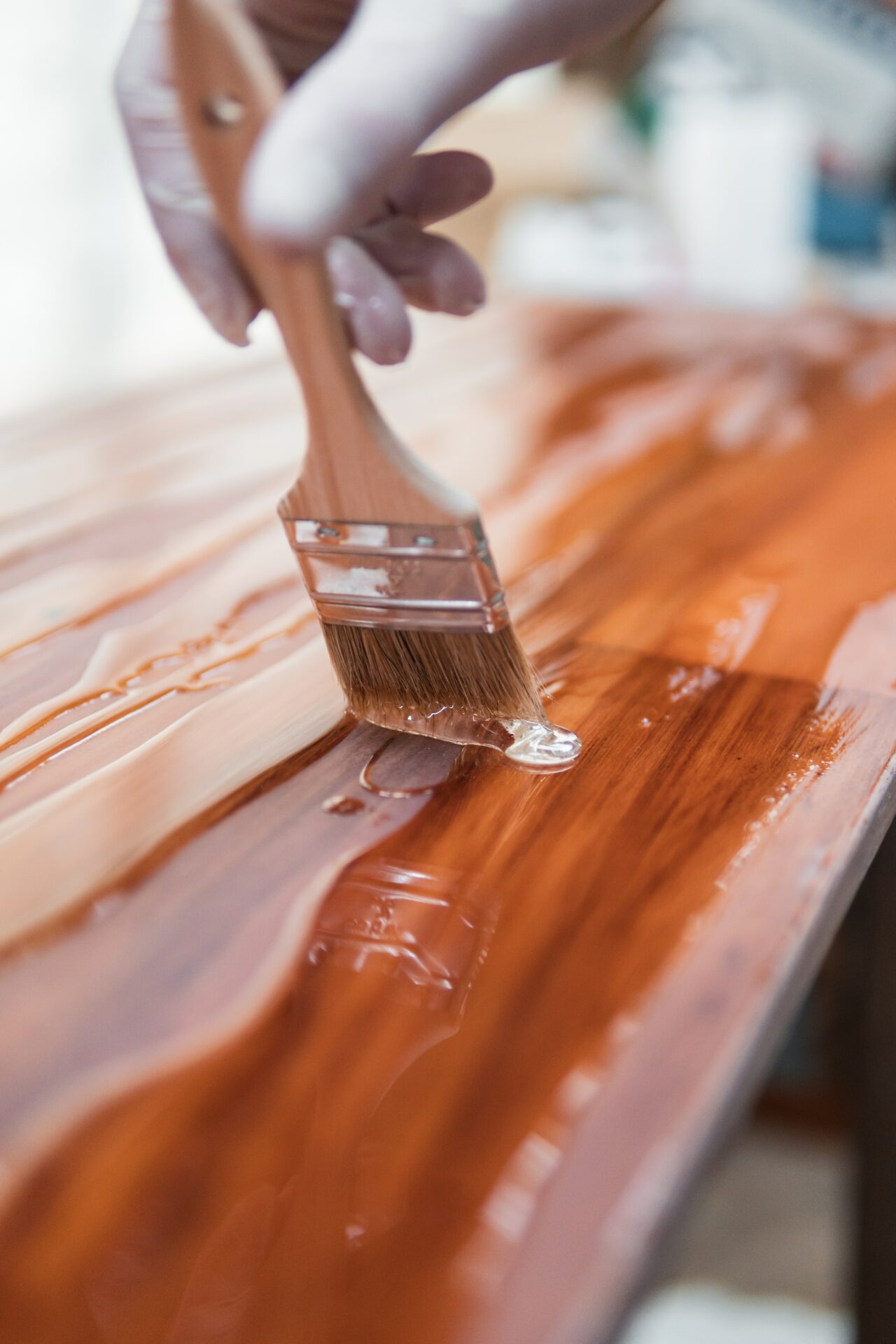 Wood Treatment for Extended Lifespan
Elevate the longevity of your tub with our premium wood treatment. Specially formulated to protect against weathering and decay, this treatment not only enhances the natural beauty of the wood but also ensures your hot tub remains a stunning and enduring centerpiece of your outdoor space.
Frequently Asked Questions
Still Have Questions?
We're happy you have questions when you're considering a wood-fired hot tub.
Check out our FAQ's for answers to the most common inquiries.
Still have questions?
Contact us and we'll help you out.
Are wooden hot tubs difficult to keep clean?
Not at all. Unless you really neglect your tub it will last for years with minimal effort. Wood naturally releases a gentle antiseptic that will help to protect your product.
Does the hot tub need a water supply?
A water supply must be present for filling the tub, but a permanent plumbed connection is not required – a garden hose is suitable.
How long does the tub take to fill?
Filling time varies depending on the size of your tub, your water pressure and flow rate. You can estimate the filling time by measuring how long it takes your hose to fill a 1 litre container, and multiplying this by the hot tub's capacity.
Is it safe for children to use the hot tub?
Yes… Kids love hot tubs! As always, when children are around water close supervision is required (there is still a drowning risk, even in a hot tub) and you may wish to lower the temperature a little so that the tub is comfortable for them. It is also advisable for children to take regular breaks out of the water.
Will there be a lot of smoke from the chimney?
If heat logs of seasoned hardwood are used there will be minimal smoke produced. Burning treated/painted wood will produce more smoke as well as tar within the chimney and stove.
Can I use fuel other than wood?
No – burning anything else will invalidate your stove's warranty and could cause damage thanks to higher burning temperatures. We recommend using only seasoned hardwood (moisture content <20%) or heat logs.
Can I burn any type of wood or other solid fuels on the fire?
Do not be tempted to burn anything other than wood, and it is really important you only ever use dry wood. This will give you the best results, is far more efficient and better for the environment. Never use other solid fuels or wood that is wet.
How long will my wooden hot tubs last?
Look after your product as directed and it will last a very long time. Our tubs are made from spruce (average life 10 years) or larch (average life 20+ years) high quality woods known for their longevity. There are a few things you can do to help prolong the life of your tub. For instance we recommend a coat of protective oil on at least an annual basis.
How much wood will I need?
As a general indicator, a larger hot tub will require 6-8 good-quality logs to heat up from cold. This will vary depending on a range of factors including the size of your tub, weather, and when your tub was last used.
What maintenance do the stove and chimney require?
Very little! If good-quality logs are used, the ash will need to be emptied from the stove periodically.
How should I dispose of ash from the stove?
You can remove ash from the stove easily using the tools provided. The ash can be composted or used in the garden as a fertiliser.
Should I treat the timber exterior to maintain it?
Yes. You can use stain, or products such as linseed oil to treat the exterior for the tub against the weather and moisture.
How often should I clean the tub?
Wooden hot tubs should be drained for cleaning every 2-3 days. This can be extended with the use of chemicals or filtration systems for tubs with a fibreglass or polypropylene liner.
How do I clean the tub?
Make sure the stove has cooled down before draining the tub! Failure to do this could damage your stove.
Drain the water out, and scrub all of the internal surfaces using a brush and soap solution. Once complete, rinse down and refill.
For hot tubs with liners, surfaces can be thoroughly wiped down in a similar fashion, before rinsing and refilling.
How do I drain the water?
The hot tub has a bung in the bottom, or a drain tap outside (if selected) for draining.
Can I add chlorine to the water?
If the hot tub has a liner (fibreglass or polypropylene) you may use chlorine if you wish to keep using the same water for longer.
Should I use chemicals in the water?
Chemicals can be used with lined tubs (fibreglass or polypropylene) where the water doesn't come into contact with the timber facade but they are not required.
Using chemicals can allow the same water to be retained for longer, between cleaning.
How often should I change the water?
This is a difficult question to answer, because it depends!
Wooden tubs are unsuitable for chemicals, which means water should be changed every 2-3 days when in regular use, with the lid fitted while not in use to ensure no debris finds its way in.
For lined tubs (fibreglass or polypropylene), chemicals such as chlorine, or filtration systems can be used to maintain water quality for a period running into weeks.
Following basic practices such as showering before using the hot tub can extend the period between cleans.
In a commercial setting (such as glamping sites or holiday rentals), water should be changed for each new guests' arrival.
What is the typical delivery time?
Lead times vary depending on the product. Please send us an email at info@royaltubs.co.uk, telling us which product you are interested in and we can confirm current delivery lead times.
How heavy is the hot tub when it arrives?
Product weights can be found at the Technical Specifications link on each of the product pages. We recommend having 4-6 fit and able people present to lift the tub into position upon delivery.
Is a special base required for the hot tub?
A special base is not required, but the surface must be level, and able to support a weight of up to 2,500kg (depending on the size of the tub). This could be decking, concrete or simply a flat patch of grass.
What access is required to get the hot tub into position?
Packaged dimensions of our hot tubs are listed under the "Technical Specifications" link on each of the product pages. Special attention to be paid to ensure that obstacles like window sills, outside taps and pipes are considered when checking access.
How much room do I need to fit a wood-fired hot tub?
You can find all of the dimensions for our hot tubs under "Technical Specifications" on the product pages. We recommend leaving at least 50cm clear on all sides of the tub for maintenance and inspection, with additional clearance for loading and cleaning in front of the stove.
Should I make any special preparations before delivery?
Access should be clear between the kerbside drop off point and the hot tub's final position. The base should be prepared before the hob tub's arrival. Having a garden hose and a few bags of firewood will make it easy for you to get started as soon as the tub is ready to go!
What payment options do you offer?
You can make payment using credit/debit card or bank transfer.  Please contact us if you wish to discuss any other payment methods.
Do you offer finance options?
Yes, we have interest-free finance options through our partners DivideBuy. You can find details here.
Can I cancel my order if I change my mind?
We cannot accept cancellations, as all tubs are built to order. Cancellation will result in loss of funds paid. Please ensure that you have checked and double checked everything before placing an order.
If you have questions or are unsure, please contact us and we will be happy to help.
What happens once I've placed my order?
Once you have completed the checkout process, you'll receive an email confirming your order (this can take up to 20 minutes to arrive in your inbox).
In the Royal Tubs offices, a hive of activity will break out as we confirm stock levels, order materials as necessary and send out instructions to our delivery team to let them know that you too will shortly have a garden the whole street wants to visit!
Once the commotion has died down, you'll receive another email with delivery instructions and confirmation of your anticipated delivery date.
This email will also contain the instructions you'll need if you wish to upgrade from delivery only to a full installation service.
Before your tub leaves us, we'll crack open the champagne to celebrate another soon-to-be-very-happy customer upgrading their garden, and we'll contact you again to confirm your product's arrival.
Still have questions?
Contact us and we'll help you out.