Wood-Fired Hot Tub Accessories – Are They Worth Adding?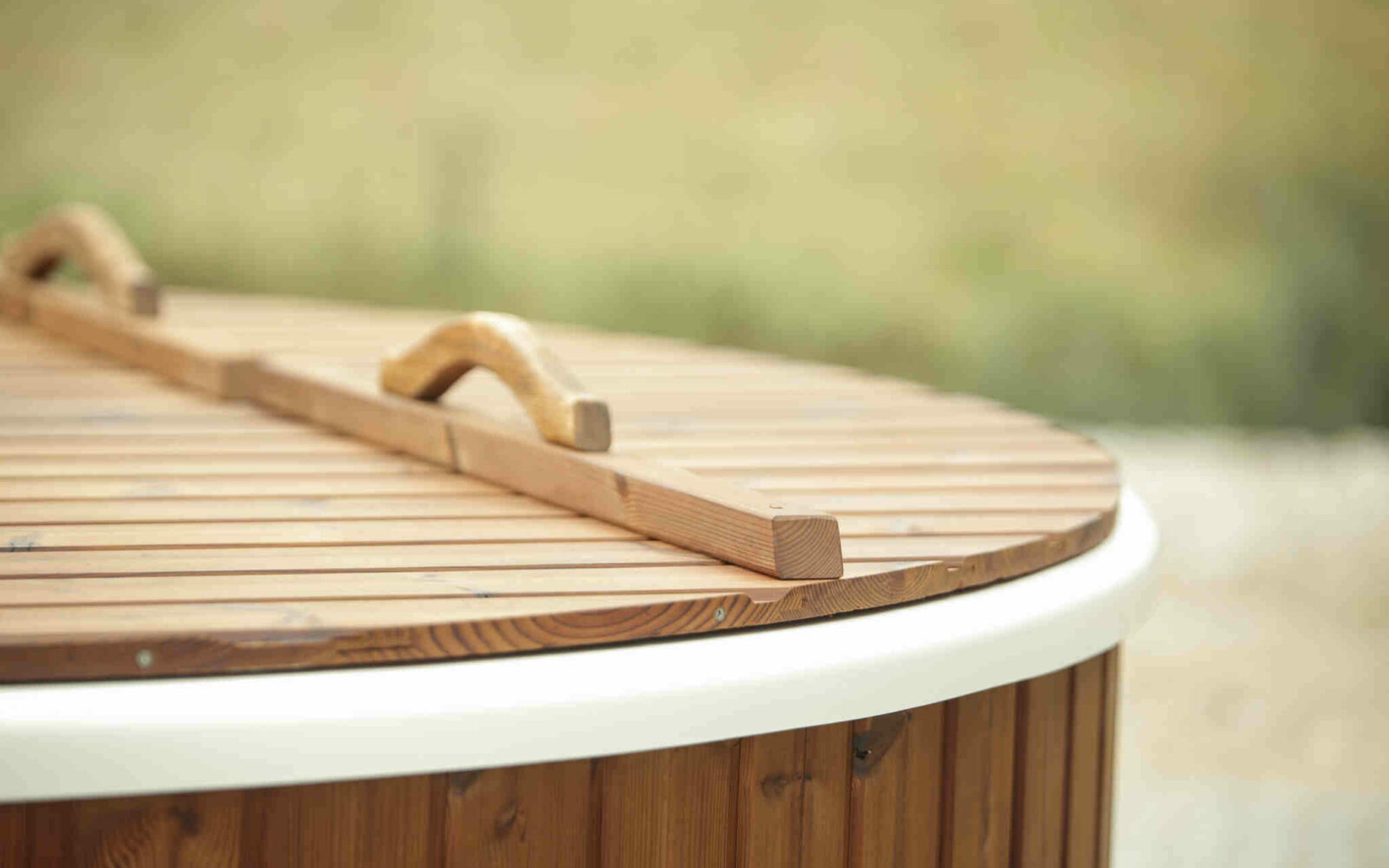 Despite embodying simplicity, wood-fired hot tubs can be accessorised with many of the same features that their more expensive, mechanical cousins boast.
From massage jets to atmospheric lighting, the range of accessories available with wood-fired hot tubs is broad.  This leads many customers to ponder which accessories will add the most to their wooden hot tub, without taking away from its rustic charm.
We're going to give you a rundown of the accessories available for your wooden hot tub, so you can easily decide which ones will add depth to your relaxation, and which will blow your budget.
The Essentials
While many add-ons can be considered "luxuries", there are some which make all the difference to living with your wood-fired hot tub. The importance and convenience of these can't be understated.
Drain Valve
A drain tap is a simple modification to your tub, allowing it to be drained via a simple lever valve.
Where most wooden hot tubs have a "bung" positioned at the bottom of the tub (much like a bath plug), adding a drain valve extends this drain beneath the tub to a manual valve fitted externally. This lets the owner easily connect the drain to a hose, and empty the water for cleaning without having to get in the tub.
Without the drain valve accessory, the bung or "plug" at the bottom of the tub needs to be removed by hand… this means getting into the tub (most likely when it's cold), to take it out.
I can tell you from experience, ducking under the water in a cold tub on a chilly December morning to drain down for cleaning is an experience best avoided!
For the convenience of use that the Drain Valve adds, this really is a no-brainer. Add The Drain Valve when you purchase, and save yourself the hassle.
Chimney Guard
The chimney guard wraps around the flue pipe, giving valuable clearance between the hot chimney and any rogue legs or fingers that might brush past. This greatly reduces the chance of burns from contact with the chimney.
A simple safety feature, the chimney guard is an inexpensive must-have if you're likely to use your wooden hot tub with children around, or your stove is positioned in an area where people are likely to be passing close by.
Insulated Lid
Although every wood-fired tub *should* come with a lid, these tend to be designed only to prevent leaves, bugs and other debris finding their way into your spa.
As the name suggests, an insulated lid keeps the heat in your tub, meaning it heats up faster the next time you want to use it.
If your tub is likely to be in regular or daily use an insulated lid can reduce the heat up time by as much as half, meaning your wait to hop in is even shorter.
We're just sorry you won't be able to get as much down around the house while you're waiting for the tub to heat up… perhaps the washing up will have to wait!
Accessorising Your Experience
Although the accessories above might be boring, they'll make living with your new wood-fired tub that much easier.
Of course, the same can't be said for these add-ons… Check out the options available to give your tub a little added luxury.
Important Note: Not all of the accessories below are suitable for fitting to each tub type; please check the comparison table below to see if your wood-fired tub is suitable. Lined (both poly and fibreglass) tubs tend to be easier to customise because of the void between liner and exterior, although options are available for every kind of tub.
Massage Jets
No prizes for guessing what these do!
Embedded into the walls of your tub, massage jets are operated at the flick of a switch and comprise pumped jets of water to ease muscle tension and provide an added dimension to your soak.
Of course, as well as the cost of the upgrade, massage jets require a mains power supply to operate. This should be carried by a qualified electrician, and depending on the location of your tub, can add notable expense to your new wood-fired hot tub installation.
Air Bubble Systems
Air bubble systems deliver jets of air from beneath your tub, creating the sensation of being massaged.
Unlike massage jets which pump water to work out muscle tension, air bubbles provide a gentler impression, bolstering the feeling of tranquil relaxation.
For those looking for a quiet escape from daily life, air bubbles are a light and pleasant supplement to help you drift away.
As with massage jets, a power supply is required to operate air bubble systems. Most people need to have this put in especially for their tub, so the cost of this should be weighed when deciding which accessories to add.
Lights
If there's a softer means of creating mood in your hot tub, we're yet to discover it!
While they're a seemingly simple addition, adding lights into the walls or floor of your tub can transform your hot tub into an otherworldly escape, creating a nighttime atmosphere far removed from your usual back garden experience.
Lights can be fitted to any type of wood-fired tub, although the configurations available vary.
If you're looking to create a place of escape to relax in, adding lights to your tub should be high on your list.
Make Your Tub Easy To Love
Some accessories just make your tub simple to live with. Although these don't have the same "sexiness" as light and jets, these add-ons will make maintenance and use a breeze, letting you cut out the hassle between lighting up and jumping in.
Filters
Water hygiene is a critical part of owning a hot tub, no matter the type.
Some owners enjoy the convenience of simply throwing in chemicals, while others prefer to enjoy the natural aspect of their wood-fired tub, using filters to remove debris and extend the time between cleans.
There are two filters types suited to use with a wood-fired tub:
Skimatic Filters
A schematic filter sits on the edge of the hot tub, and can be used with any tub type without needing a power supply. It catches floating debris and traps it, removing leaves, bugs and other bits and pieces that find their way in from the surface of the tub.
External Filters
External filters are connected through the wall of the hot tub, pumping the water through either sand or fibreballs to decontaminate it and extend the time between drain downs for cleaning.
Usually concealed within an external box, made to match the wooden hot tub's exterior, these units can reduce the cleaning required whilst being unobtrusive and simple to maintain.
Stirring Paddles
A simple addition to your tub; a stirring paddle lets you ensure the water in your wooden hot tub is evenly heated to give accurate temperature readings before hopping in.
With an oar-like design and usually crafted from natural timber, these functional accessories take the guesswork out of preparing your soak and add a rustic simplicity to the feel of your tub.
Aesthetic Touches
While the true magic of your wood-fired hot tub can be found in the water itself, some accessories uplift the look and feel of your tub, letting it blend effortlessly into its new home and adding the finishing touch that makes it "just so".
Matching Steps
They may seem easy to overlook, but steps make slipping into and out of your tub a breeze. Crafted from the same timber as your wooden hot tub's exterior, a set of matching steps adds functional value in keeping with the look and feel of your tub making you wonder how you'd ever have done without them.
Decorative Rim
An inexpensive final touch, a decorative rim finishes the upright timbers of your wood-fired hot tub's exterior with a shaped, sweeping shelf. This gives a convenient rest for books, towels, phones or speakers, without having to leave the warmth of your peaceful retreat.
Created to match your tub's exterior, the rim doubles as both a convenient surface, while adding to the appearance of depth.
Drinks Holder
What's a relaxing soak without a glass of something cold to accompany you? Designed to be in keeping with the tone of your tub, with a drinks holder you can make accidental spills a thing of the past, letting you safely store your glasses without fear of stray elbows.
Essential? Of course not.
But an add-on that'll make your tubbing that much easier? Absolutely.
Suitability – What Works With Your Tub?
Thanks to the nuances of the different types of wood-fired hot tub, not every accessory can be fitted to all wood-fired hot tubs.
The table below gives you an at-a-glance idea of whether the tub you've got your eye on will suit the accessories you've got in mind.
| | | | |
| --- | --- | --- | --- |
| | Fibreglass | Lined | Traditional |
| Air Bubbles | ✓ | x | x |
| Lights | ✓ | ✓ | ✓ (fewer options available) |
| Massage Jets | ✓ | x | x |
| Skimatic Filter | ✓ | ✓ | ✓ |
| External Filter | ✓ | ✓ | x |
| Stirring Paddle | ✓ | ✓ | ✓ |
| Matching Steps | ✓ | ✓ | ✓ |
| Decorative Rim | x | ✓ | ✓ |
| Drinks Holder | ✓ | ✓ | ✓ |
Summary
There's no question that a wood-fired hot tub alone will add a sense of relaxation and spirituality to your garden, giving you an oasis of tranquility you can enjoy whenever the mood takes you.
Adding accessories is by no means needed to enjoy your new tub. By taking a moment to consider how you'll live with your tub and the memories you hope to create there, you might just find a little something to add another dimension to your blissful retreat, and sprinkle a little added joy to your experience every time to slip in and drift away.
If you're unsure of whether the accessories you're eying up will suit your tub, you can contact us at any time and we'll happily advise with the benefit of our experience.