Retreat, Revive, Recover with our
Outdoor Saunas
Surrender yourself to wellbeing as you embrace Scandinavian tradition with a stunning outdoor sauna. Used for thousands of years to reduce stress and improve health, you too can share in the ritual of heat and relaxation from the comfort of home.
A Sanctuary of Warmth
Saunas are the perfect relaxation tool.  You can use them on their own, in combination with a plunge pool, or as a recovery ritual after exercise. Studies have linked sauna use to improved health, reduced stress and increased speed of recovery – little perks that add up to a happier, more fulfilling lifestyle.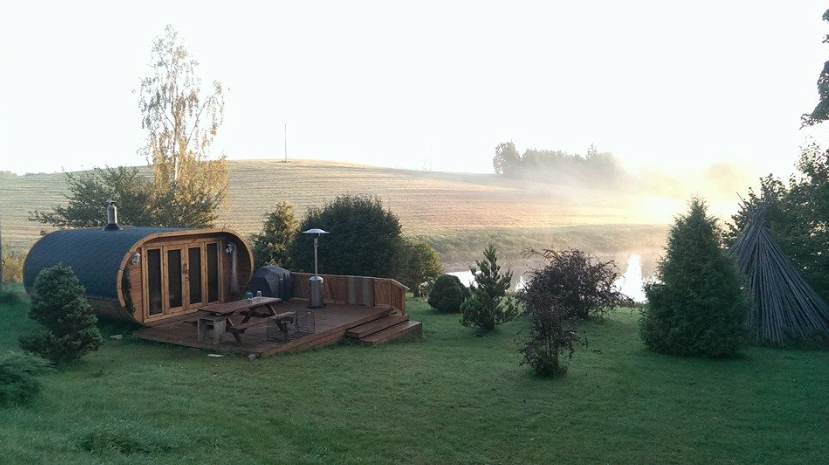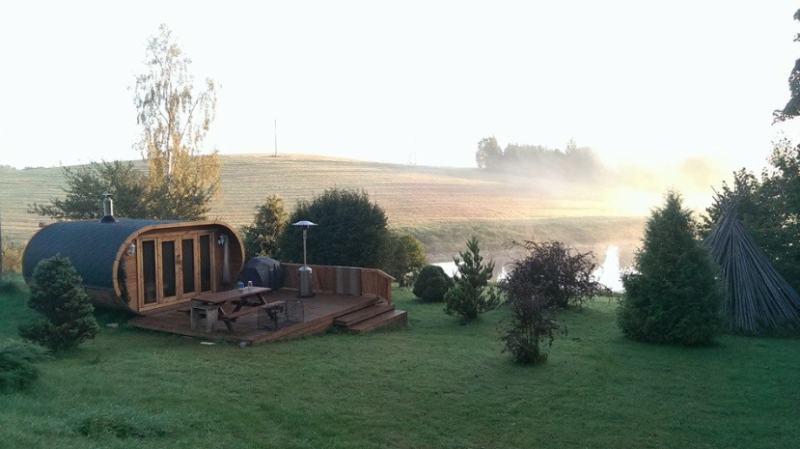 A Ritual of Wellness
Your sauna is more than a haven of relaxation. The health benefits of regular use have been proven scientifically,  adding to the popularity of saunas in recent years.
From detoxing to weight loss, improved circulation and stress relief, saunas culture has spread from Finland around the world as more and more people invest in their physical and mental health at home.
Join the movement, and enrich your health and wellbeing with an outdoor sauna.
Sauna Pods
Sauna Pods are the most accessible outdoor saunas in our range.

With a wide base and apex roof design, their notable shape gives Sauna pods a deceptively spacious feel.

The Sauna pod entranceway sits low to the ground which makes stepping in and out simple while the shape of the roof lets even the tallest users sit comfortably inside.

Often favoured by users looking for headroom and easy access, Sauna Pods are available in a range of timber options so you can match to any garden theme and make sure that your new retreat blends right in.

Price starts at £4400 + VAT (Electric heater) or £4600 + VAT (Wood-fired heater) for a standard 2.5m length Sauna Pod.

Prices exclude delivery & assembly.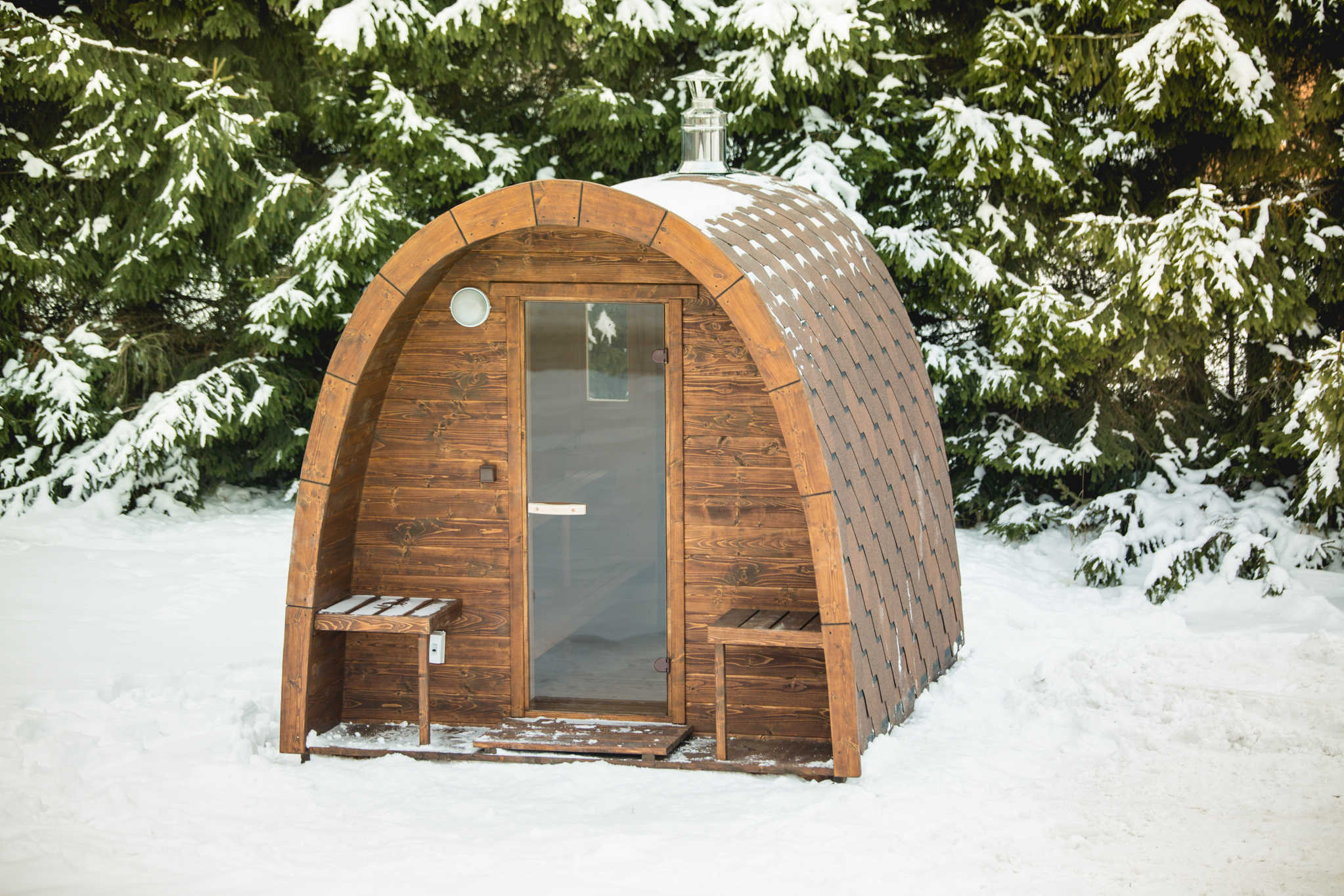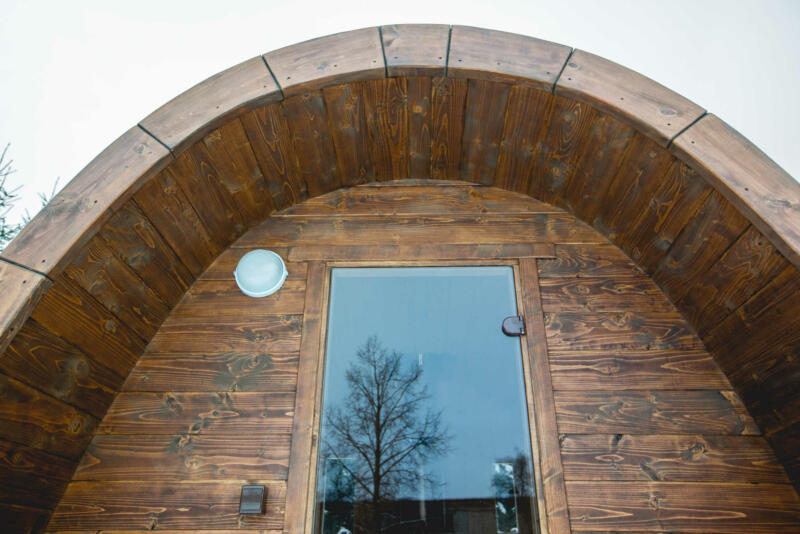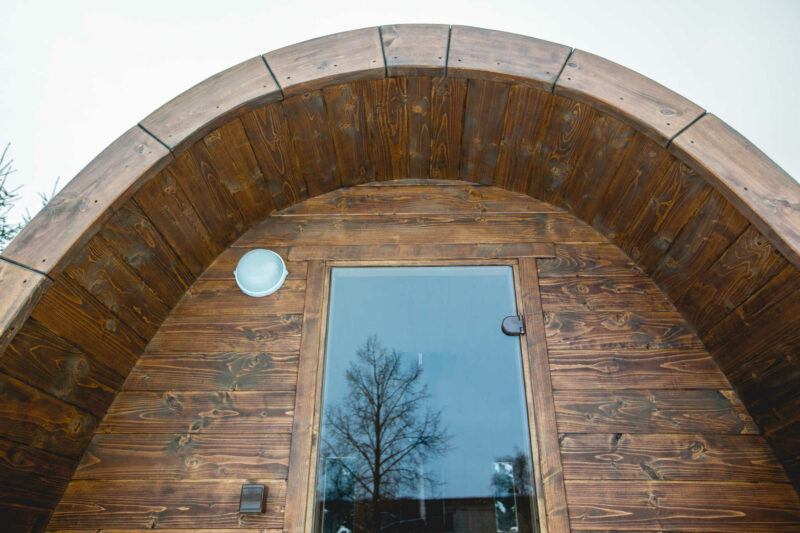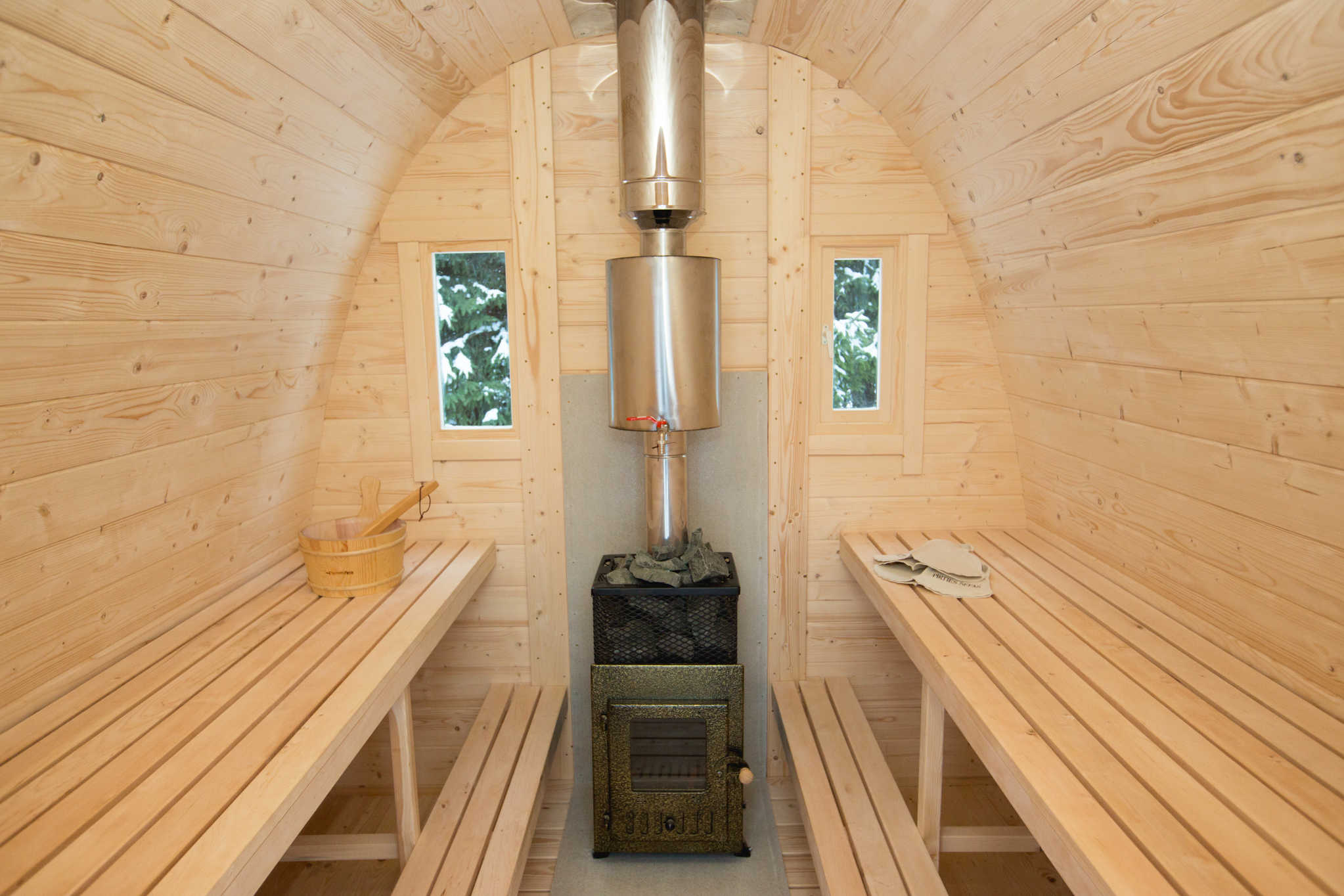 Sauna Pods Pricing and Technical Specs
Wall thickness: 42mm, bitumen roof, door, 2 windows on the back wall, door with a small window, chimney components (for wood burning heater), benches.
Width: 240cm or 220cm. Wood: Spruce or Thermowood.
| Length (cm) | Harvia M3 Wood Burner | Harvia Electric |
| --- | --- | --- |
| 250 | £4600 | £4400 |
| 300 | £4850 | £4650 |
| 350 | £5200 | £5000 |
| 400 | £5400 | £5200 |
All the prices on saunas are subject to VAT.
Barrel Saunas
When you think of outdoor saunas, the classic design of a Barrel Sauna is the first to mind.

Their softly shaped design blends perfectly into a larger garden, and is suited to withstanding the Scandinavian winter as well as the British weather!

Barrel saunas heat quickly and feel spacious thanks to their unique shape.

Royal Tubs offer a full range of customisation options, from timber to windows and terraces so you can be sure your Barrel Sauna has everything you're looking for.

Price starts at £3899 + VAT.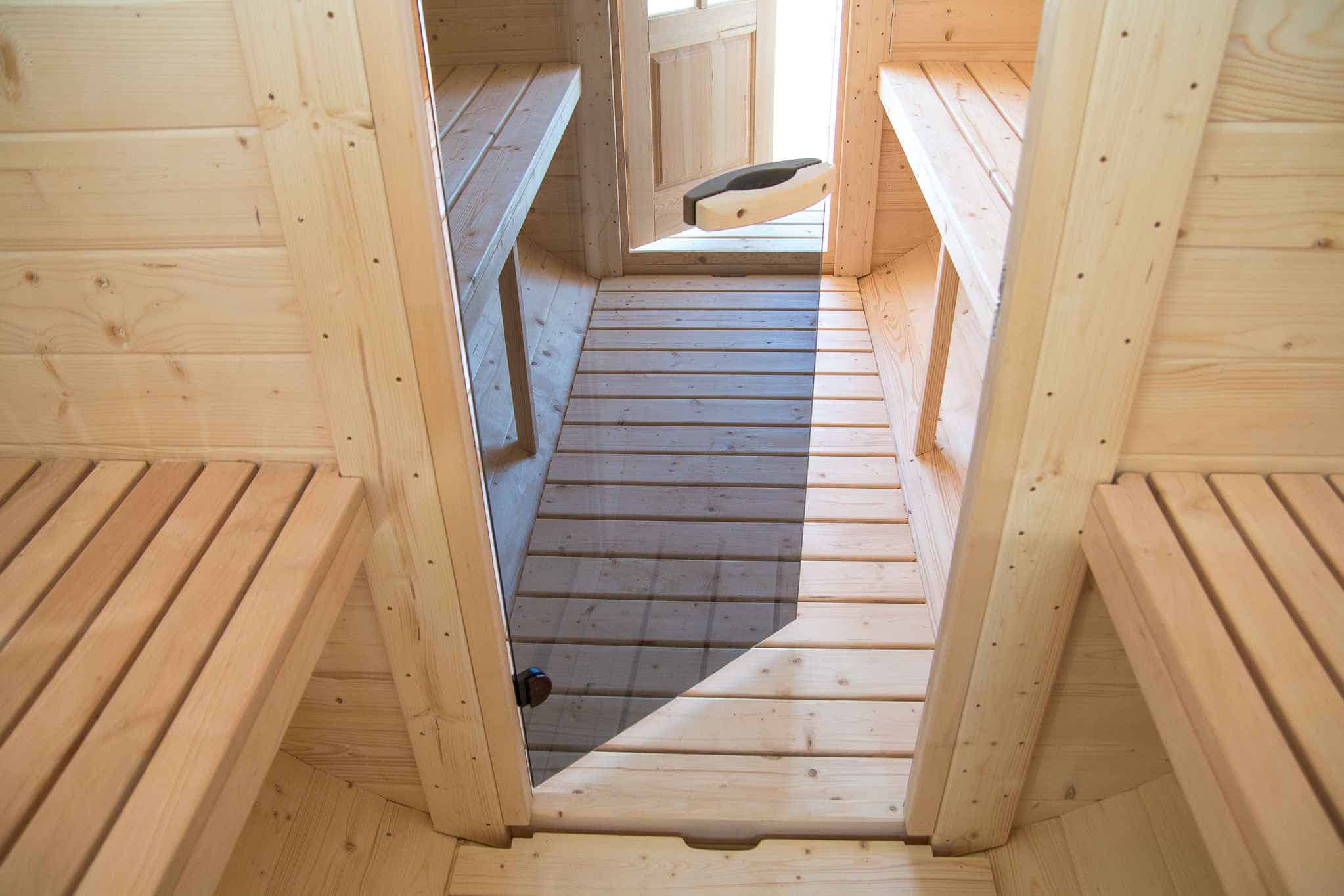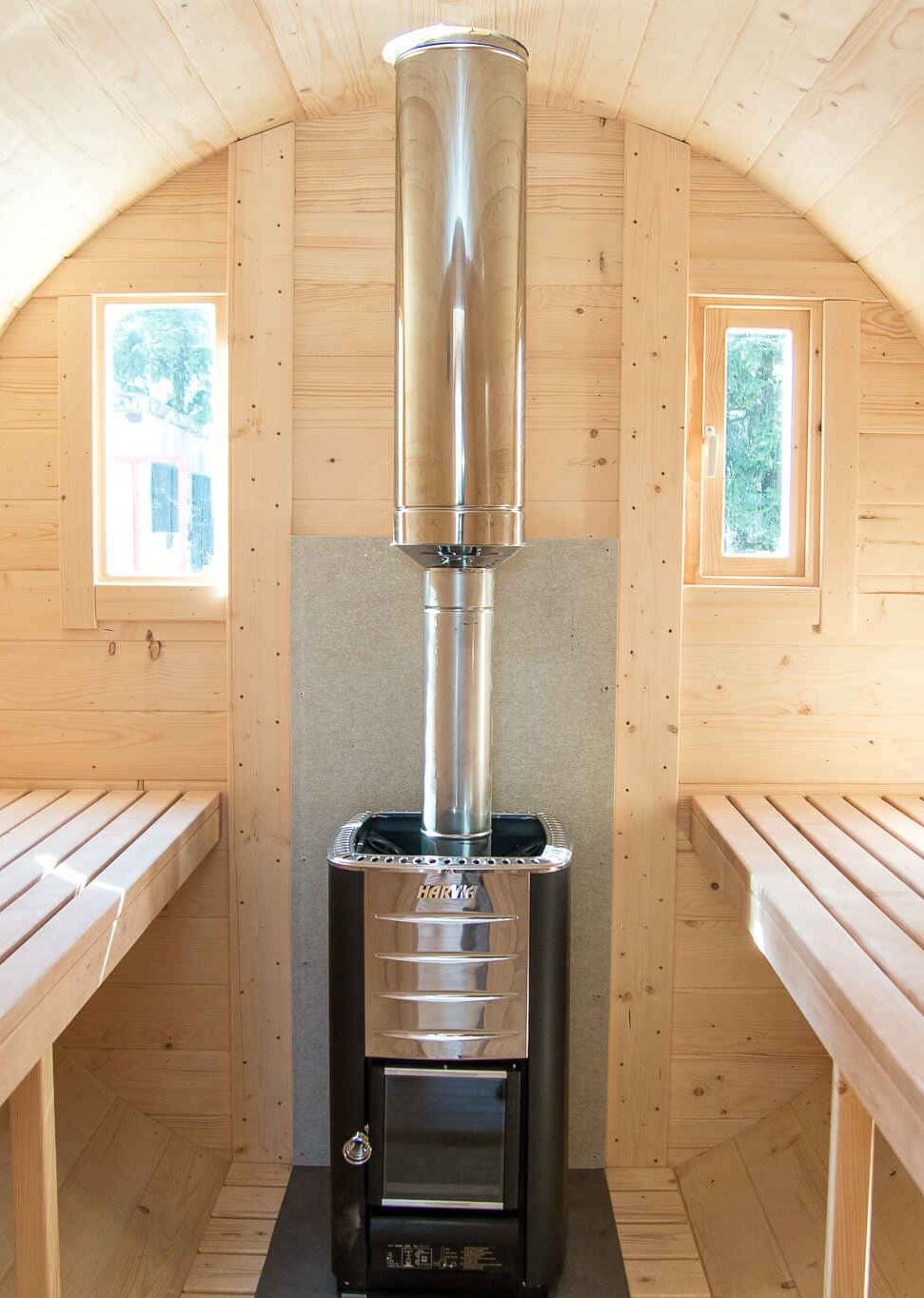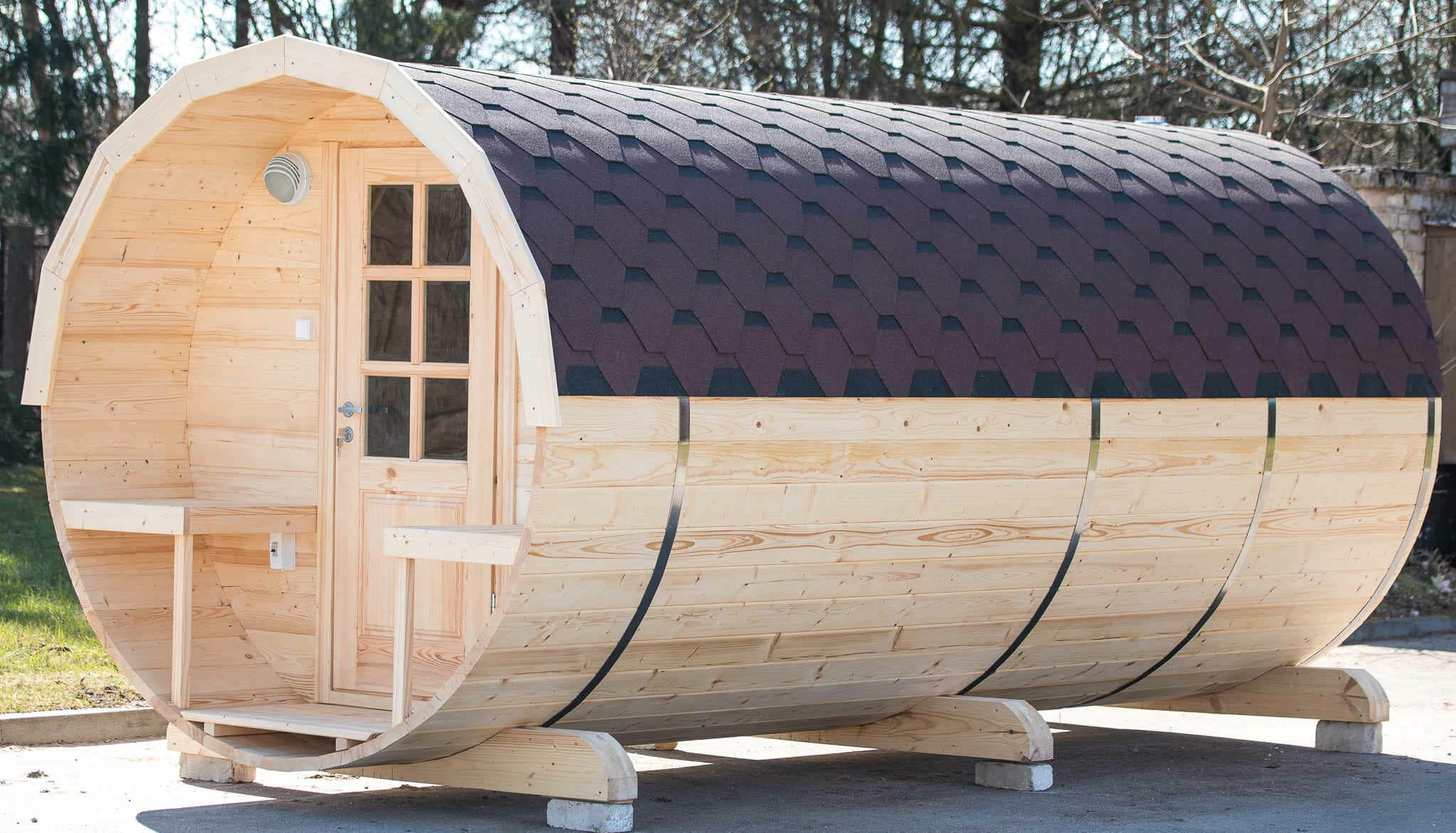 Barrel Saunas Technical Specs
Wall thickness: 42mm, bitumen roof (4 colours available), door with small window (optional full glass door for maximum light), stainless steel straps.

Diameter: 205-220cm. Length: 160cm to 580cm. Wood: Spruce or Thermowood.

Different layouts available: sauna room, changing room, cooling down, outside seating seating, etc.
Oval Saunas
An Oval Sauna is the peak of personal garden sauna.

The perfect place to spend quality time with family and friends by the poolside,  patio or lakeside, these spacious outdoor Saunas can seat up to 6 people, without feeling cramped.

Not only do they look magnificent, but they are the perfect option for large families, merry parties, or simply those who love entertaining.

Royal Tubs can customise your sauna to make sure nothing is missing from your perfect Outdoor Sauna.

Price starts at £5499 + VAT (Electric heater) or £5699 + VAT (Wood-fired heater) for a standard Oval Sauna.

Prices exclude delivery & assembly.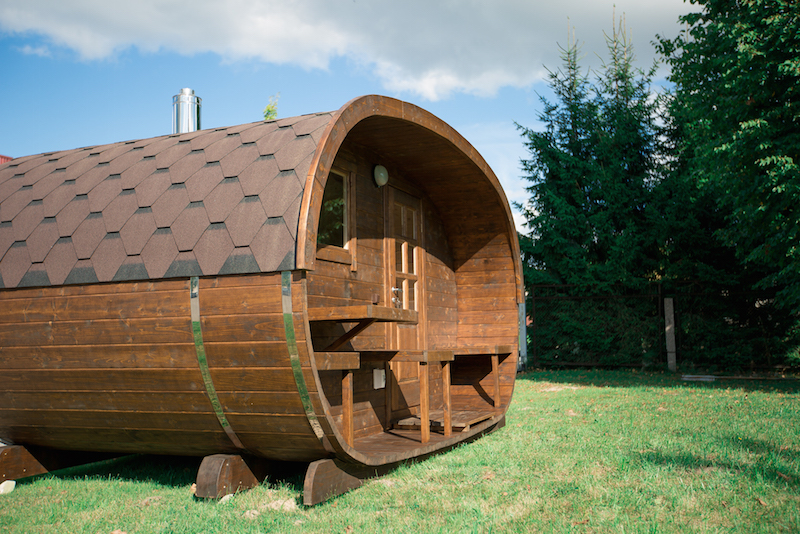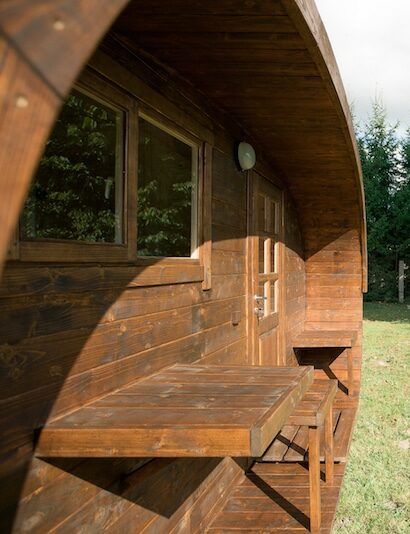 Oval Saunas Technical Specs
Timber frame staves are 42mm thick.  Wood choices: Siberian Spruce or Thermowood  (Can be treated with natural colour or any other). 4 Roof Shingle Colours available – Red, Green, Black, Brown.

Dimensions: 240cm x 400m. 2 rooms inside the building (changing/chilling room + sauna).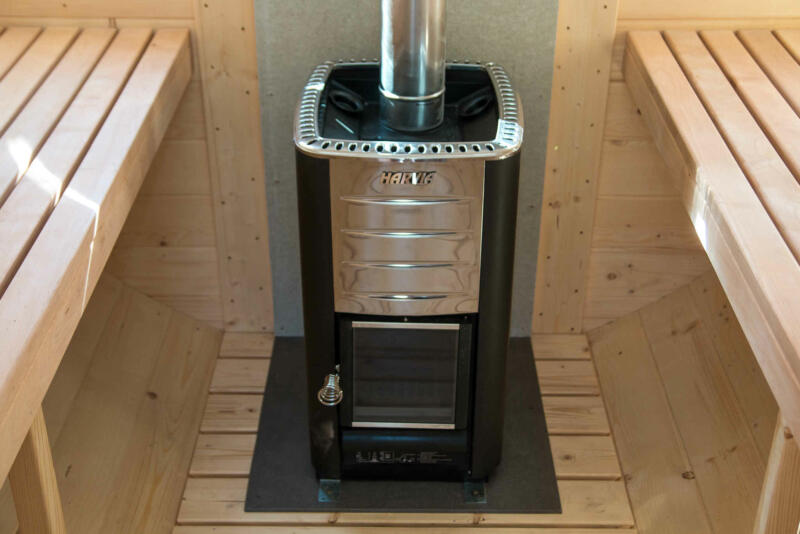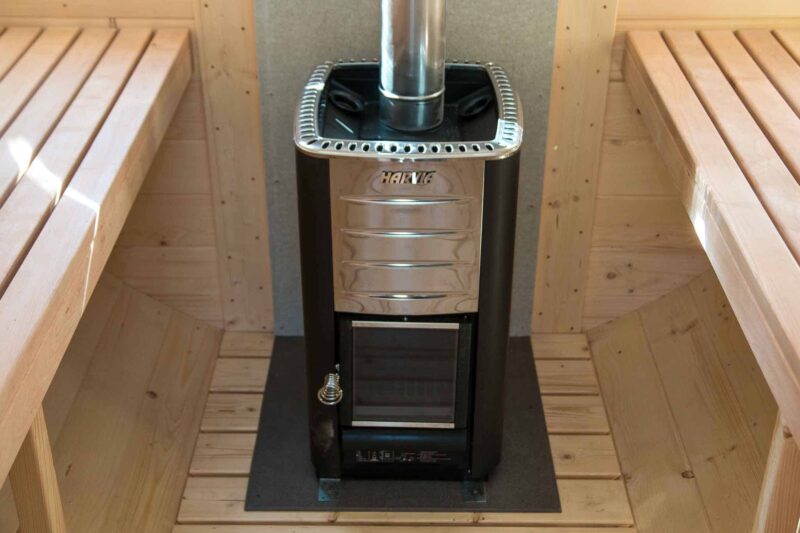 Efficient and Stylish Heating
No matter which Sauna you choose, every one comes equipped with the highest-quality wood-fired or electrical Finnish Harvia heaters.
Efficient air circulation within the sauna and even heat from the stove mean that you stay comfortable, even when things start to hot up.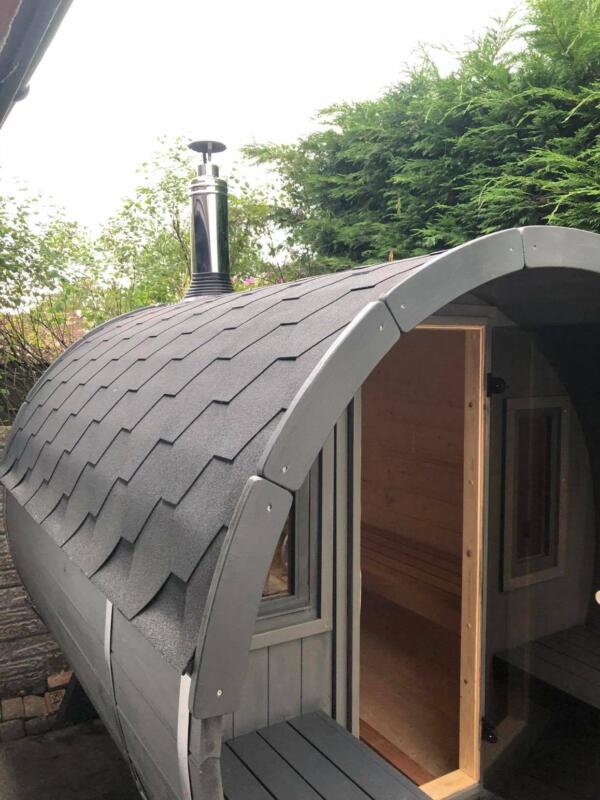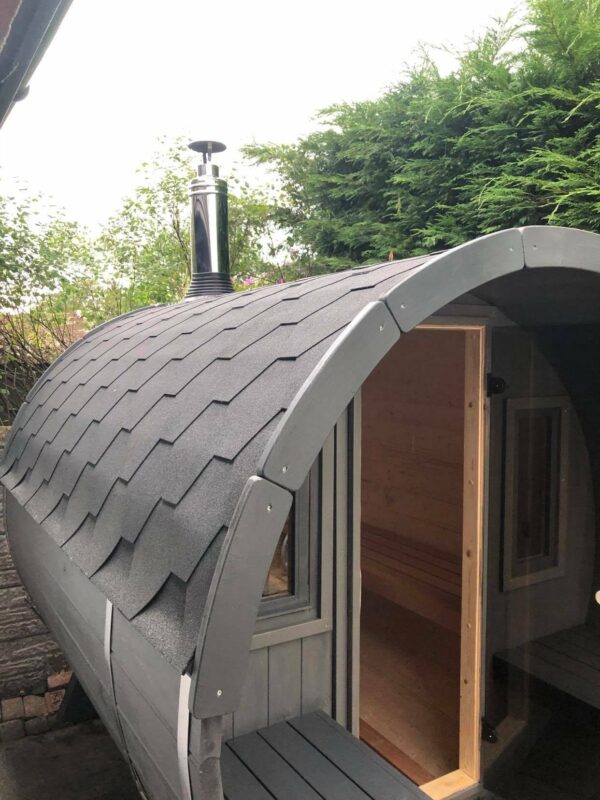 Sauna Delivery
Barrel Saunas are available fully assembled, or in kit form.
We can only deliver Sauna Pods and Oval Saunas for assembly on site, due to their size and the risk of damage in transit.
Our experienced installation teams can offer assembly on site – please get in touch to discuss the requirements for this service, and for a quote.
If a Barrel Sauna is selected for delivery assembled, the customer must arrange to ensure the correct and safe unloading of the building using either a forklift or telehandler upon arrival.
Build A Sauna That's Uniquely Yours
Your sauna is going to live with you for years to come. As your own venue for relaxing, entertaining and passing quiet hours in your own company, why not make it exactly as you want it?
Would atmospheric lighting set the mood?
How about a wall or door of glass, to let the scenery in?
Would an outdoor terrace to let you connect with nature?
We can accommodate any of these and more.
Customise your sauna as you dreamt it, and make sure you still feel the same excitement when you step in after 10 years, as you do the day it arrives.
Sauna Upgrade Options
– Heater installed from outside (£249)
– Half back wall with tempered glass (£600)
– Full back wall with tempered glass (£900)
– Full front wall with tempered glass (£1000)
– Glass door (£199)
– Heated chimney water tank (£199)
– Ceiling light and a switch (£159)
– Ceiling light and under bench lighting with a switch (£299)
– Wood Treatment (£150)
– Partition wall to separate sauna and changing room (£250)
– Backrests (£200)
– Footrests (£200)
Note: all of the above are starting prices – final quote depends on your sauna type and configuration. All prices are subject to VAT.
Bring The Sauna Experience To Your Event
Whether you're planning activity camp or a special celebration, an outdoor sauna is guaranteed to become a hub of recharge, relaxation and conversation.
The perfect aid to recovery after a day of physical activity, or as a quiet retreat, Royal Tubs can deliver, set up and collect an outdoor sauna to suit your schedule.
Why not add a special touch that'll keep your guests telling stories for years to come?