Wood-Fired Hot Tubs: A Guide To Exterior Features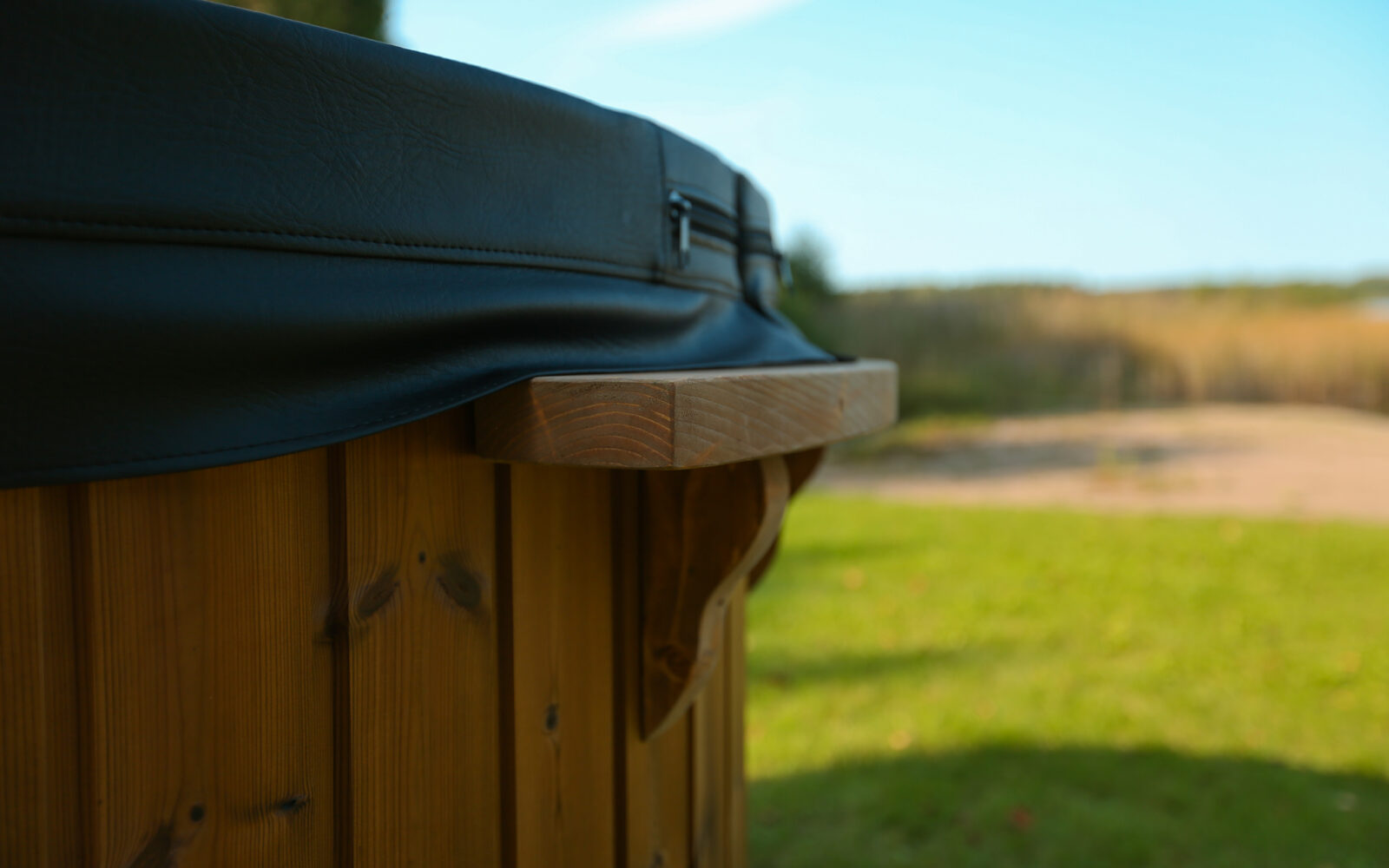 With lockdowns, travel-bans and a huge number of people in the UK choosing to take "staycations" in the last couple of years, it's no surprise that wood-fired hot tubs are becoming increasingly popular as a way to indulge yourself at home.
Between discovering them at Glamping Sites, Holiday Cottages and Quiet Retreats, and holiday money being saved thanks to the restrictions, more and more people are choosing to act a touch of luxury to their open gardens with a Wood-Fired Hot Tub.
But despite their increasing popularity, many folks don't fully understand the various upgrade options they're represented with at checkout (and it's not surprising!).
We're going to take a closer look at some of these Exterior options, so you can get clear on what you need, what you might like and the upgrades you flat out don't need.
Some of these Exterior options will make it easier to live with your tub, or let it sit seamlessly into its new surroundings. Others will save you time and money. Either way, it's worth taking a minute to get to know what's out there.
For the purposes of this post, we're looking at Accessories that compliment the exterior of your wood-fired hot tub, and the options for customising its look.
Wood Fired Hot Tub Exterior Upgrades
Exterior Cladding
It might not sound "sexy", but the exterior cladding on your wood-fired tub is most of what you'll see day-to-day, while your tub isn't in use! If your tub is going to be on show (and why wouldn't it be?!) then being able to match your hot tub's cladding to its surroundings adds extra depth to your whole setup and lets your tub sit seamlessly into its surroundings.
Wood-Fired Hot Tubs are available with a range of different exterior options, meaning it's possible to find a timber choice that matches your taste, your garden and your budget. Of course, you can add a stain or paint to protect the wood and make its appearance "just so".
Royal Tubs offer several timber options, depending on the type of wood-fired hot tub you're buying.
Larch, Western Red Cedar, Oak, Spruce and Thermowood are all available.
The product pages on the Royal Tubs websites list the timber choices available for each tub type so we won't go into that here, but you we've laid out the character of each timber below:
Spruce is a budget friendly, standard option for our wood -fired hot tubs. Robust and light in colour, it often has a knotty finish giving it a distinct character. Perfectly suited to traditional wood-fired hot tubs, spruce should be stained or painted to protect it from the elements.
Western Red Cedar is a favourite cladding timber among architects and designers, commonly used in home building. It's distinctive reddish colour lasts well over time, and it's exceptionally durable, resistant to moisture and decay. Staining for longevity is recommended, but you wouldn't want to paint over its gorgeous colour. This timber is often chosen to accompany our fibreglass or lined hot tubs.
Oak is synonymous with English Character. Hard-wearing, dense and resistant to decay, it weathers to a striking silvery tone with time, although many customers prefer to stain the timber to show off its characteristic grain.
Larch is another budget-friendly timber, perfectly suited to traditional wooden hot tubs. Resistant to attack by insects and rot, larch also weathers to a distinctive grey colour although we recommend staining to protect it from the weather and preserve its pale, natural colour.
Thermowood gives a striking coloured finish, as well as boasting exceptional durability and resistance to warping. Commonly added to fibreglass lined tubs, Thermowood is naturally heat treated before fitting to prolong its life and give prominence to its rich colouring.
Lid
You'd be forgiven for overlooking your wood-fired hot tub's lid when considering it's features, but your choice will have a notable influence when you come to living with your new tub.
While the basic function of the hot tub lid is to keep out debris, opting to upgrade has its benefits.
While a traditional wooden lid is included as standard, upgrading to a fibreglass lid lets you match your lid to your hot tub's liner, giving a pleasing aesthetic finish. Fibreglass lids are also lighter than their wooden counterparts, making them easier to remove and replace, especially if you're preparing the tub, or putting it to bed alone.
Insulated lids slow the rate at which your hot tub cools down after use. Although this doesn't give any benefit while the tub is in use, retaining the heat means your tub will heat up faster the next day, and also reduces the number of logs needed to bring it back up to perfect bathing temperature. If you plan on using your tub often, upgrading to an insulated lid will save you hours of waiting every week, and reduce your running costs.
Steps
Often overlooked, a set of steps gives your wood-fired hot tub a delightful finishing touch, as well as making access in and out a breeze. Although steps aren't a necessity, they make your tub far easier to live with and because they can be made to match your tub's exterior, they also fit seamlessly into your install.
Fitting steps also serves to guide access in and out of your tub, saving you from marshalling guests and preventing the area around your tub getting soaked when it's time to hop in and out. This is very useful where your wood-fired hot tub is to be installed beneath a cover, or on decking.
Decorative Rim
Available as an upgrade to Traditional wooden and lined tubs, a decorative rim adds function and aesthetic appeal to the exterior of your wood-fired hot tub.
Sitting atop the timber facade, the rim gives a "meatier" appearance to the tub, concealing the depth of the timber slats as well as protecting the open grain.
As a functional addition, the rim serves as a shelf around the entirety of the hot tub, giving a surface to sit candles, speakers, phones, books or towels where they can be easily reached without having to leave the warmth of your cosy retreat.
Drinks Holder
A drinks holder protects your favourite tipple from the threat of stray elbows and lolling heads.
Curved to match the profile of your tub's exterior, this side table gives a safe and accessible perch that can be easily reached from within the tub.
The profiled shelf also acts as more protected storage for electronics and books, safe from accidental knocks out of the tub, or into the water.
Things To Consider When Choosing Exterior Upgrades
When it comes to exterior accessories, you can already envisage the way you'll be using your tub. That means you can probably already see how these add-ons will enrich your wood-fired tubbing experience.
When it comes to exterior timber options, considerations may not be obvious at first glance.
We're going to guide you through a few of the factors that will affect your tub, and how the options you choose will affect the lifespan and integrity of your new wood-fired hot tub.
Heater Type
The type of heater you choose with your wood-fired hot tub will have an aesthetic impact alongside the exterior choice you make.
While internal and external heaters leave the entirety of the exterior on display, an integrated heater will nestle into your tub's exterior. The eye-catching nature of these heaters means that they're always a focus on attention, and tend to look best when accompanied by a darker coloured timber to complete the look.
Weather/Exposure
Where is your tub going to live?
If you're planning on siting your tub under cover, or in a concealed position, it'll benefit from natural protection from the elements. In the British climate, with its unpredictability and propensity for rain this will give you more options for when you can enjoy your tub (although there's a certain magic in nestling beneath the water as the weather moves in!).
If the final position of your tub is likely to be exposed to the elements, it's worth investing in a more durable timber option to prolong its appearance and protect it from the compounding effects of exposure.
All timber, when left untreated, will degrade over timber when exposed to wet conditions, and sunlight exposure will accelerate the change in colouration.
To ensure protection from moisture, a hardy timber such as Oak, Red Cedar or Thermowood should be considered as these are very resistant to its ingress. Staining is also recommended, to further protect the timber.
Exposure to the UV in sunlight causes the change in timber colour. Some timbers, such as Oak and Larch weather favourably, and are selected specifically for this reason. Others, such as Spruce and Thermowood benefit from a clear stain to preserve their appearance. Western Red Cedar is famously resilient to the effect of this aging, and although further protection is not discouraged it's aesthetic is relatively unchanged with exposure.
Your Garden
A wood-fired hot tub needs somewhere to live! Although lovely to look at in their own right, when installed your new tub will be viewed in the context of its surroundings.
Many customers like to match the exterior of their tub to the garden features around it, especially when installed on decking, next to fencing or your house itself.
Royals Tubs' selection of exterior cladding options have been purposefully chosen to not only suit a range of budgets, but also to ensure there is almost always an option that'll look right at home in your garden, no matter where you put it or what's around.
By previewing the timber finishes you can choose a tub to complement your garden, or even select other materials to match your tub if you're planning on further additions later on.
Remember, if you ever have questions or want a closer look at our wood-fired hot tubs we're always here to answer questions and can even arrange live video calls over Zoom to give you a "virtual tour".
Summary
While you'll experience the real magic of your new wood-fired hot tub beneath the water, the exterior features you choose will add a surprising dimension to its appearance.
Wood-fired hot tubs are a striking addition to a garden and by customising the exterior to match its surroundings and add extra functionality, you can ensure that your tub is just as joyful to look at as it is to use.
If you still have questions about the options available, and which are best for you, our team is always on hand to provide impartial advice.
You can contact us with questions at any time, just give us a call or send a message.