Imagine going on a beautiful holiday in somewhere stunning like South Africa. You're staying in a game reserve, right there in the outback. You can hear the wildlife from your bed, the air is fresh and warm, the heat is glorious, you're sightseeing, there are amazing animals all around you. The lodge is incredible, too. Fresh sheets, all amenities right there at your disposal, the food is fantastic and you're having an amazing time. Imagine you wake up in the morning and fancy a dip in your outdoor hot tub. You wander over to the patio doors and throw them open, the sunlight hitting your skin. You look out to your hot tub and think "Oh, elephants are using it as a drinking trough…"
Yes, you read that right. A tourists visiting what is believed to be the Thanda Game Reserve and Resort in South Africa woke to find five gorgeous elephants drinking from the hot tub outside the rented lodge she was staying in. The creatures even had a baby elephant with them in their little pride. The young calf was reaching up to drink form the hot tub like his parents, and the tourist captured it all on film. She uploaded it to social media and this has gone viral, with over 20,000 responses and shares so far. Everyone loves a cute story involving animals and this is no exception!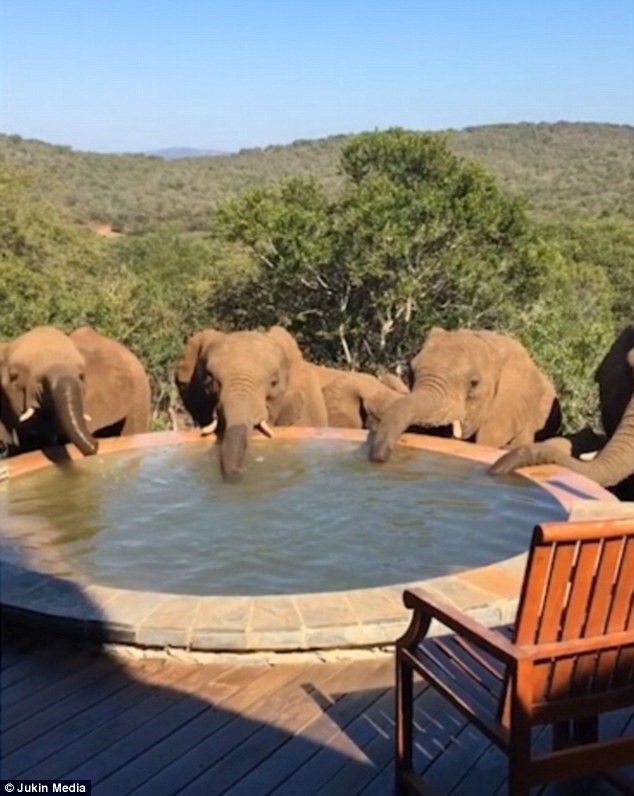 It's unlikely you're going to find a family of elephants drinking from your hot tub down in Milton Keynes or Birmingham or Manchester, but this story was more about midweek cheer rather than advising you on keeping wildlife away from your hot tub! Our wooden hot tubs would fit right in at a South African game reserve though, wouldn't they?