What do you need to install a wood fired hot tub?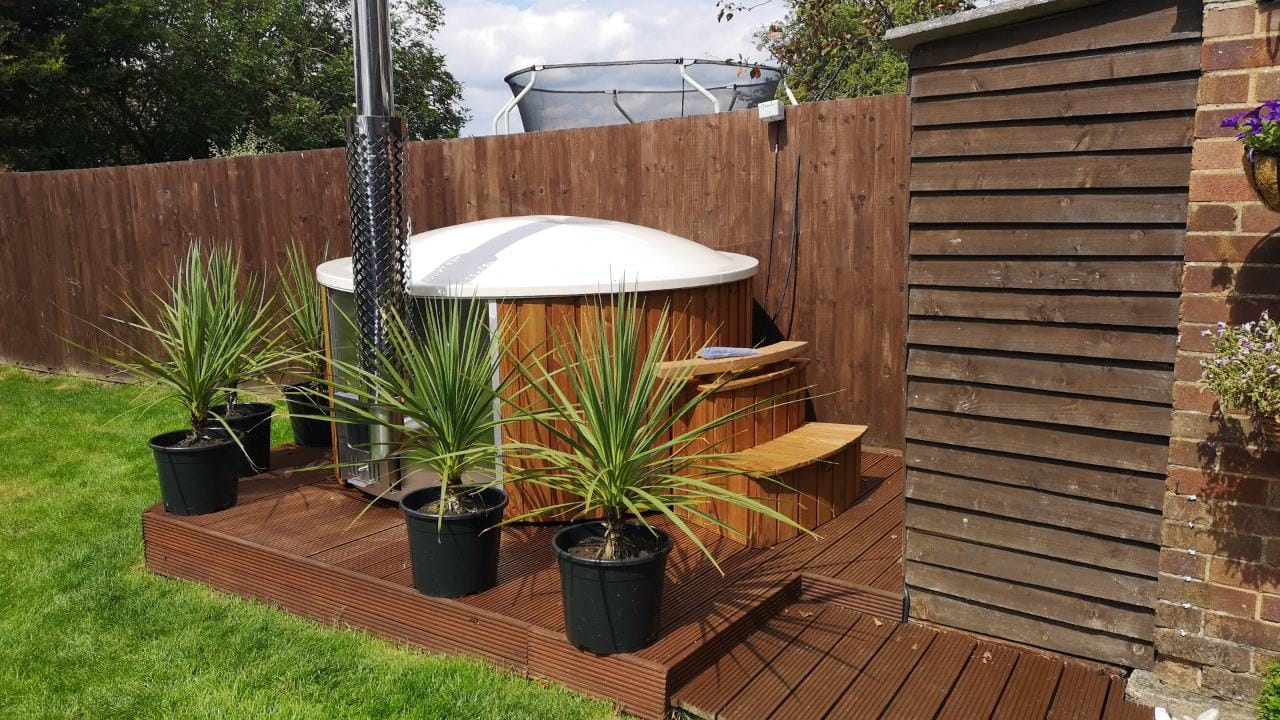 If you've had your eye on a wood-fired hot tub, you'll already know how they can lift the mood of an outdoor space – here's what you'll need to bring a sense of retreat to your own garden.
1. Space
Your wood burning hot tub is going to need somewhere to sit!
You're going to need a clear, level area to site the tub – this can be on purpose-built decking, hard standing such as concrete and packed earth or even a level patch of grass. Remember, once your tub is full of fresh water it'll weigh upwards of 1,500kg, so its base needs to be capable of supporting that weight.
The area should be big enough so that when the tub is in position, you still have easy access all the way around. This will make future maintenance and cleaning much easier.
Your supplier will publish the dimensions of your new tub, but unsurprisingly a hot tub for 2-3 people will need less space than a 6-8 person tub.  This makes the available space a key consideration when choosing your perfect tub.
Also consider the wood stove you've chosen – different hot tub heaters have different requirements. A hot tub with an internal heater or an integrated heater will need to be positioned so that there is easy access for loading the stove, and emptying the ash every now and again.
External heaters sit up to 1 metre away from the tub, so their position should also be considered. Although a convenient location is always prefered, from a safety perspective they should be sited to minimise the risk of accidental contact and injury while maintaining access.
The position of the heater will also relate closely to the position of the chimney, so pay close attention to nearby windows or canopies – nobody enjoys moving their new tub because the flue blocked an opening window!
2. Access
There needs to be a clear route to carry your tub from unloading to final position. It doesn't matter how big your garden is, if access is through a narrow alleyway!
The size of access will depend on the tub you go for, and most suppliers publish the delivery clearances required. If you're in doubt, just ask!
If your garden does have limited access, fear not – your hot tub dream isn't over! Special delivery can be organised via crane, or even helicopter (!) to get your tub into position. There are specialist hot tub installation companies nationwide with experience doing this and many are happy to survey your home and provide a quote to install an outdoor wood fired tub for you.
3. Water
It may seem obvious, but you'll need a water supply within hose-reach of your new wood fired hot tub.
A cold water supply from a garden tap is sufficient for cleaning and refilling your tub, although some people have installed hot water taps especially for filling up, just to reduce the heating time! This is an unnecessary luxury, considering a wood-fired hot tub can heat from cold in as little as 90 minutes (depending on size and temperature) but if you want your tub ready sooner, we'd love to hear how you do it!
A standard garden hose outlet is sufficient for most wooden hot tub installations.
4. Firewood
Firstly, it's important to note that you cannot just burn any type of wood in the stove.
Burning treated wood especially will cause the stove pipe to tar up, shorten the life of your wood stove and result in a smokey burn which is sure to upset the neighbours.
Even a high quality stainless steel stove will corrode surprisingly quickly if used to burn low quality or contaminated timber. The water heater is the heart of your tub and a key part of the wood-fired hot tub experience. The smell of wood smoke lets you immerse yourself in the relaxing atmosphere.
Having spoken to thousands of customers about their hot tubs, we can confidently say that taking the time to track down a reliable supply of quality firewood is not just recommended, but is an excellent investment in your future happy tubbing!
We recommend using either seasoned hardwood (moisture content below 20%), or special "heat logs"/briquettes, designed for stoves. Using quality fuel will maintain your wood stove's efficiency and minimise problems with tar and coke build up in the chimney.
5. Electricity*
* If required
One of the most magical elements of a wood-fired hot tub lies in its simplicity… With just space, wood and water you can create your own, personal retreat.
We know luxury doesn't stop there.
Adding massage jets, air bubbles or lights make your experience even more joyful, but you'll need a safe, permanent electrical connection.
Once you have confirmed your tub's specification, we can provide you with the electrical requirements so that you can contract a qualified electrician to install a suitable power supply and make the connection when your tub arrives.