What's the difference between fibreglass, polypropylene, and wooden hot tubs?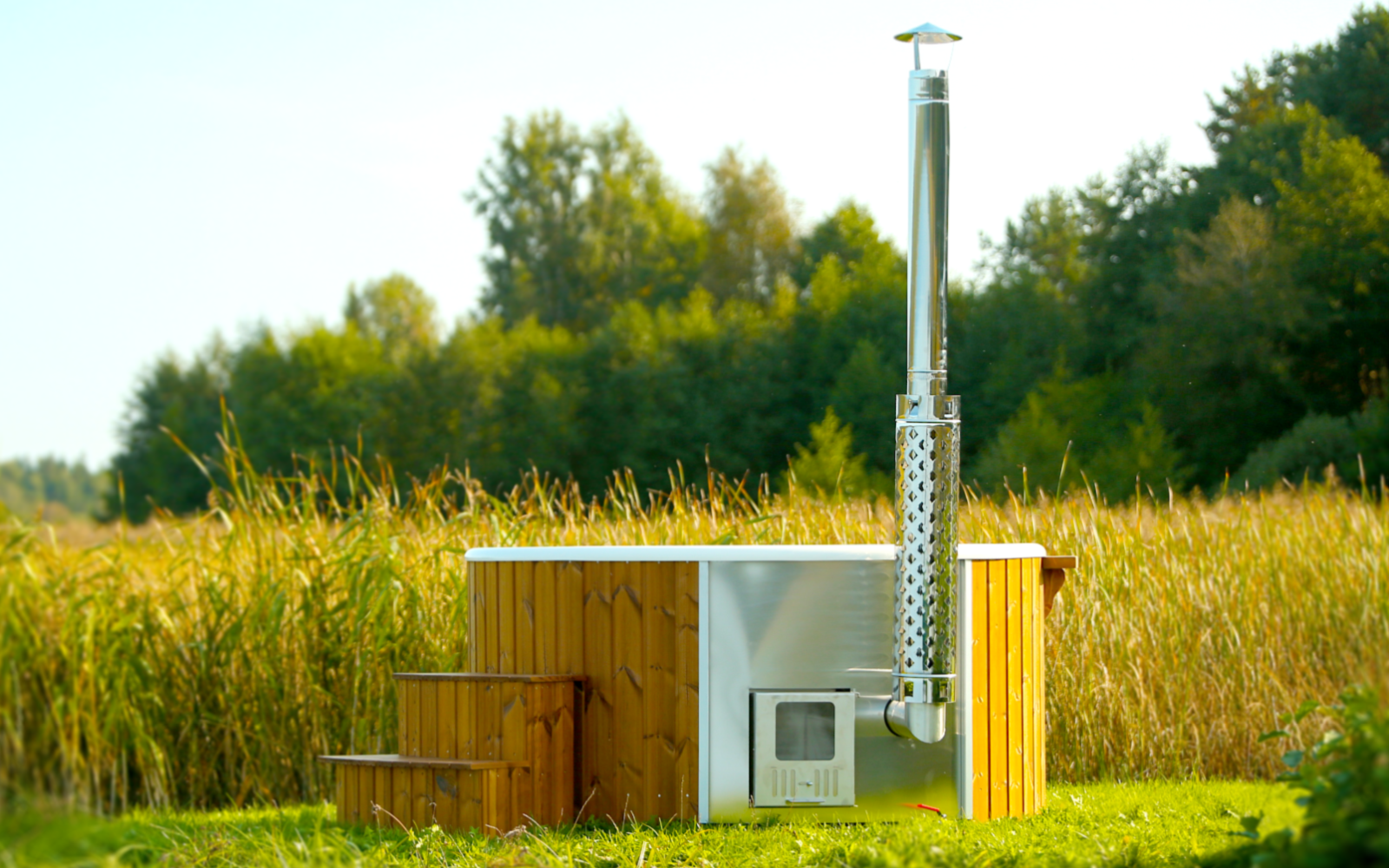 Wood-fired hot tubs are more popular than ever, with increasing numbers of people drawn to their stunning appearance and rustic charm.
If you're in the market for a wood fired tub, you'll see plenty of references to wooden, fiberglass and polypropylene hot tubs, so we're going to give you a rundown of the three most common types.
Types of Wooden Hot Tub
Firstly, let's be clear: wooden, fibreglass and polypropylene hot tubs are all wood-fired tubs and all operate in much the same way.
A stove naturally heats a body of water, burning logs to generate the heat required. Electric heaters can be added, but these make up very few of the wooden hot tubs in use.
The tub types are very similar in principle, a timber exterior (Spruce, Oak, Red Cedar and Thermowood are all common options) encloses a body of water for bathing, heated by a wood stove. Maintenance requirements and customisation options available depend on the type of tub chosen, making the tub type one of the most important decisions in your purchase.
Traditional Wooden Hot Tubs
As the name suggests, traditional wooden hot tubs are designed in a similar fashion to rustic Scandinavian hot tubs.
A round wooden tub is fitted with wooden benches, typically incorporating a top-loading internal wood stove. This stove is separated from the body of water by a wooden fence within the tub. External heaters can also be used, adding space for 2 extra people in the tub.
Traditional wooden hot tubs embody the rustic charm and natural appearance of a wooden hot tub, blending beautifully into the garden surroundings for a chemical-free bathing experience. Often favoured as a basic retreat to the simplicity of nature, all that's needed to enjoy a wooden hot tub is a supply of water and cut logs.
Maintenance of a traditional wooden tub consists of draining and scrubbing down the internal surfaces regularly. While this is straightforward, it can be made a little more awkward by the presence of tricky spaces below the wooden benches which need to be cleaned down.
Cleaning must be undertaken diligently to prevent biological growth within the hot tub (bugs and algae that can grow in still water), and these hard-to-reach areas can take some time to clean thoroughly. If cleaning is undertaken by a professional company this can increase maintenance costs, and if carried out yourself the process can be time consuming.
As wooden hot tubs are not suitable for use with chemicals (which will attack the timber if added to the water), their natural connection comes at the cost of a more onerous cleaning schedule (which may eat into your spare time).
Polypropylene Hot Tubs
From the outside, a polypropylene hot tub looks almost identical to a wooden hot tub… a natural timber facade surrounds a heated body of water. The key difference lies in the polypropylene liner, tucked inside the tub and finished below a wooden trim around the edge. This liner prevents the bathing water coming into contact with the timber exterior, which has several effects.
Firstly, liner is shaped within the bathing to sit over the wooden benches as well as covering the bottom and sides. The tricky spaces below the benches and hard-to-reach corners are eliminated, with the added bonus of reducing the tub's water capacity. These closed benches mean that less water is required to fill, and the tub heats up faster from cold.
With water in contact with the wooden elements of the tub, the cleaning process is transformed from scrubbing timber grains to wiping down a recycled plastic surface. This slashes the cleaning time, and makes it easier to protect your tub from algae growth.
The way the polypropylene liner is fitted to the frame means a service void is present within the structure of the hottub, opening the door to installing lights, hydro massage systems, air bubble jets and filtration to the tub without ruining its appearance from the outside.
Polypropylene hot tubs are available with both internal and external heater options, and thanks to the versatility of polypropylene as a material, many suppliers offer a wide range of colour options to personalise the tub for each customer.
Polypropylene is often positioned as the middle-ground between the natural, but basic appeal of a traditional wooden hot tub and a deluxe, fiberglass hot tub.
Fibreglass Hot Tubs
Fibreglass hot tubs are the pinnacle of wood-fired hot tub luxury, with an ergonomic fibreglass liner housed inside a timber exterior. Fibreglass hot tubs are moulded from glass-reinforced plastic, which gives them self-supporting strength. This allows the liners to be shaped with relaxation as a priority.
Fibreglass hot tubs are the only type that allow for an integrated wood stove, giving another dimension of elegance to their design.
As with polypropylene hot tubs, fibreglass lined tubs allow for a wide range of customisation options – from lighting to air bubble massage systems, sand filters to hydro jets. Chemical filtration systems can be used if desired, extending the time between draining, cleaning and refilling. Maintenance is also made easy, with biological growth easy to identify and quick to clean down.
The fibreglass liner is not concealed from the outside as with a traditional wooden or polypropylene lined hot tub, although beneath a wooden cover it is impossible to tell the difference.
Comfort and ease are the primary benefits of a fibreglass hot tub, accounted for by the increased purchase cost of these tubs.
Whichever of these tubs captures your imagination, there are a range of shapes and sizes available, which means there's almost always a tub to suit your space, budget and lifestyle… The only question is how many friends you'll invite to share it!